News and notes from Archie Miller's radio show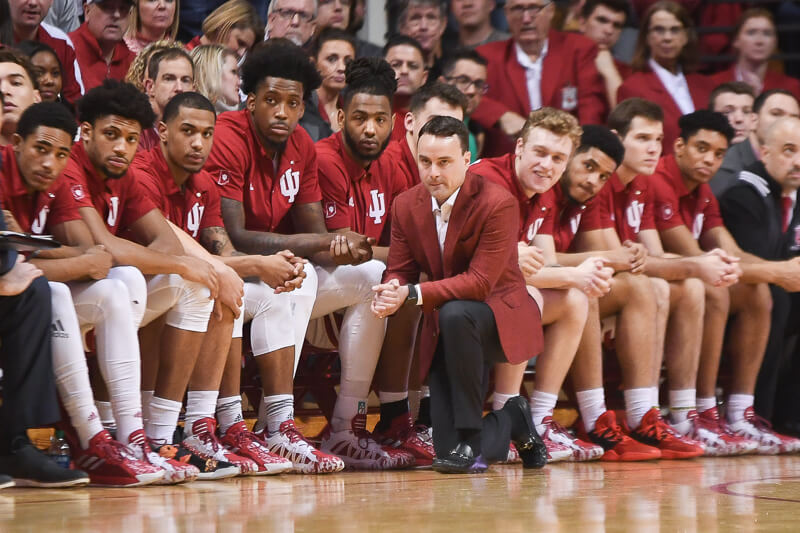 "Inside IU Basketball with Archie Miller" returned Monday night with Archie Miller and Rob Phinisee spending a combined hour with host Don Fischer to discuss Indiana's current four-game losing streak, Saturday's home loss to Purdue and the return of former IU coach Bob Knight to Assembly Hall during halftime of that Purdue game.
Here are the highlights from Miller and Phinisee's evening with Fischer:
– Fischer began his time speaking with Miller by asking about the return of Knight. "I think it's a great step…he (Knight) can come and go as he pleases now," Miller said.
– Miller also said he found out during halftime of Saturday's game, when Knight's return took place, that the festivities surrounding Knight's return went well. Now, Miller said all parties involved can move on to the next step, which is having Knight and his family become more involved with all things Indiana basketball moving forward.
– As for the on-court activity against Purdue, Miller said that Indiana's solid start to the game was based around Trayce Jackson-Davis establishing himself early on, as well as the Hoosiers having success in transition. Jackson-Davis finished the game as IU's leader in points (16), free throws made (8), rebounds (8), blocks (3) and minutes played (34). For his efforts, Jackson-Davis was named the Big Ten freshman of the week on Monday, the fourth time he's won that award this season.
– On the negative end, Miller said the final 2-ish minutes of the first half (Purdue had a 12-0 run over the final 3:32 of the period) really set Indiana back, before repeated defensive lapses in the second half further hampered Indiana's comeback efforts. Miller went on to sum up the loss concisely, saying what happened Saturday was a direct result of "falling flat on your face."
– "It was a disappointing day…we didn't play well," Miller said of Saturday. He expanded on this by saying the struggle for Indiana is more mental than physical, and that the Hoosiers are struggling with a togetherness in the locker room right now.
– When asked by Fischer how he plans to go about fixing this, Miller said Indiana can't recreate the wheel, but rather they need to rethink the way they go about things. "We have to find out who's ready to go in the next three days…if that's six of them, that's six of them, if that's 11 of them, that's 11 of them."
– Miller also recounted a story from the locker room interaction between Indiana's coaches. He said assistant coach Bruiser Flint used to tell his team, when Flint was the head coach at Drexel, that during the initial months of a season a team belongs to the coaches. This is the time when coaches can mold the team into their intended vision for it. But, the story continues with the later months of the season, those taking place during conference play, coinciding with a team becoming the property of its players. All of this is to say what Miller eventually did: That it's time for Indiana's players to be loud and hold each other accountable.
– "I think at this point and time, anyone's voice is positive," Miller said, noting that it's not even important who says what or what they're saying, but rather what's most important is the fact that anyone on the Indiana roster says something as a sign that they care.
– Looking ahead to Indiana's game against Iowa on Thursday night, Miller praised the pace and shooting ability of this Hawkeye team. In particular, he singled out center Luka Garza and guard Joe Wieskamp as the standout players on Iowa.
– Miller said he believes Garza should be the national player of the year, and that it's Garza's incredible motor that allows him to be so effective on the court. Miller also pointed to Garza's activity level in Iowa's halfcourt motion offense, describing how Garza doesn't just stand in the low block, but rather is always moving: Setting screens, picking and popping, floating out to the 3-point line, etc. "He's mastered a really unique offensive package," Miller said.
– Speaking about Iowa as a team, Miller noted how the Hawkeyes press a lot and play a lot of zone defense. He also referred to Iowa as the best team Indiana will play at home this season.
– Lastly, Miller responded to an audience question about scholarships for next season by saying there are two open scholarships the Hoosiers are looking to fill for the 2020-21 season. Miller said he's open to all possible options in terms of the type of player who would take those scholarships: A transfer, a graduate transfer, a junior college player, an overseas player, etc.
– When Fischer asked Phinisee about some of the team's recent struggles, Phinisee said communication is something that's held Indiana back on both ends of the floor. "You just have to play hard, play together, just get everyone on the right page," Phinisee said.
– Asked about the pregame talk Knight delivered to the Indiana team before Saturday's game, Phinisee said he was a bit starstruck by the moment, having grown up in Indiana (Phinisee graduated from McCutcheon High School in Lafayette) and understanding the importance of Knight to basketball in the state.
Filed to: Archie Miller, Robert Phinisee