Big Ten Power Rankings: February 10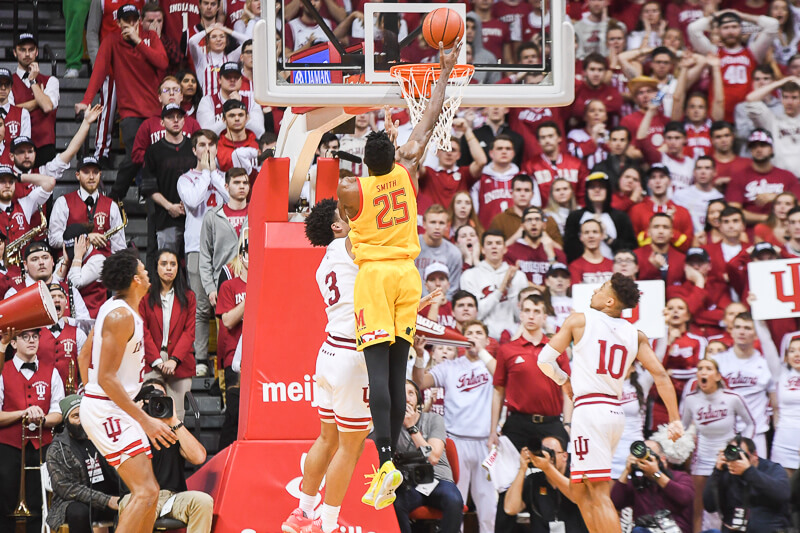 There's a new leader atop the Big Ten standings as Maryland's six-game winning streak has the Terps at the top of the league. The middle of the pack continues to be a jumbled mess, but the Big Ten currently has 11 teams in the top 33 of the KenPom ratings with about a month to go in the regular season.
The power rankings will run each Monday throughout the remainder of the regular season.
14. Northwestern (1-11, .956 PPP, 1.088 PPP allowed)
In typical Northwestern fashion, the Wildcats built a solid first half lead on Sunday at Rutgers only to squander it down the stretch in another painful loss. Northwestern is now a dreadful 6-16 this season and there's little reason to believe this team will turn a corner soon. In recent weeks, Northwestern has blown leads against Maryland, Purdue and Rutgers and as the losses continue to pile up, that magical 2016-17 season in Evanston is a distant memory.
13. Nebraska (2-10, .975 PPP, 1.082 PPP allowed)
The Cornhuskers have lost eight straight and Fred Hoiberg simply doesn't have the frontcourt pieces to compete in a rugged Big Ten. Nebraska is 13th in the conference in offensive rebounding percentage and 14th in defensive rebounding percentage. Nebraska does play the fastest pace of any Big Ten team and is the league's best team in terms of taking care of the ball, but it's going to take Hoiberg time to get things turned around in Lincoln.
12. Indiana (5-7, .98 PPP, 1.040 PPP allowed)
Year three of the Archie Miller is on the verge of a total collapse. The Hoosiers have dropped four straight games and have now lost two in a row at Assembly Hall. The most recent setback, a 74-62 loss to Purdue, should sound some alarms in Bloomington. With a week to prepare, a raucous crowd and an electric atmosphere for Bob Knight's return to Assembly Hall, Indiana never really challenged Purdue in the second half. Miller is now 0-4 all-time against Purdue and unless there's a turnaround soon, the Hoosiers will miss the NCAA tournament again.
11. Minnesota (6-7, 1.008 PPP, 1.035 PPP allowed)
The Gophers have one of the nation's best frontcourt players in Daniel Oturu, but poor 3-point shooting continues to plague this group. Minnesota is the Big Ten's worst 3-point shooting team at 28.6 percent, which puts even more pressure on Oturu to be great in every game. The Gophers split a pair of games last week against Wisconsin and Penn State and now have more than a week off before hosting Iowa next Sunday.
10. Michigan (5-7, 1.033 PPP, 1.047 PPP allowed)
Michigan has now won three of four, but the biggest news for the Wolverines is Isaiah Livers is back. The junior forward returned and scored 14 points on Saturday in a 77-68 win at home over Michigan State. Assuming he can stay healthy, Michigan's trio of Livers, Jon Teske and Zavier Simpson is one of the best in the country. Thanks to its solid non-conference record, the Wolverines won't need more than nine or 10 Big Ten wins to comfortably make the NCAA tournament.
9. Ohio State (5-7, 1.032 PPP, 1.036 PPP allowed)
The Buckeyes had won three straight before falling by 13 on Sunday to Wisconsin in Madison. Turnovers continue to be a major problem for Ohio State, which ranks 13th in conference play in turnover percentage. Ohio State has an excellent opportunity to get back to .500 in league play this week as it hosts Rutgers and Purdue at Value City Arena.
8. Wisconsin (7-6, 1.005 PPP, 1.005 PPP allowed)
It's been a rocky few weeks in Madison due to off the court issues, but the Badgers continue to tread water in the middle of the pack. Wisconsin has dropped four straight road games in league play, but is 5-1 at the Kohl Center against Big Ten foes. Wisconsin has a big opportunity to snap its road losing streak this weekend as it travels to Nebraska on Saturday.
7. Iowa (8-5, 1.113 PPP, 1.076 PPP allowed)
Iowa won't be a team to trust come NCAA tournament time because of its shaky defense, but there's no denying the Hawkeyes are one of the nation's most prolific offensive teams. Consider these numbers: Iowa is second in the Big Ten in offensive rebounding percentage, fifth in 3-point shooting percentage, second in 2-point shooting percentage and third in free throw percentage. Luka Garza continues to put up ridiculous numbers in his junior season and is a legitimate threat to win Big Ten player of the year.
6. Rutgers (8-5, 1.001 PPP, .961 PPP allowed)
Rutgers avoided a complete disaster on Sunday as it rallied from a double-digit deficit to beat Northwestern at the RAC in overtime. The Scarlet Knights are 7-0 in Big Ten play at home this season, but if a 10-0 home conference record is to happen, it will have to be earned. The final three home games for Rutgers this season are as follows: Illinois, Michigan and Maryland.
5. Illinois (8-4, 1.004 PPP, .962 PPP allowed)
The Illini were in prime position to remain atop the Big Ten standings, but a loss at Iowa followed by a home loss to Maryland could prove costly to any conference title hopes in Champaign. Illinois was dreadful shooting the ball inside the 3-point line against Maryland (14-for-39) and it blew a 14-point lead, which was surprising for a team that has been very good at home in league play. Illinois won't have any time to hang its head as Michigan State comes to town on Tuesday.
4. Michigan State (8-5, 1.035 PPP, .942 PPP allowed)
The Spartans are still in the Big Ten title race, but are going to need help and a win at Illinois this week to stay there. Michigan State has now dropped three in a row and the road doesn't get easier from here. Michigan State travels to Champaign on Tuesday to face Illinois before hosting Maryland on Saturday in East Lansing. If Michigan State is going to be a factor for the league's regular season crown, it needs a pair of wins this week.
3. Penn State (8-4, 1.035 PPP, 1.020 PPP allowed)
Penn State is being rewarded for sticking with Pat Chambers for nine seasons. Barring an epic collapse, the Nittany Lions will be in the NCAA tournament this season and the trip will be well earned. Penn State has always played hard for Chambers and this year's roster has the talent that has allowed to translate that effort into consistent wins. The Nittany Lions are firmly in the mix to earn a double bye for next month's Big Ten tournament in Indianapolis.
2. Purdue (7-6, 1.017 PPP, .969 PPP allowed)
The Boilermakers have won four of five and it's hard to deny that Matt Painter is one of the best coaches not only in the Big Ten, but the country. Painter is one of the best at adapting to the personnel on his roster and making adjustments throughout the season to guide his team out of rough patches. After blowing out Iowa at home last week, Purdue went to Bloomington on Saturday and controlled the game for the majority of the second half in a 74-62 win.
1. Maryland (9-3, 1.012 PPP, .955 PPP allowed)
Maryland has won six in a row, including three straight on the road. In each of its road wins, the Terps erased a significant deficit. At Northwestern, Maryland trailed by 14 early in the second half, but stormed back to win by 11. At Indiana, the Terps trailed by eight with 6:24 to go and by six with 1:25 to play in a 77-76 win. And most recently at Illinois, Maryland trailed by 14 in the first half before taking control and winning 75-66. Maryland is one of the Big Ten's most talented teams, but is this finally the season where the talent and results align in College Park?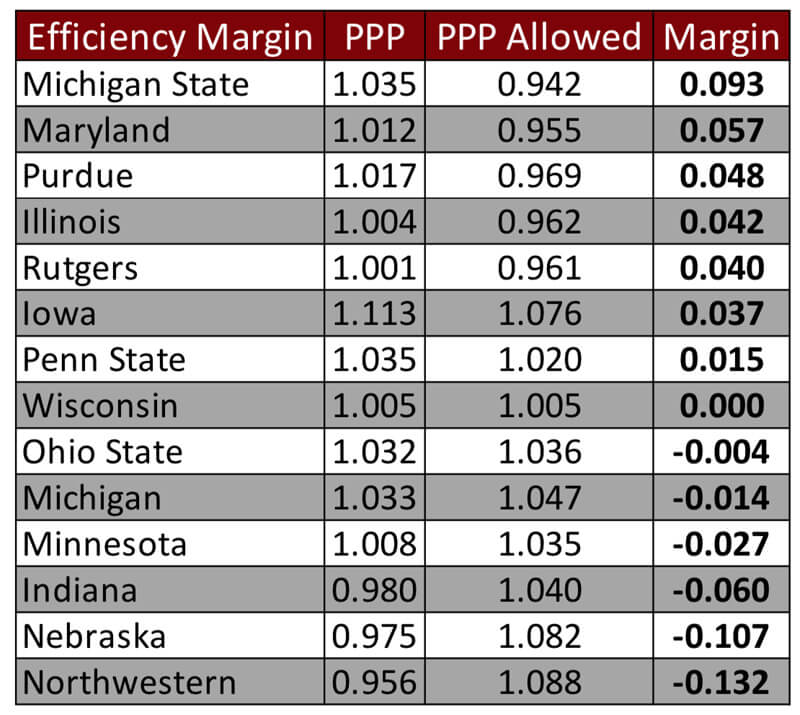 Filed to: Big Ten Power Rankings