Indiana fails to answer second-half challenge, gets blown out at No. 24 Penn State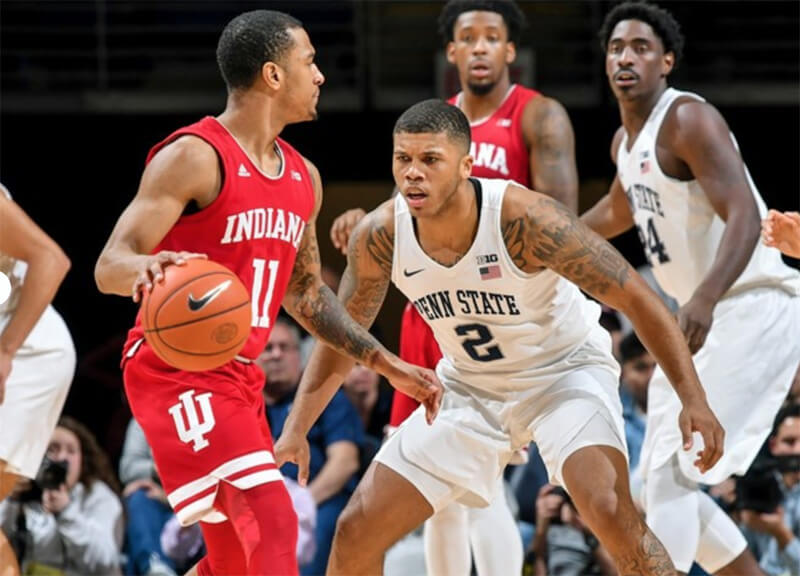 UNIVERSITY PARK, Pa. — Indiana couldn't flip the switch.
Efforts were made to change the trajectory of what became a disastrous second half for Indiana on Wednesday night, a 20-minute period that saw the Hoosiers outscored by 15 points and out-hustled by a point total much larger than that in a 64-49 loss to No. 24 Penn State.
Looks of disgust and dismay from Archie Miller toward his players, and in particular his four-guard backcourt rotation, failed to inspire improved shotmaking or crisper passes.
Kicks and screams from assistant coach Mike Roberts on the bench, the kinds communicating his desire for better defensive effort, didn't make the Hoosiers run faster in transition.
Perhaps the most telling part of the collapse came from Indiana's on-court figures, as the players themselves waned in intensity as Penn State turned a tied game (28-28) at halftime into a lead as large as 20 points.
No action, large or small, could prevent what was plain to see.
Indiana was out of answers, but something of greater concern was its inability to ask questions of Penn State.
"When you talk to the team after the game, there's not a whole lot to talk about other than the second half," Archie Miller said postgame. "We just played terrible."
Statistics from the loss (the 15-point margin is tied for Penn State's largest ever win against Indiana) easily detail why the Hoosiers dropped to 1-4 in true road games this season.
Indiana's backcourt combined for 3-for-26 shooting, 10 total points and an assist-to-turnover ratio barely above one.
The frontcourt battled foul trouble early on and was limited by an injured Race Thompson and a sick Jerome Hunter, neither of whom played. It also suffered from a sluggish showing from Joey Brunk, who often got beaten around the basket for size and strength by Penn State's frontcourt.
But as so often has been the case in Indiana's four road defeats this season (losses with an average margin of defeat of 15 points), it was a case of inconsistent offense failing the Hoosiers.
As was noted postgame by Miller, the crux of Rob Phinisee's 0-for-6 shooting performance was an inability to finish at the rim. Al Durham and Devonte Green were a combined 3-for-17 from the field as their erratic scoring nights continued, and the ball simply failed to flow inside to the big men in the quantities it needed to.
It was a leading reason why the Hoosiers only had 10 free-throw attempts for the second straight game (only two of which came in the second half).
Trayce Jackson-Davis and De'Ron Davis combined for 16 first-half points, as the frontcourt teammates found a rhythm passing out of the post against an undersized Penn State frontcourt.
"De'Ron's always looking to pass the ball in the post," Jackson-Davis said. "He draws a lot of attention because he has great post moves, so I'm always trying to make sure that I'm always available just in case he can't get a shot."
This led to some of the inside-out ball movement championed by Miller, and while the Hoosiers made just one 3-pointer in each half, one could see the script Indiana tried to follow.
The Hoosiers knew what they should be doing on offense and, if nothing else, attempted to do that.
But those two players then went quiet in the second period. Ten combined first-half shots between Jackson-Davis and Davis became six in the second half leading to only four points, all from the freshman.
Penn State coach Pat Chambers noted Indiana's "old-school" style prior to the game, and so the Nittany Lion gameplan was built around limiting scoring around the rim.
"I thought the ball pressure was good, and I thought our bigs for the most part didn't just sit behind," Chambers said. "When you just sit behind, they're going to have a field day 'cause they're great finishers."
This became apparent early in the second half, as Indiana failed to score for the first three minutes of the period and Penn State established a lead it wouldn't lose.
So then Miller asked for more from Green, who finished the game with as many assists (3) as missed 3-pointers. Roberts stomped his feet to ask more of Durham, who for the seventh time in the last 10 games finished with just one made shot.
More than anything else they wanted effort, to see the Hoosiers operate at their best offensively in transition and to stop committing the turnovers that burned them in the fastbreak on the other end.
Indiana's 12 second-half turnovers made sure Miller and Roberts didn't get the response they wanted, and it led to Indiana scoring just 17 points in the first 19 minutes of the second half (IU's 0.702 points per possession was the team's worst offensive output since February 2009).
"The turnovers, the inability to score the ball, at some point and time was going to cave us in, and it did," Miller said. "We have to be smarter, we have to continue to talk and continue to be tougher defensively, but when your offense lets you down like it did tonight, it's tough… you can't defend and shut a team out for 40 minutes."
Chambers noted postgame that Indiana has played three games in the last week. The Nittany Lions saw fatigue in the faces of the Hoosiers, and did what the Hoosiers couldn't: Run.
"You could see that in the second half a little bit, and you could see us really reemerge with our speed and our quickness in the second half," Chambers said.
"That's what Penn State basketball is. We're supposed to defend and rebound, we're supposed to play hard, we're supposed to be jumping to the ball and communicating. When we're loud and communicating, you're just building so much trust out there."
Communication and trust was at the heart of Indiana's first road loss this season at Wisconsin.
It remains the chief concern ahead of Indiana's trip to Ohio State on Saturday, when three games in seven days becomes four in 10, and the Hoosiers get another chance to solve their problems with solutions everyone already knows.
(Photo credit: Penn State Athletics)
Filed to: Archie Miller, Pat Chambers, Penn State Nittany Lions, Trayce Jackson-Davis