Film Session: Notre Dame
Here's the set that put Indiana up for good. Jackson-Davis sets a ball screen for Durham near the right wing, as Franklin and Green are spread to the corners and Smith hangs on the left low block: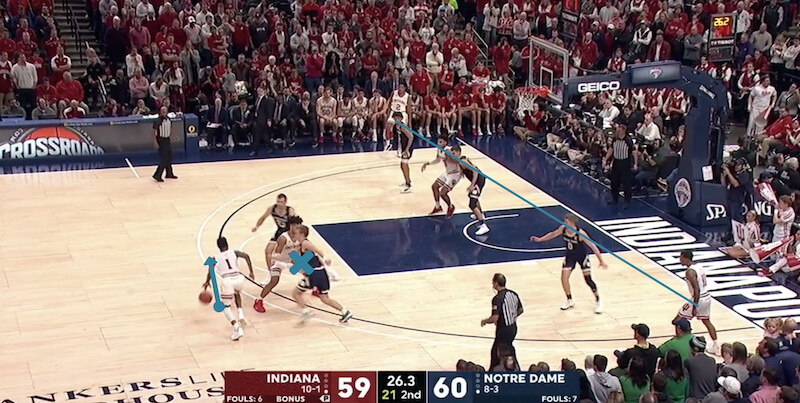 Jackson-Davis rolls to the paint off the ball screen. Green fills his space on the right wing and Durham turns around and fires the pass to him: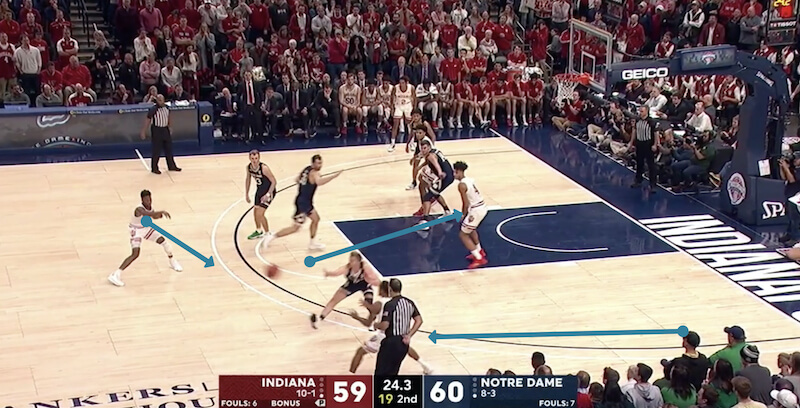 Green dumps it down to Jackson-Davis: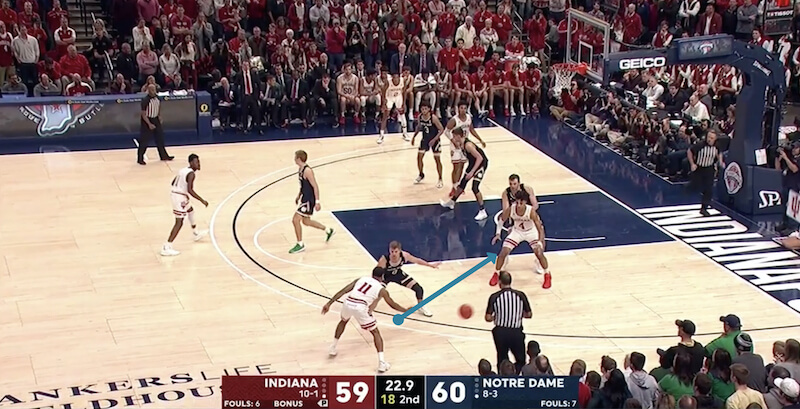 Here's where things start to turn. Rex Pflueger begins to rotate down to Jackson-Davis for a double team. On the weak side, Goodwin beings to lose contact with Durham, who's moving out to the left wing. Hubb is also watching the action several feet away from Franklin near the paint: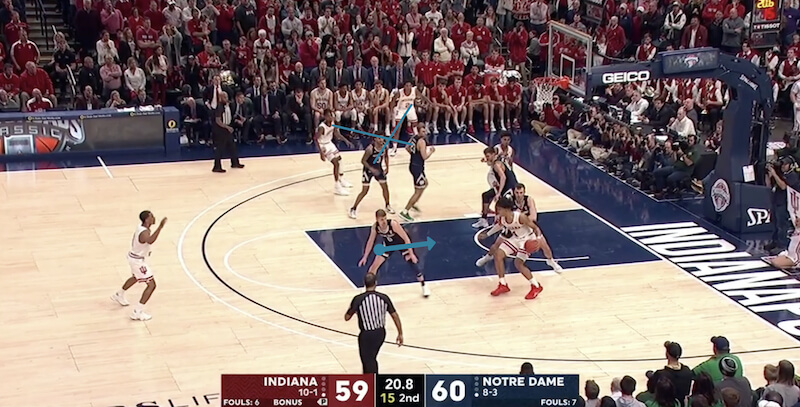 As Pflueger rotates fully down to Jackson-Davis, Notre Dame's defense has collapsed and is pretty much entirely in the paint watching the ball. Indiana has Green, Durham and Franklin on the perimeter: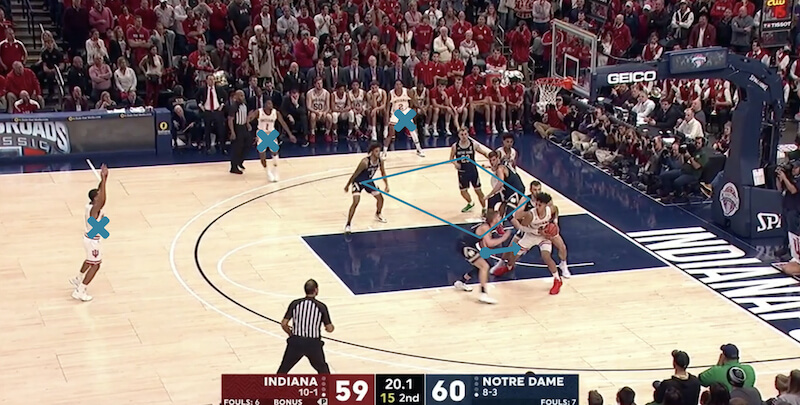 As Jackson-Davis spins out of the double team, Hubb anticipates a pass to Green and he rotates out to him: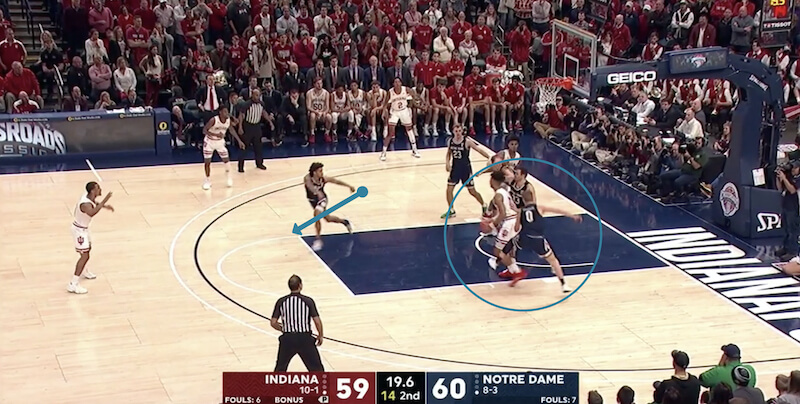 But Jackson-Davis skips the pass to Durham on the left wing. Franklin raises a hand: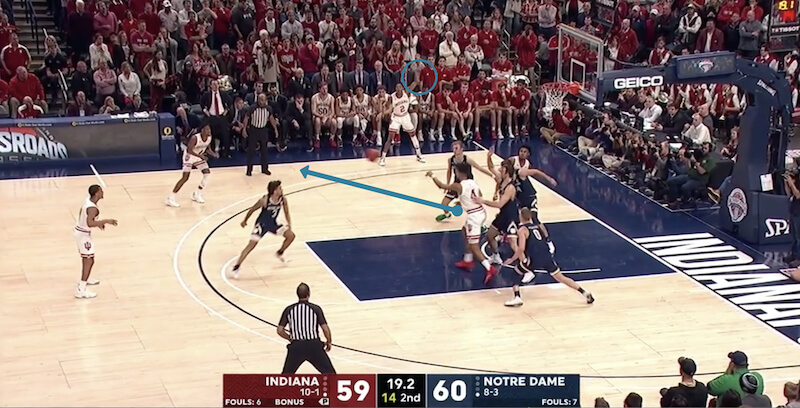 Durham has plenty of room to rise up and shoot with Hubb and Goodwin far enough away. But Durham doesn't even think to shoot. He immediately passes to Franklin in the corner: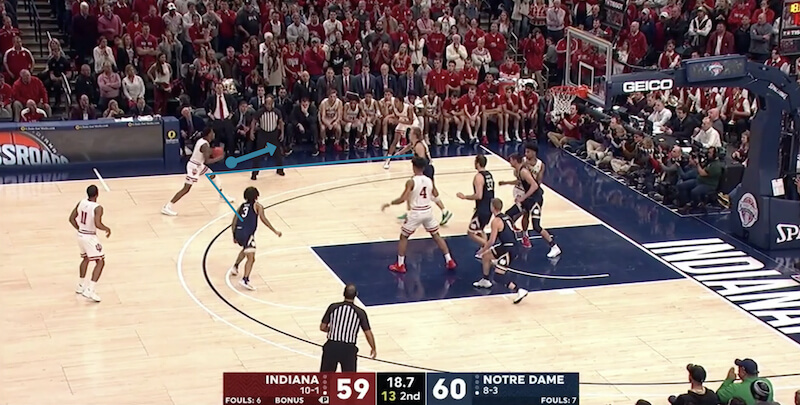 Goodwin is close enough to Franklin to try and close out, but the freshman is still able to connect on his fourth 3-pointer of the contest: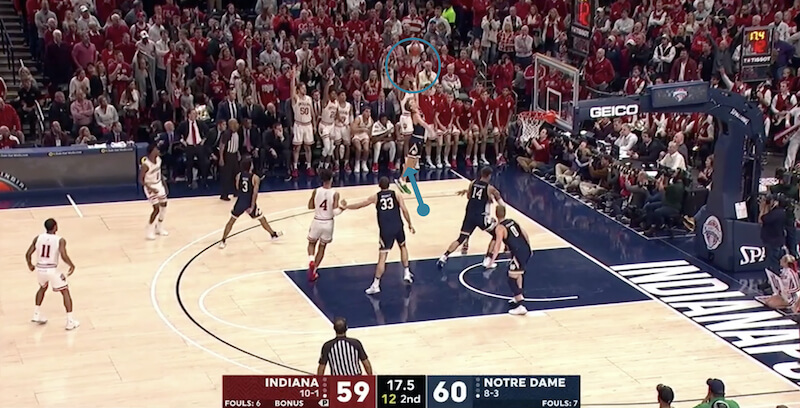 As Mike Brey alluded to after the game, Notre Dame's defense here really focused on the paint, allowing Indiana space on the perimeter for Franklin's game-winning bucket.
Filed to: Armaan Franklin, Notre Dame Fighting Irish