6-Banner Sunday: Rob Phinisee's return sparks a pair of wins for IU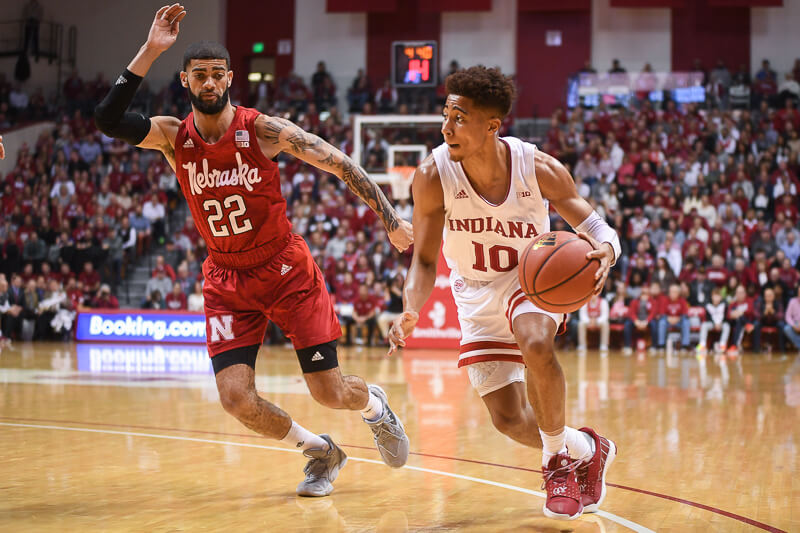 6-Banner Sunday is Inside the Hall's weekly newsletter in partnership with The Assembly Call. More than 6,500 Indiana fans receive the newsletter each week. In addition to appearing each week on the site, you can also opt to receive 6-Banner Sunday by email. A form to subscribe via email is available at the bottom of this week's 6-Banner Sunday.
Welcome to another edition of 6-Banner Sunday, a joint production between The Assembly Call and Inside the Hall where we highlight the five most essential IU basketball stories of the past week, plus take a look at how the other IU sports programs are doing.
After a rocky start to Big Ten play last weekend at Wisconsin, Indiana stabilized itself with two victories this week against UConn and Nebraska.
The former, which came as part of the Jimmy V Classic in New York City's Madison Square Garden, displayed the gritty resolve that Archie Miller has implored this year's Hoosier team to display.
The latter, which came in a sluggish home win against Nebraska, displayed the many problems still found within the Hoosier team.
That, along with some recruiting news and a look at Indiana's scholarship health, comprises the biggest news in Hoosier basketball this week.
In this week's edition:
• Rob Phinisee leads the way in wins over UConn and Nebraska
• FORUM Tipoff Classic displays talents of IU recruits
• Indiana is back at full health for the first time in almost two years
• Indiana's frontcourt options continue to coexist
• ESPN's Seth Greenberg and LaPhonso Ellis discuss Indiana basketball and Bob Knight
• Hoosier Sports Roundup
Banner #1
Rob Phinisee leads the way in wins over UConn and Nebraska
After being sidelined with a variety of injuries ranging from a blow to the head to a right ankle problem, Rob Phinisee finally made his on-court return for Indiana last Tuesday night, and the Hoosiers were all the better for it.
Phinisee has hardly been healthy enough this season to practice with the team, but nonetheless he proved instrumental for Indiana defensively in a midweek win over UConn in the Jimmy V Classic and offensively in a conference victory over Nebraska on Friday night.
He came off the bench in both games, playing 13 minutes and scoring six points against the Huskies before providing veteran poise and leadership, along with some clutch shot making, while recording season-highs in minutes (27) and points (16) against the Cornhuskers.
"Rob being back obviously saved us basically all week," Archie Miller said after the Nebraska win.
Nebraska coach Fred Hoiberg had a front-row seat to Phinisee's heroics on Friday night, as the sophomore guard hit clutch free throws in regulation and scored seven overtime points (only one less than the entire Nebraska team) to lead Indiana to victory, and Hoiberg also wasn't shy about his praise for Phinisee postgame.
"You can see that he's the heart and soul in this thing with that team," Hoiberg said of Phinisee. "His ability to guard. His ability to make the right play. Getting him back in the lineup was huge for Indiana. As long as he's in the run of the show, there's bright days ahead."
Banner #2
FORUM Tipoff Classic displays talents of IU recruits
The seventh annual FORUM Tipoff Classic took place Saturday at the Southport Fieldhouse in Indianapolis, and the final three games of the six-game slate featured plenty of Indiana recruits playing against one another in a historic environment.
Class of 2021 point guard Khristian Lander, considered among the top recruits in the nation, and his Evansville Reitz team took on defending Indiana state 4A champion Carmel, while a pair of IU power forward recruits in Caleb Furst of Fort Wayne Blackhawk Christian and Trey Kaufman of Silver Creek did battle against one another in the post.
The night was capped by what should have been a showdown between Indiana commits as Anthony Leal and Bloomington South took on Trey Galloway and Culver Academies, but Galloway was kept out of the game with a right wrist injury.
Galloway, who wore a cast on his right wrist as he sat on the bench Saturday night, isn't expected to miss a ton of time with the injury, but it left Leal as the lone on-court attraction in the game.
I was in Southport for the games and provided a recap of them for Inside The Hall.
Banner #3
Indiana is back at full health for the first time in almost two years
The aforementioned return of Phinisee against UConn wasn't just a significant moment in Indiana's trajectory for the 2019-20 season, but also an important mark when it comes to understanding the injury trouble Archie Miller has experienced with the team since becoming its head coach.
With Phinisee available, it was the first time not just this season, but the first time since January 2, 2018, (a road loss to Wisconsin) that Miller had all of his scholarship players on the roster available to play in a game.
This includes well documented injuries to players like De'Ron Davis, Jerome Hunter, and Race Thompson, along with suspensions like the one given to Devonte Green during conference play last season.
Zach Osterman of The Indianapolis Star took a deeper dive into what this lack of available scholarship players has meant for Miller over the course of the last three seasons, and how Indiana's upcoming schedule (only two games in the next three weeks) can allow the Hoosiers to rest players like Phinisee, and now Devonte Green (who hurt his Achilles' in the Nebraska win), to make sure Indiana remains as healthy as possible for the upcoming slog of Big Ten games.
Banner #4
Indiana's frontcourt options continue to coexist
Indiana's two wins this week saw its frontcourt options contribute in different ways, although the roles of some members of the frontcourt rotation remain without a set definition.
Tuesday night in New York City it was Joey Brunk. In a game dedicated to raising money to help fight cancer, Brunk, whose life has been intimately touched by the disease, turned a poor first half into a stellar second half, leading Indiana with nine second-half points as the Hoosiers gritted out a win.
Friday night featured more of the same from Trayce Jackson-Davis. He recorded his fifth double-double of the season and posted career-bests in points (25) and rebounds (15) while tying his career-high with 35 minutes played. It was yet another dominating performance from the freshman forward, who has fast become the go-to option for an Indiana team specifically built to score inside and at the foul line, two things that Jackson-Davis has excelled at thus far.
That leaves De'Ron Davis and Race Thompson as the key frontcourt pieces for Indiana without either an explosive game or consistent minutes to their name this season.
Davis has at least made an impact behind the scenes in recent weeks, but Miller has still elected to not play him in the moments that matter in games, often giving Davis a brief run of minutes in the first half before relegating him to the bench for the rest of the game. Thompson played double-digit minutes in each of the first seven games of the season, but has played nine or fewer minutes in three of Indiana's last four contests.
There isn't a consistent flow or rhythm to how much Davis or Thompson will play on a given night, and that looks like it will continue into the future so long as Jackson-Davis remains an elite presence on both ends of the court and Brunks remains a part of the starting lineup.
Banner #5
ESPN's Seth Greenberg and LaPhonso Ellis discuss Indiana basketball and Bob Knight
Indiana's appearance in last week's Jimmy V Classic brought the focus of the college basketball world on the Hoosiers, and it also presented the opportunity for two of ESPN's most respected basketball commentators to offer their thoughts on the Indiana program.
Dylan Wallace and I caught up with Seth Greenberg and LaPhonso Ellis prior to Indiana's game against UConn to get their thoughts on some of the hot topics currently surrounding Indiana basketball.
Among the talking points for Greenberg and Ellis (who played collegiately at Notre Dame), were the outlook for Indiana in the 2019-20 season, the possibility of Bob Knight returning for a game at Assembly Hall, and why the Big Ten Conference should be considered the best in college basketball.
The interviews with both men can be found here.
Banner #6
Hoosier Sports Roundup
This content was contributed by Aaron Shifron.
Football had their bowl game destination announced while Women's Basketball continued to roll.
• Football's postseason destination was announced: the prestigious Gator Bowl versus Tennessee on Jan 2 in primetime following their best season in 25 years. Also cornerback Tiawan Mullen was named a freshmen All-American by both 247 sports and the Athletic.
• Women's Basketball defeated North Florida, which allowed them to continue their record climb up the polls. The Hoosiers celebrated their new ranking by knocking off Butler on the road in Hinkle Fieldhouse.
• Track and Field saw two Hoosiers compete in the Philippines at the Sea Games. Besides that the team competed at the Hoosier Open.
• Wrestling won three titles at the UNI Open.
• Swimming and Diving completed the Toyota US Open with former Hoosier swimmers Zach Apple and Cody Miller winning gold medals. The team also added a new assistant coach.
• Men's Soccer's season had four players named to the All-North Region Team. In addition three Hoosiers were invited to the new MLS College Showcase and two players were named All-Americans by the coaches.
• Volleyball saw record attendance this year in their new facility Wilkinson Hall.
• 83 Hoosiers were honored for Academic Excellence.
Thanks for your continued support for The Assembly Call. We'll be back next weekend with a new roundup.
Now go enjoy yourself a 6-banner Sunday.
Filed to: