What to expect: Princeton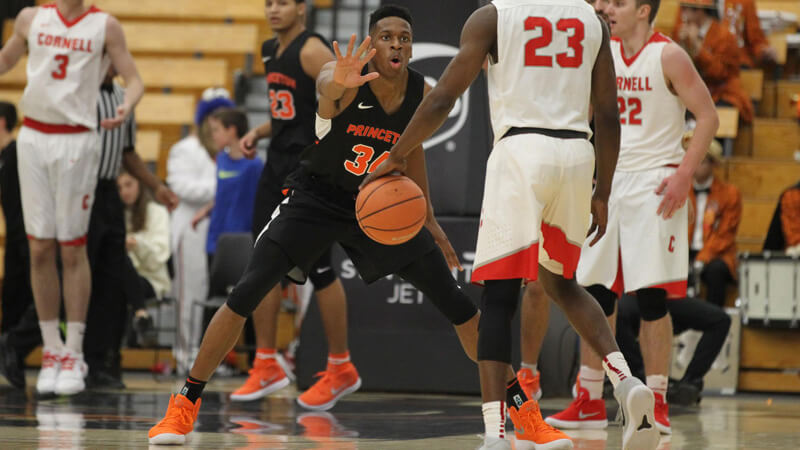 Indiana will look for its fifth straight win on Wednesday night when it hosts Princeton at Simon Skjodt Assembly Hall. The Tigers are 0-3 with losses to Duquesne, San Francisco and Lafayette.
The game will be broadcast at 7 p.m. ET on BTN with Brandon Gaudin and Shon Morris on the call:
The competition level steps up a bit for Indiana on Wednesday night as it welcomes the Ivy League's Princeton to Simon Skjodt Assembly Hall.
It's been a rough start to the season for the Tigers, who were picked to finish fourth in the Ivy. After dropping its first two games on the road, Princeton returned home last Tuesday and lost to Lafayette of the Patriot League.
Indiana, meanwhile, is coming off its most complete performance of the young season, a 100-62 dismantling of Troy last Saturday. The Hoosiers are 4-0, but have yet to be tested in any significant way.
MEET THE TIGERS
Coach Mitch Henderson is in his ninth season at the helm for the Tigers and has one NCAA tournament appearance in his tenure back in 2017. Princeton has five finishes in the top 100 of the KenPom ratings under Henderson.
Princeton is relying heavily on three players for production through its first three games: Richmond Aririguzoh, Jaelin Llewellyn and Drew Friberg.
Aririguzoh, a 6-foot-9, 230-pound senior, is averaging 17.3 points and 7.3 rebounds in 32 minutes per game. He'll present the first defensive test of the season for the IU frontcourt. He's only been average at finishing his post-up possessions so far this season, according to Synergy Sports. In 23 post-ups, Aririguzoh has scored 19 points. As a junior, Aririguzoh led the Ivy League in 2-point field goal percentage (71.6) and was a second team all-conference selection.
Llewellyn is also averaging 17.3 points through three games and the 6-foot-2 sophomore is a high usage, low efficiency scorer. As a freshman, Llewellyn shot just 37.9 percent on 2s and 25.3 percent on 3s. Through his first three games this season, he's shooting 45.7 percent on 2s and 22.2 percent on 3s. According to Synergy, Llewellyn has been terrific in ball screen situations with 30 points in 26 possessions.
Friberg, a 6-foot-7 forward from State College (Pa.), is playing a team-high 36 minutes per game and is shooting 40.9 percent on 3s. His 13.3 points per game are third on the team.
After those three, the production falls off of a cliff for the Tigers. Princeton has nine players averaging between a point and 4.3 points per contest.
Jose Morales, a 5-foot-9 senior guard, is averaging 4.3 points in 15.7 minutes per game and has knocked down two of his five 3-point attempts this season. Freshman guard Ryan Langborg and sophomore guard Max Johns have started the last two games, but have been invisible on offense.
Junior Ryan Schwieger started the season opener against Duquesne, but left the game after six minutes with an injury and has not played since. Sophomore guard Ethan Wright played 28 minutes against Lafayette and finished with five points and four rebounds.
TEMPO-FREE PREVIEW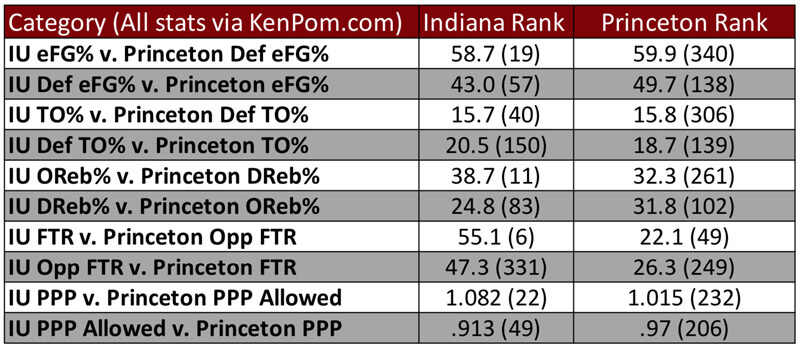 Princeton will play a deliberate pace and try to keep Indiana in a halfcourt game, which is something we haven't seen this season.
The Tigers have typically been very good at keeping opponents off of the foul line under Henderson, which will be tested against an Indiana team that currently boasts the nation's sixth best free throw rate (FTA/FGA) at 55.1 percent.
Through its first three games, Princeton hasn't scored more than 1.01 points per possession while allowing 1.11 points per trip in each of its three losses. Its opponents are shooting 46.3 percent on 3s and 54.4 percent on 2s and are only turning the ball over on 15.6 percent of possessions. Those numbers are no recipe for winning road games against high major competition.
WHAT IT COMES DOWN TO
The KenPom projection is a 19-point win for Indiana with a 95 percent chance for victory and the Sagarin ratings favor Indiana by 18.
This will be Indiana's first game against a team ranked in the top 250 of the KenPom ratings, but the competition level will pick up significantly on Monday when Louisiana Tech comes to Bloomington for a Thanksgiving break contest.
Until then, Indiana must continue to get healthy and take care of business against overmatched competition in hopes that it will be adequate preparation for a December that will bring its most stiff non-conference tests.
(Photo credit: GoPrincetonTigers.com)
Filed to: Princeton Tigers