The Minute After: Troy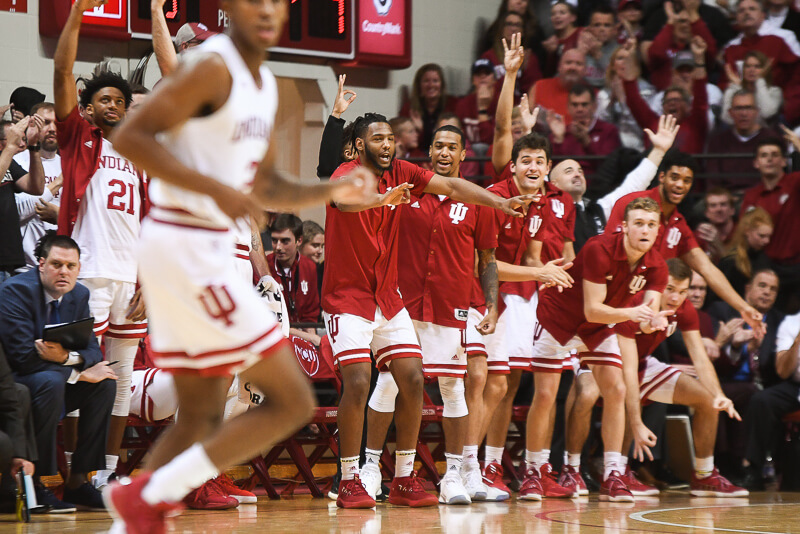 Thoughts on a 100-62 win against the Trojans:
In an otherwise gone-as-expected start to the season, Indiana's slow starts, partly due to a lax defense, have been the biggest cause for concern for the coaching staff and fans alike. But tonight the Hoosiers busted out of the gate, leaving Troy in their dust.
Indiana showed more effort and togetherness on defense to start as it shut down a hot 3-point shooting team. Couple that with another game in which the Hoosiers got to the line at a high rate and it led to a 26-point advantage at the break. Things got a little sloppy at times in the second half and the defense had some possessions they'd like back, but Indiana was still able to outscore Troy by 12 over the final 20 minutes en route to a 38-point beatdown.
Devonte Green made his season debut in a bench role this evening and you could feel it. No, Green didn't come out with the hot hand, as he missed four of his five shots in the first half. But Green's passing — one that looked like an intentional pass off the backboard to Trayce Jackson-Davis for a bucket and a failed half court alley-oop just before the break — showed off his signature flair. In 20 minutes of action, Green went just 2-of-8 from the floor, including a 1-of-6 performance from distance. Still, it's good he's back on the court in November. And this is all coming from a player Archie Miller said before the contest hadn't participated in any scrimmages at practice yet.
After failing to find his footing against North Alabama earlier in the week, Justin Smith got back to his hyper-efficient, high-scoring ways in this one. Smith led the team in scoring with 22 points in 22 minutes on 8-of-9 shooting from the floor. That included a 2-of-2 mark from 3-point range. Smith added five rebounds, two assists, a block and three steals. Al Durham brought it again, shooting 50 percent from the field (5-of-10, 3-of-4 from deep) for 17 points. Jackson-Davis continues to play with a ton of great instincts and maturity for a freshman en route to a second double-double on the season (17 points, 14 rebounds).
The three-headed monster of Smith, Durham and Jackson-Davis has proven to be a mostly consistent and reliable scoring threat for Indiana in the early goings of the season. Smith and Durham's apparent leaps in their now junior seasons have been a particular delight to see.
Some team stats: The Hoosiers scored 38 points in the paint. They rebounded 41 percent of their misses for 18 second-chance points and turned Troy over on 21 percent of their possessions for 23 points off turnovers. Indiana's 1.30 points per possession were nearly .5 more than Troy's .81. The Hoosiers went 21-of-30 (70 percent) from the line and 9-of-23 (39.1 percent) from 3-point range. Hoosiers not named Green shot 8-of-17 (47 percent) from deep.
Indiana continues to take care of business in this easy November schedule. Tonight's complete effort was about the best we've seen from this squad on the young season. Indiana is playing its style of ball and playing it well. And yet, there's still that lingering question: Can this team do it against better competition once the schedule heats up in December?
Filed to: Troy Trojans