6-Banner Sunday: Indiana's upperclassmen step into new roles as 2019-20 season begins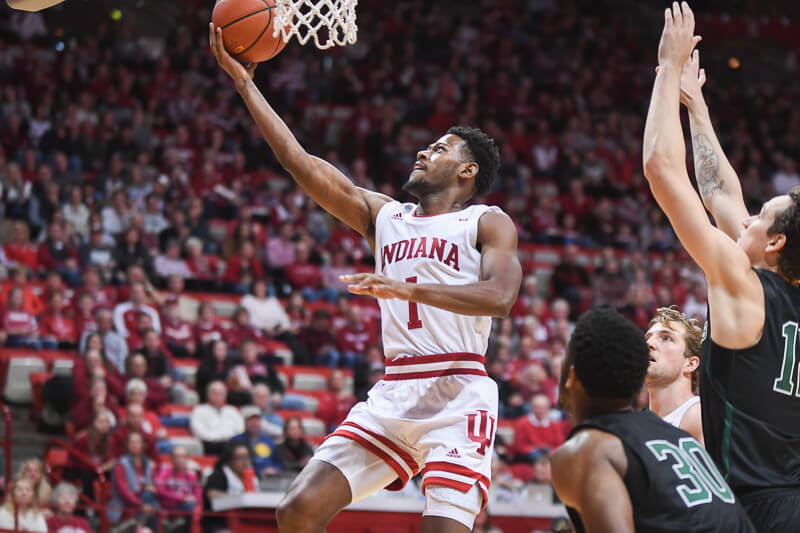 6-Banner Sunday is Inside the Hall's weekly newsletter in partnership with The Assembly Call. More than 6,500 Indiana fans receive the newsletter each week. In addition to appearing each week on the site, you can also opt to receive 6-Banner Sunday by email. A form to subscribe via email is available at the bottom of this week's 6-Banner Sunday.
Welcome to another edition of 6-Banner Sunday, a joint production between The Assembly Call and Inside the Hall where we highlight the five most essential IU basketball stories of the past week, plus take a look at how the other IU sports programs are doing.
While injury concerns and on-court adjustments continue to be present, the 2019-20 Indiana men's basketball season got off to a good start this week. The Hoosiers are 2-0 after a relatively comfortable win against Western Illinois last Tuesday night and a tighter 11-point victory against Portland State on Saturday afternoon.
The Leathernecks and Vikings hardly presented the toughest challenges that Indiana will face this season, but Miller's team adapted well to playing with new lineups. Freshmen Trayce Jackson-Davis and Armaan Franklin showed little nerves in their first collegiate games, while the Hoosier debuts of Joey Brunk and Jerome Hunter also offered glimpses into what this Indiana team can become.
In this week's edition:
• Hoosiers dominate rebounding in opening week
• Film sessions describe Indiana's early-season approach
• De'Ron Davis and Devonte Green enter final season together
• Al Durham ready to serve Indiana as captain
• Dawson Garcia provides recruiting update
• Hoosier Sports Roundup
Banner #1
Hoosier dominate rebounding in opening week
Indiana opened the season with a strong rebounding performance, collecting 47 rebounds compared to just 28 for Western Illinois. That trend continued on Saturday as IU out-rebounded Portland State 41-24, with a 16-7 advantage in offensive rebounds for the Hoosiers.
In particular, Justin Smith has stuck out around the offensive glass, seemingly more committed to battling for 50/50 rebounds and turning them into putbacks than at any other point in his Indiana career. Through two games, Smith's offensive rebounding percentage (16.7%) is more than double what it was last season (8.2%).
Zach Osterman of the Indianapolis Star focused on Smith following the Western Illinois win. In The Minute After following the Portland State victory, Ryan Corazza of Inside The Hall also gave deserved praise to Race Thompson (10 points and nine rebounds) and Trayce Jackson-Davis (13 points, 10 rebounds) for their efforts on the glass.
On the Portland State edition of The Assembly Call IU Postgame Show, Jerod and Coach highlighted how Indiana's defense and ball security helped the Hoosiers overcome a lackluster performance on defense.
Banner #2
Film sessions describe Indiana's early-season approach
With Indiana's backcourt depth limited due to injuries, many ball-handling responsibilities have fallen to two players who didn't have that role a season ago ?— Al Durham and Armaan Franklin. As such, Indiana's halfcourt offensive sets, as well as the Hoosiers' defensive positioning, looks much different now than it did eight months ago.
Film studies like this one from Tony Adragna explore some of the differences in how Archie Miller is organizing his team at both ends of the court this season.
The opening week of the season also marked the debut of Trayce Jackson-Davis, as the Center Grove High School alum tallied a combined 21 points and 16 rebounds in the Western Illinois and Portland State wins. Inside The Hall's Ryan Corazza dedicated his Film Session after the Western Illinois win to exploring how Jackson-Davis' quick movements and overall athleticism in the post allow him to thrive on offense in Miller's system.
Banner #3
De'Ron Davis and Devonte Green enter final season together
Much has been made of IU's senior class for the 2019-20 season.
De'Ron Davis and Devonte Green could become the first four-year class at IU since 1972 to miss out on the NCAA Tournament in all four of their seasons with the Hoosiers. But their time together in Bloomington has also formed a bond between the guard from New York and the big man from Colorado.
Jon Blau of the Bloomington Herald-Times examined this relationship last week by recounting practice drills pitting the friends and teammates against one another, as well as food-based arguments between the pair (De'Ron puts ketchup on his pizza, while Devonte avoids pepper at all cost).
Banner #4
Al Durham ready to serve Indiana as captain
With Devonte Green sidelined to begin the season with a hamstring injury and Rob Phinisee still shaking off the rust following an abdominal injury, the pressure has been on Al Durham and Armaan Franklin to execute in the Hoosier backcourt.
Both have done a solid job so far, but Durham's success comes as no surprise given how well he has handled himself through his first two college seasons.
Matt Cohen of the Indiana Daily Student profiled Durham and explained why he's ready for this leadership role for the annual IDS basketball guide, which provides an overview of both the men's and women's teams at the start of the season.
Banner #5
Dawson Garcia provides recruiting update
In news tangentially related to the start of the Indiana season, the Hoosiers' main recruiting target for the Class of 2020, forward Dawson Garcia, provided an update on his recruitment process.
During an Instagram Live (which is also available to watch on YouTube), Garcia said he plans to announce his college choice by Nov. 20.
Garcia also said that last Wednesday night Indiana assistant coach Tom Ostrom was in Minnesota to visit him, as IU's lead recruiter for Garcia continues to try and bring him to Bloomington.
This weekend marks a pivotal moment in Garcia's recruitment. National analysts have tabbed Indiana and Marquette as the frontrunners to land the 247Sports 5-star recruit, and after he took an official visit to Indiana on Oct. 25, he is taking his official visit to Marquette this weekend.
Banner #6
Hoosier Sports Roundup
This content was contributed by Aaron Shifron.
This week was highlighted with Assembly Call obtaining a one-on-one interview and story with former Men's Basketball star Thomas Bryant.
Also, while Football was on its second bye, Men's Soccer won a Big Ten title for the second straight year and many other sports saw competition as well.
• Men's Soccer edged out Michigan St. to win their second straight Big Ten Title despite replacing 10 starters in the offseason. They now head to the Big Ten Tournament as the number one seed. Meanwhile, Jack Maher won Big Ten Defensive Player of the Week as well as a spot on the Top Drawer Soccer team of the week along with teammate Victor Bezerra. Also, Maher was named Big Ten Defensive Player of the Year to highlight 12 Hoosier All-Conference Award Winners that also saw Todd Yeagley named Big Ten Coach of the Year.
• Women's Soccer lost to Rutgers in the Big Ten Tournament to conclude their season. Following the season two players were named to the CoSIDA Academic All District First Team.
• Women's Basketball beat McKendree in an exhibition match before defeating Mount St. Mary's in their official season opener. Ali Patberg was named to the Wooden Award watch list and the Naismith watch list.
• Volleyball dropped matches to Wisconsin and Penn State. Meanwhile President Michael McRobbie attended the match against the Badgers as part of his Bicentennial Tour.
• Football was on a bye this week but the Hoosiers still made some news with multiple players either receiving awards or being nominated for them. Running back Stevie Scott was named Big Ten Player of The Week, kicker Logan Justus was nominated for the Burlsworth and Groza Awards while punter Haydon Whiteheard is a candidate for the Ray Guy award. On a more somber note starting quarterback Michael Penix was lost for the season with an injury.
• Cross Country ran at the Big Ten Championships with the men just missing a Big Ten Title as runners-up. In addition two runners received Sportsmanship Awards.
Swimming and Diving split matches with Louisville and Texas.
• Women's Tennis won a Double's Draw in Alabama.
• Men's Tennis saw Bennett Crane qualify for the ITA National Championship. The team also released its full spring schedule this week.
• Wrestling competed at the MSU Open.
• Field Hockey had two players receive Big Ten honors.
• Rowing concluded its fall season.
Thanks for your continued support for The Assembly Call. We'll be back next weekend with a new roundup.
Now go enjoy yourself a 6-banner Sunday.
Filed to: