The Minute After: Portland State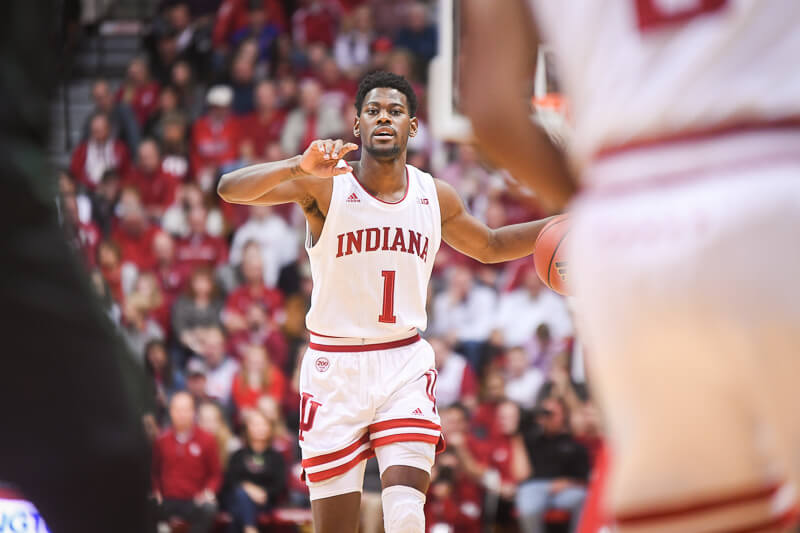 Thoughts on an 85-74 win against the Vikings:
November's schedule isn't supposed to challenge the Hoosiers much. Western Illinois came to town earlier this week and Indiana dismissed of the Leathernecks with relative ease, its lead continuing to grow as it punished them in transition. Just taking a glance at today's score — another double-digit victory for the Hoosiers — might lead one to a similar conclusion.
But a full watch of this one revealed something a bit different. Indiana's energy waned at times. Its offense was able to bust through Portland State's full-court press without much struggle, but its half court offense continues to be a work in progress. Several times in the first half, Indiana didn't have much going and had to hoist something up late in the shot clock. It was fortunate to be stellar on the offensive boards, rebounding 48 percent of its misses and scoring 23 second-chance points. Without such a commitment on the boards, this one may have been closer in the final minutes of the contest.
Indiana's defense also wasn't so sharp in this one. It allowed Portland State to score 1.08 points per possession and shoot an uncharacteristic 50 percent (8-of-16) from distance. Though a banked-in attempt in the first half and a hot hand from Boo Boo Woods in the second half, at one point making three straight 3-pointers, helped the Vikings along to that 50 percent mark. This was a foul-heavy game as well. The Vikings posted a strong free throw rate of 63 percent which they coupled with a good performance at the line (24-of-32, 75 percent). Indiana wasn't far behind in this category, posting a free rate of 50 and going 22-of-30 (73.3 percent) from the charity stripe.
But once things got a little too close for comfort in the second half, Indiana dug deep enough to close this thing out without much of a scare. Woods led all scorers with 27 points, but Rob Phinisee locked in and made things difficult for him in the final quarter of the contest. Indiana continued to pound the boards for second-chance opportunities and connect at the free throw line. And the defense turned it up a bit not to make things so easy. It was all enough for Indiana to keep pace ahead of the Vikings for an 11-point victory after they got as close as five points with 11:41 to go.
Individually, Al Durham and Justin Smith continue to shine for the Hoosiers on offense. Smith's outside shooting still isn't connecting, but he's been unstoppable in the paint. The junior finished with 16 points on 50 percent shooting (7-of-14) from the floor. Smith also added eight rebounds in 36 minutes of action. Durham continues to be hyper-efficient (7-of-11, 18 points) and his aggression in transition led to some coast-to-coast scores. Race Thompson's 10 points and nine boards were a big reason why the Hoosiers dominated the glass today, as was Trayce Jackson Davis's line of 13 points and 10 rebounds.
Indiana was also careful with the ball, turning it over on just 15 percent of their possessions despite Portland State's full-court pressure defense. That matches Indiana's turnover percentage against Western Illinois. It's a positive sign for an Indiana program that has struggled in that department of late.
In the end, it's a win, but one that comes with some areas that need work and a game that got a little closer in the second half than expected. Still, Indiana rose to the challenge and closed this thing out.
Filed to: Portland State Vikings