Indiana picked to finish 10th in Big Ten in official unofficial media poll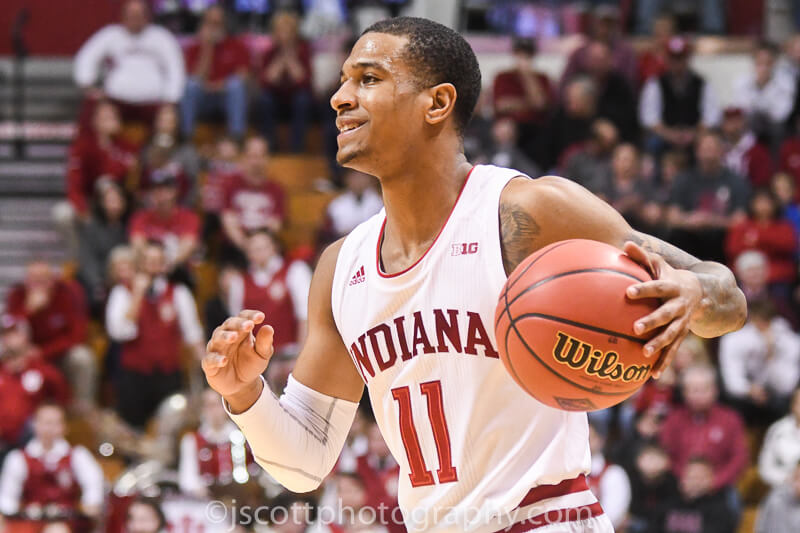 Over the last month, we've shared Big Ten picks from several of the preseason college basketball preview publications: Athlon Sports, Lindy's Sports, Street and Smith's and Blue Ribbon.
With Big Ten media day taking place later this week in Chicago, the "official unofficial" Big Ten preseason media poll was released today.
Organized by Brendan Quinn of The Athletic and Adam Jardy of The Columbus Dispatch, the unofficial poll surveys 28 writers from around the league (two from each Big Ten beat) to get their full predicted order of finish for the league, preseason all-league team, preseason player of the year and preseason freshman of the year. The Big Ten does not conduct a full preseason media poll on its own.
This morning, the poll was released:
1. Michigan State – 391 (27)
2. Maryland – 349 (1)
3. Ohio State – 336
4. Purdue – 311
5. Michigan – 255
6. Wisconsin – 241
7. Illinois – 239
8. Iowa – 174
9. Penn State – 164
10. Indiana – 155
11. Minnesota – 127
12. Rutgers – 95
13. Nebraska – 69
14. Northwestern – 34
(Out of a possible 392 votes)
The highest projected finish for Indiana came from Zach Osterman of The Indianapolis Star, Brendan Quinn of The Athletic, Scott Richey of The Champaign News-Gazette, Jeff Potrykus of the Milwaukee Journal Sentinel and David Jones of the Harrisburg Patriot-News, who all picked the Hoosiers to finish seventh.
Graham Couch, who covers Michigan State for The Lansing State Journal, picked Indiana to finish 12th.
A complete list of ballots (including mine) is available here.
Full voting distribution for Indiana (a full listing of the media panel that participated in the poll is available at the bottom of this post):
7th: Five votes (Osterman, Quinn, Richey, Potrykus, Jones)
8th: Two votes (Leistikow, Werner)
9th: Six votes (Markus, Bozich, Newman, Burkhardt, Landis, Ryan)
10th: Six votes (Snyder, Basnett, Dopirak, Neubert, Greenstein, Heady)
11th: Eight votes (Giambalvo, Carino, Jardy, Charboneau, Fuller, Polzin, Emmert, James)
12th: One vote (Couch)
Michigan State's Cassius Winston was voted the preseason Big Ten player of the year. Jalen Smith of Maryland received one vote for preseason Big Ten player of the year. Ohio State's D.J. Carton was the pick for preseason Big Ten freshman of the year.
First Team All-Big Ten
Cassius Winston, Michigan State (28 – unanimous)
Lamar Stevens, Penn State (26)
Ayo Dosunmu, Illinois (18)
Anthony Cowan, Maryland (16)
Kaleb Wesson, Ohio State (14)
Also receiving votes for first team All-Big Ten: Zavier Simpson, Michigan (13), Jalen Smith, Maryland (12), Joe Wieskamp, Iowa (5), Xavier Tillman, Michigan State (2), Nojel Eastern, Purdue (2), Giorgi Bezhanishvili, Illinois (1), Matt Haarms, Purdue (1), Geo Baker, Rutgers (1), Aaron Henry, Michigan State (1).
Also receiving votes for Big Ten freshman of the year: EJ Liddell, Ohio State (4), Trayce Jackson-Davis, Indiana (3), Franz Wagner, Michigan (3), Kofi Cockburn, Illinois (1), Jerome Hunter, Indiana (1), Rocket Watts, Michigan State (1).
And a complete list of voters is available below (two from each beat):
Scott Richey — Illinois | Champaign News-Gazette
Jeremy Werner — Illinois | 247Sports
Alex Bozich — Indiana | Inside The Hall
Zach Osterman — Indiana | Indianapolis Star
Mark Emmert — Iowa | The Des Moines Register
Chad Leistikow — Iowa | The Des Moines Register
Don Markus — Maryland | Baltimore Sun
Emily Giambalvo — Maryland | The Washington Post
Dylan Burkhardt — Michigan | UMHoops
Brendan Quinn — Michigan | The Athletic
Matt Charboneau — Michigan State | Detroit News
Graham Couch — Michigan State | Lansing State Journal
Marcus Fuller — Minnesota | Star Tribune
Ryan James — Minnesota | 247Sports
Chris Basnett — Nebraska | Lincoln Journal Star
Christopher Heady — Nebraska | Omaha World-Herald
Teddy Greenstein — Northwestern | Chicago Tribune
Shannon Ryan — Illinois/Northwestern | Chicago Tribune
Adam Jardy — Ohio State | Columbus Dispatch
Bill Landis — Ohio State | The Athletic
Audrey Snyder — Penn State | The Athletic
David Jones — Penn State | The Harrisburg Patriot-News
Dustin Dopirak — Purdue | The Athletic
Brian Neubert — Purdue | Rivals
Jerry Carino — Rutgers | Asbury Park Press
Joshua Newman — Rutgers |Asbury Park Press
Jim Polzin — Wisconsin | Wisconsin State Journal
Jeff Potrykus — Wisconsin | Milwaukee Journal Sentinel
Filed to: 2019-2020 Big Ten preview