6-Banner Sunday: Breaking down Anthony Leal's game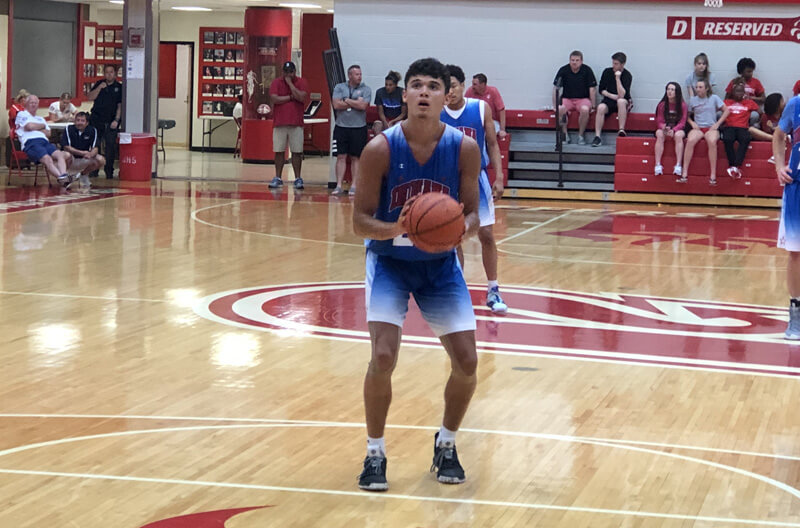 6-Banner Sunday is Inside the Hall's weekly newsletter in partnership with The Assembly Call. More than 6,500 Indiana fans receive the newsletter each week. In addition to appearing each week on the site, you can also opt to receive 6-Banner Sunday by email. A form to subscribe via email is available at the bottom of this week's 6-Banner Sunday.
Welcome to another edition of 6-Banner Sunday, a joint production between The Assembly Call and Inside the Hall where we highlight where we highlight the five most essential IU basketball stories of the past week plus take a look at how the other IU sports teams are doing.
With last week's announcement of the time and date for this year's Hoosier Hysteria, Indiana fans have earnestly started to plan and plot how the Hoosiers will fare on the hardwood during the 2019-20 season. This means assessing what the rest of the Big Ten will look like as the offseason comes to a close, and also taking stock of what we already know about Indiana's schedule for the fast-approaching season.
That, coupled with a full week to analyze and understand what Anthony Leal's commitment to Indiana means for the future of the program, provided plenty of food for thought regarding Indiana men's basketball over the past few days.
In this week's edition:
• Analyzing new IU commit Anthony Leal
• Recalling other Bloomington natives who played at Indiana
• Indiana recruiting board update for 2020
• What we know about the 2019-20 Indiana schedule
• Updated Big Ten power rankings
• Hoosier Sports Roundup
Banner #1
Analyzing new IU commit Anthony Leal
The past week has been filled with discussion concerning new Indiana commit Anthony Leal.
From where he'll fit on the court for Archie Miller, to the significance of having another top Indiana recruit stay in state and play for the Hoosiers, there are multiple avenues to explore and lenses through which to interpret Leal's decision to attend Indiana.
This week's episode of Podcast on the Brink is divided into two segments, with the first being discussion between Jerod Morris and Alex Bozich about the commitment of Leal.
The second part of this week's episode is an interview with IU volleyball coach Steve Aird ahead of the start of the team's 2019 season and the regular season debut of the team's new arena, Wilkinson Hall, located next to both Assembly Hall and Cook Hall. Of special interest to Indiana fans will be the many connections, some stretching back decades, between some current Indiana volleyball players and past Indiana men's basketball teams.
This week's edition of Assembly Call Radio focused heavily on Leal's on-court game, with Jerod and co-hosts Andy Bottoms and Ryan Phillips talking at length about Leal's strengths and weaknesses as part of his in-depth scouting report.
Banner #2
Recalling other Bloomington natives who played at Indiana
Leal's commitment also marked the latest Bloomington native who has elected to spend his college basketball career with the Hoosiers.
Players like Jordan Hulls (also from Bloomington South) and Jared Jeffries (Bloomington North) have made the same choice in recent years to go from townie to potential Indiana basketball star.
Jon Blau of the Bloomington Herald-Times caught up with Hulls, Jeffries, and current Bloomington South basketball coach J.R. Holmes to talk about the pros and cons of being the local kid who chooses to continue his academic and athletic career close to home.
The Athletic's Dustin Dopirak also selected Hulls for his most recent Indiana basketball story, although Dopirak focused on Hulls' entire career, with a particular emphasis on the trials and tribulations of playing basketball overseas in Europe.
It partners well with the story written by Inside the Hall's Dylan Wallace in July about Hulls and his foundation, Never Lose Hoop.
Banner #3
Indiana recruiting board update for 2020
More than a month passed between updates of Inside the Hall's Indiana basketball recruiting board for 2020, but a fresh version of the recruiting board is now available here.
The month in between updates saw two big-name recruits commit to the Hoosiers in Trey Galloway from Culver Academies and Anthony Leal from Bloomington South.
While the recruiting board shouldn't be considered a complete list of the prospects IU is recruiting, this week's version features updates for recruits' school lists, their national rankings, and the addition of a new prospect on Indiana's radar who set his official visit to Bloomington for later this month.
Among those featured in the update is Matt Cross, the 6-7 forward from Woodstock Academy (CT) who took an official visit to Indiana in late May.
Also included is R.J. Davis, a New York-based guard who plays AAU ball for the New York Renaissance (the same AAU team Devonte Green played for). Davis was offered an Indiana scholarship in early May and impressed during the Nike Peach Jam in July in South Carolina, averaging more than 21 points and seven rebounds per game.
Another big man that has garnered the attention of Indiana and several other prestigious college basketball schools is Dawson Garcia. The 6-11 center from Minnesota already has an Indiana offer, and an official visit to campus is something Indiana hopes to secure this fall.
Banner #4
What we know about the 2019-20 schedule
Indiana's complete 2019-20 schedule has not been released quite yet, but that doesn't mean you can't piece together who the majority of Indiana's opponents will be, and when the Hoosiers are set to play them.
Several dates and non-conference opponents have already been released. Using these, one can get a good idea of what Indiana will be up against when the fall arrives.
The known non-conference slate includes the ninth year of the Crossroads Classic in Indianapolis, featuring a meeting between Indiana and Notre Dame on Dec. 21.
Florida State will travel to Bloomington on Dec. 3 for the Big Ten-ACC Challenge. In the Jimmy V Classic on Dec. 10, Indiana will play UConn in Madison Square Garden in New York.
Another notable non-conference game will pit Indiana against Arkansas for the third time in the last two seasons.
In Big Ten play, there are no set dates for any of IU's 20 games against conference foes, but the opponents the Hoosiers will face and the locations of the games have already been set. Of these set matchups, Indiana will play seven Big Ten teams twice — including Purdue, Maryland and Wisconsin.
Banner #5
Updated Big Ten power rankings
A new version of our offseason Big Ten power rankings has arrived, just in time for the start of the new school year.
Version one, published in April, can be found here, but the offseason has changed where several schools are located in the new power rankings, which can be found here.
One of the big movers from the first edition of the power rankings to this latest update was Penn State, boosted by the return of star forward Lamar Stevens for his senior season.
Banner #6
Hoosier Sports Roundup
This content was contributed by Aaron Shifron (twitter @ashifron).
• IU Soccer got underway with an exhibition match for the women's team and beginning of practice for the men's team. Assembly Call will have full coverage of IU soccer this fall on the Assembly Call Community for those with a subscription.
Also, there were a few other noteworthy news items as the IU athletic 2019-2020 season begins:
• Men's Soccer saw additions to their coaching staff and announced their captains for the season. Also those with a subscription to the Assembly Call Community can read a feature story about former starting defender Rece Buckmaster.
• Women's soccer also named their captain. In exhibition play, IU beat Indiana State 3-0 and lost 2-1 to Northwestern last week. No articles recapping these games were published.
In golf IU had the dedication of their brand new state of the art Pfau Course that will open in the spring. Also Mary Parsons helped Canada win a bronze medal at the Pan American Games.
• Volleyball coach Steve Aird previewed their season at media day.
Swimming and Diving won three more medals to end the Pan American Games.
• Softball added a new member to its coaching staff.
• Wrestling saw Nate Jackson win a gold medal at the Alexander Medved Prizes in Minsk, Belarus.
Thanks for your continued support for The Assembly Call. We'll be back next weekend with a new roundup.
Now go enjoy yourself a 6-banner Sunday.
Cameron Drummond (@cdrummond97)
Student Intern
The Assembly Call
Filed to: