6-Banner Sunday: Selection Sunday Edition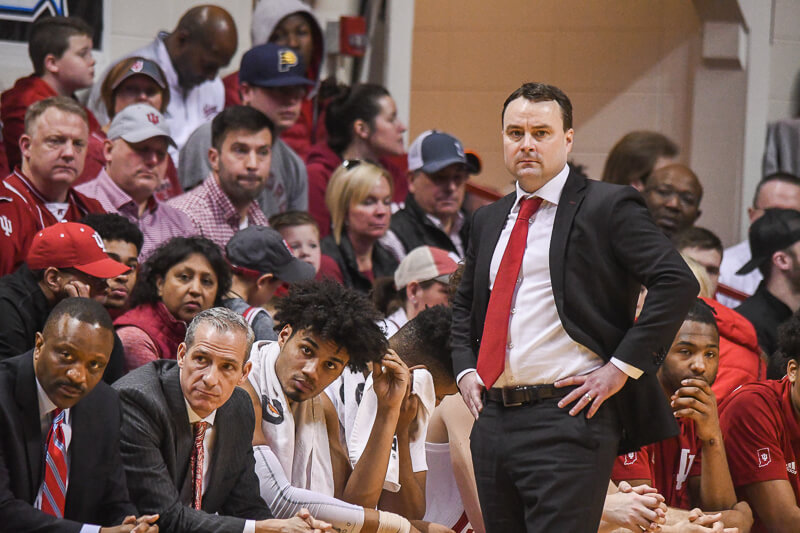 6-Banner Sunday is Inside the Hall's weekly newsletter in partnership with The Assembly Call. More than 6,000 Indiana fans receive the newsletter each week. In addition to appearing each week on the site, you can also opt to receive 6-Banner Sunday by email. A form to subscribe via email is available at the bottom of this week's 6-Banner Sunday.
Welcome to another edition of 6-Banner Sunday, a joint production between The Assembly Call and Inside the Hall where we highlight the six most essential IU basketball stories of the past week.
It's here: Selection Sunday. An entire season's body of work culminates in this day for so many college basketball teams.
Will that be the case for Indiana? It's a precarious situation. IU's loss to Ohio State in the Big Ten tournament left the Hoosiers at 17-15 overall after a wasted opportunity to seemingly cement a spot in the NCAA tournament.
The Hoosiers will have to hope the selection committee places high value in their good wins (to overlook its high number of losses in Big Ten play), and that some extra credit is assigned for so many losses coming while dealing with injuries to players who are now available.
Between all of that and Keion Brooks announcing his long-awaited college decision, it's been a tumultuous week in Bloomington. Read up in this detailed rundown of the last week, which will get your ready for this fateful Sunday.
In this week's edition:
• IU falls to Ohio State in Chicago
• Keion Brooks' decision and Trayce Jackson-Davis' honor
• Bracketology roundup
• Senior Day speeches
• An open letter to Romeo Langford
• IU Women's Basketball in a solid spot
Banner #1
IU falls to Ohio State in Chicago
Indiana came to Chicago reinvigorated after a four-game winning streak, and with a chance to play its way into the NCAA tournament. Despite all the struggles of January and the constant heartbreak of February, the Hoosiers had a chance.
But IU couldn't take advantage, falling 79-75 to Ohio State in the second round of the Big Ten Tournament.
Indiana was down by 20 with 7:30 remaining but never gave in. Behind a career day from Devonte Green, the Hoosiers gave themselves a chance late. But the 20-point deficit was ultimately too big to overcome.
Green hit a career-high eight 3s and put up a career-high 26 points. Ohio State took Rob Phinisee and Romeo Langford out of the game for the most part, and Indiana suffered. Juwan Morgan struggled against Kaleb Wesson's defense and Ohio State's double-teams inside, and foul trouble limited his and De'Ron Davis' minutes in the second half. IU's 17 turnovers, its most since November, were especially brutal.
This game was tabbed by many as a play-in game for the NCAA tournament. Despite the strong comeback effort, Indiana is left licking its wounds and hoping the committee finds their resume appealing enough to warrant an at-large bid.
At Inside the Hall, Ryan Corazza lamented Ohio State's physicality in The Minute After. Ben Ladner recapped the game and wrote about Ohio State's sets and execution. Alex Bozich discussed the continuation of IU's rough Big Ten Tournament history in his five takeaways.
In the Assembly Call Postgame Show, Jerod and Ryan broke down why Morgan and Langford were unable to make a significant enough impact on the game, took a bit of a long-term view in discussing Green and Davis, and much more.
Banner #2
Keion Brooks' decision and Trayce Jackson-Davis' honor
After landing Armaan Franklin and Trayce Jackson-Davis, Indiana's main recruiting focus was Keion Brooks Jr. Brooks was a highly-coveted prospect: a 247Sports Composite five-star, No. 23 in those composite rankings, and the No. 3 recruit from Indiana.
Friday in Fort Wayne, Brooks announced he will go to Kentucky next year. He chose the Wildcats over IU, Michigan State, and North Carolina.
Given Indiana's Big Ten tournament loss on Thursday, this served as a bit of salt in the wound for the Hoosiers. Brooks would have been a great addition to the 2019-2020 Hoosiers. He'd certainly have played major minutes, and he may have started at the 3 as well.
Counting out Romeo Langford, who it is assumed will enter the NBA draft, IU still has one scholarship left to fill for next year's team. The two most likely options appear to be four-star guard Harlond Beverly or a graduate transfer.
Jackson-Davis had an up-and-down weekend as well. He was named Indiana Gatorade Player of the Year on Friday, becoming the second consecutive winner of the award to choose Indiana. But on Saturday, he and Center Grove High School came up short of reaching the IHSAA 4A State Championship Game as they fell to Ben Davis in the semi-state. TJD put up 34 points in the loss, his final game for Center Grove.
He'll turn his attention to the McDonald's All-American Game in Atlanta on March 27.
Banner #3
Bracketology roundup
As we said before, today is Selection Sunday. The NCAA Tournament Selection Show will air tonight at 6 p.m. ET on CBS. Should Indiana find itself excluded from the bracket, you'll want to tune in to the NIT Selection Show at 8:30 p.m. ET on ESPNU.
Indiana's NCAA tournament chances have become a hot topic. It would have been much simpler if the Hoosiers had taken care of business against Ohio State. IU isn't fully dead, but it seems like a long shot that it'll get a bid.
Here's a look at where several bracketologists have Indiana.
Inside the Hall and Assembly Call's Andy Bottoms has IU out of his bracket in his "other teams considered" as of March 16.
Delphi Bracketology has Indiana in its first four out as of March 16.
Bracket Matrix, in its composite bracket of more than 100 bracketologists, has Indiana in its first four out as of March 16.
ESPN's Joe Lunardi has the Hoosiers in his first four out as of March 16.
SB Nation's Chris Dobbertean has IU in his first four out as of the evening of March 16.
CBS Sports' Jerry Palm lists Indiana among teams on the bubble out of the bracket.
Bracketguy Dave has IU in his first four out as of March 16.
And yet this tweet by Stewart Mandel allowed all IU fans to cling to slim but reasonable hopes as night fell on Saturday.
Banner #4
Senior Day speeches
Following Indiana's 89-73 win over Rutgers last Sunday to close out the regular season, IU recognized its senior class: Juwan Morgan, Zach McRoberts, Evan Fitzner, Quentin Taylor and Johnny Jager (note: Jager is a redshirt junior that opted to go through senior day ceremonies).
Senior day was a little different than usual with students away for spring break, but that just allowed for more local Hoosier fans to experience a game at Assembly Hall and send off the seniors properly.
While there's no need to recap the game itself (spoiler alert: Indiana dominated), the Senior Day ceremonies are worth revisiting. The full video of the senior day festivities can be found here at Inside the Hall.
Here's a breakdown of where in that video you can find things of note (the timestamps are how much time is remaining in the video).
27:50: Archie Miller addresses the crowd
24:51: Senior managers are recognized
23:11: IU's seniors are introduced
17:48: Video montage of the seniors
15:28: Quentin Taylor's speech
12:33: Johnny Jager's speech
11:05: Evan Fitzner's speech
7:12: Zach McRoberts' speech
4:44: Juwan Morgan's speech
Banner #5
An open letter to Romeo Langford
Romeo Langford ranks among the top recruiting victories in IU history. Like a glimmer of sunshine through the dark clouds on a rainy day, he provided an abundance of hope to a fan base that desperately craved it.
Because Indiana's season hasn't gone according to plan, his play has been heavily scrutinized and has sparked debate among many. Some theorize things like "If he's such a good player, why is Indiana not better as a team?" or "He should stay in school, he's not good enough to go to the NBA."
With that said, many (if not most) IU fans appreciate Langford for the player he already is and recognize his potential at the next level. One such fan shared that sentiment and recognized all Romeo has meant to the program over the last year in an open letter on the Assembly Call website.
Here's a snippet of those thoughts:
As the season began, the pressure that was placed on your shoulders to help us hang another banner was palpable. However, you handled it with grace. You suited up and gave your best effort night in and night out.

Then things started to fall apart.

Our fan base started to turn on the team, the coach, and they even started to turn on you because you were not winning games for the team.

As I watched, I became more and more disgusted with the judgment levied against an extremely talented freshman that was giving his all.

I work on campus and I've had several interactions with you. Every single time you have been kind, humble, gracious, and willing to do anything for your fans.

You signed my baby's onesie at Hoosier Hysteria, took a photo with my nephew after a game, and even thanked me for holding a door for you one day. Your entire class walked through the door I was holding, and only two kids out of the entire class said thank you: Rob Phinisee and you.

You are the type of young man that I want representing Indiana University. Period.
Banner #6
IU Women's Basketball in a solid spot
Indiana's women's team finds itself in a much more secure position than their male counterparts heading into Selection Monday.
The Hoosiers finished 20-12 overall with an 8-10 Big Ten record. They won 10 straight to open the season, and knocked off ranked Michigan State and Iowa teams at home in conference play. IU's win over Minnesota in the second round of the Big Ten tournament should solidify its spot in the NCAA tournament. ESPN's Bracketology has Indiana as a 10 seed.
Junior guard Ali Patberg was a second-team All-Big Ten selection by both Big Ten media and coaches. She enjoyed a stellar season, averaging 16 points, 4.7 assists, and five rebounds per game and playing with high energy every game.
Sophomore guard Jaelynn Penn was a second team All-Big Ten selection by coaches and an honorable mention by the media. She averaged 13.6 points and 3.6 rebounds per game. Junior forward Brenna Wise was an honorable mention All-Big Ten selection by the media. She averaged 12.3 points and seven rebounds per game.
The Women's Selection Show will air on Monday at 7 p.m. ET on ESPN.
And with that, the joy of hanging Banner #6 is now one week closer.
Thanks for your continued support for The Assembly Call and Inside the Hall. We'll be back next weekend with a new roundup.
Now go enjoy yourself a 6-banner Sunday.
Filed to: