Five takeaways from Indiana's loss to Ohio State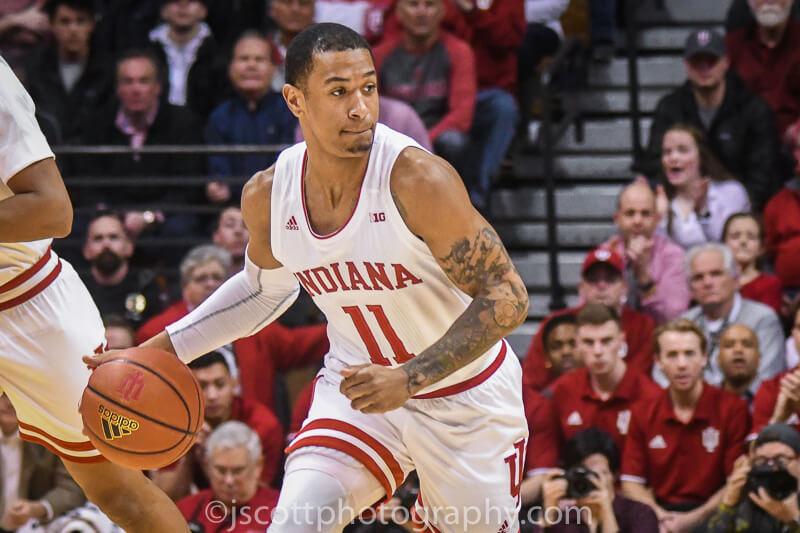 CHICAGO – Indiana lost its Big Ten tournament opener for the second straight season as the Hoosiers fell 79-75 to Ohio State at the United Center. The loss, which may have ended IU's NCAA tournament chances, dropped the Hoosiers to 17-15.
Here's a look at five takeaways from the loss to the Buckeyes:
· Indiana's historically bad performance in the Big Ten tournament continues: Perhaps yesterday's performance should have been easy to see coming.
Indiana's woes in the Big Ten tournament, which began in 1998, are well documented. The program entered this year's event with a 12-21 record and departed Chicago with another quick exit.
Only two Big Ten programs have a worse winning percentage in the event than IU: Northwestern, a perennial league doormat until the last few seasons and Maryland, which joined the conference beginning with the 2014-15 season.
So far, Indiana isn't off to a good start in the event under Archie Miller. Last year, the Hoosiers lost to Rutgers at Madison Square Garden and on Thursday, IU lost to Ohio State with its postseason hopes hanging in the balance.
· A poor start set the tone for what was to come: As the assembled media moved through the locker room talking to different players in the aftermath of Thursday's loss, the faces of the IU players were long and many of the answers were short.
The question came up often and no one had a great answer: With so much at stake, how could IU come out lacking energy on this stage?
Slow starts were a common theme for a good portion of the season and it was a habit that IU never successfully kicked. And despite reeling off four straight wins and exuding confidence entering Thursday's contest, there it was again.
From the opening tip, Ohio State was the more aggressive and physical team. As Indiana settled for jump shots, Ohio State got into the lane and into the midrange for better looks. The Buckeyes got most of the 50-50 balls early, setting the stage for OSU to build a big lead in the second half. By the time Indiana finally got itself going in the second half, it was too little, too late.
· Green's career day keeps IU close: Devonte Green has long been criticized for his inconsistencies and penchant to make the simple play difficult, but the New York native deserves major credit for his performance on Thursday.
On an afternoon where IU's most reliable scorers failed to step forward, Green played without any fear. And had he not splashed in eight 3-pointers, it's likely that the Hoosiers would have lost by a much bigger margin.
Green easily surpassed his career-high as he finished with 26 points and got the Hoosiers within a possession in the game's final minutes. The 6-foot-3 guard had a simple explanation for what he believes Indiana needs to do in the future to avoid having letdowns in key situations.
"I think we've just got to stay together at all times, tough times," Green said. "And play hard at all times."
· Turnovers rear their ugly head: We mentioned Ohio State's ability to force turnovers as a concern for Indiana entering the game in our preview.
After five straight games of posting a turnover percentage under 17, Indiana turned it over 17 times for a turnover percentage of 22.3. Those mishaps led to 24 points for Ohio State. Indiana scored just six points off of Ohio State's 16 turnovers. No statistic was more glaring in the boxscore.
"Our turnovers in the first half really broke us down in terms of giving them 17 points off turnovers," Archie Miller said. "We had 10 in the first half. And that was kind of a little bit of a deal-breaker for us at halftime."
· Holtmann keeps same defensive strategy in rematch: Another storyline entering the game was potential adjustments for Ohio State in terms of how they chose to defend Justin Smith.
Smith struggled in the first matchup in Bloomington between the two teams as Chris Holtmann chose to defend him with Kaleb Wesson, who didn't really leave the paint at all.
And even after a recent hot streak from Smith that included 24 points against Michigan State and 15 against Illinois, Ohio State kept Wesson on him.
It was a strategy that worked out well for Ohio State as Smith went scoreless in 15 minutes.
Filed to: 2019 Big Ten tournament