What to expect: Ohio State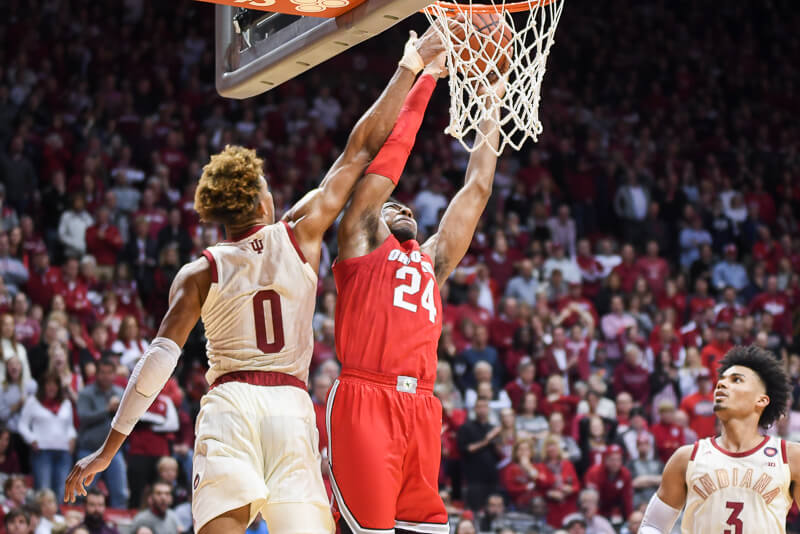 Indiana will open Big Ten tournament play on Thursday afternoon against Ohio State at the United Center in Chicago. The Buckeyes are 18-13 overall and finished 8-12 in the Big Ten. Ohio State won the first meeting between the two teams, 55-52, on Feb. 10 in Bloomington.
The game will tip at 12:30 p.m. ET on BTN with Brian Anderson, Stephen Bardo and Mike Hall on the call:
In what some are billing as an NCAA tournament bubble elimination game, Indiana and Ohio State will meet on Thursday in the second round of the Big Ten tournament in Chicago.
Ohio State has won its last three meetings against the Hoosiers, including an early February contest in Bloomington in which neither team shot better than 45 percent from the field.
The Buckeyes come in reeling as losers of their last three games while Indiana is playing its best basketball since December and has won four straight.
THE FIRST MEETING
Indiana's loss to Ohio State at Simon Skjodt Assembly Hall was one of the ugliest games the Hoosiers have played in all season and was one of four conference home games in which IU didn't eclipse 53 points.
The Buckeyes made their defensive strategy clear early in the contest as Chris Holtmann made the choice to leave Justin Smith open while packing the paint to stop Romeo Langford and Juwan Morgan.
Save for a brief 3-point lead in the game's final two minutes for the Hoosiers, it was a game Ohio State controlled virtually throughout. After Devonte Green splashed in a 3-pointer with 1:46 to play, Indiana didn't score the rest of the way. Ohio State quickly answered Green's 3-pointer with a 3 from CJ Jackson. The go-ahead bucket came from Andre Wesson with 20 seconds to go and Indiana's final four possessions went like this: missed layup, turnover, missed 3-pointer and missed 3-pointer.
Ohio State's three-game losing streak has largely been the result of not having Kaleb Wesson, who was suspended the last three games, but will be available to play on Thursday.
The Buckeyes have struggled to score without Wesson in the paint, but Chris Holtmann now has a post presence to rely on thanks to his return. If Ohio State can get Wesson going, it could open up some space for Jackson, Luther Muhammad and Justin Ahrens on the perimeter. Ahrens, who barely played in Ohio State's win in Bloomington, is 13-for-25 on 3s over his last five games.
Indiana, however, has been a different team offensively in recent weeks. The Hoosiers are taking care of the ball and are getting offensive contributions from a variety of secondary options, including Smith and Rob Phinisee, who is playing as well as he has all season. There's been a sense of urgency from Indiana that simply wasn't present in large portions of the conference season.
TEMPO-FREE PREVIEW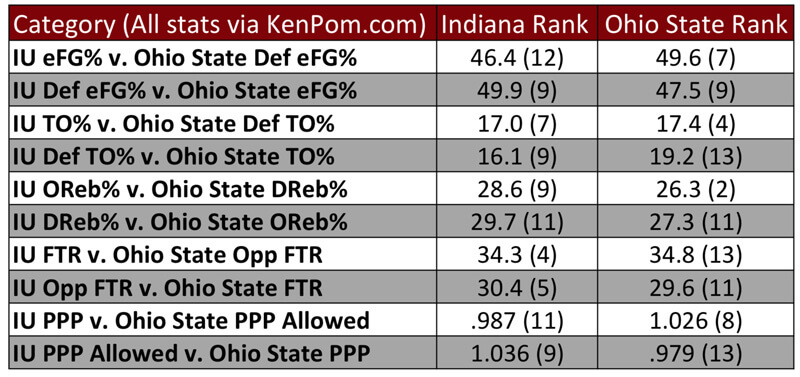 Both teams struggled offensively mostly throughout conference play, finishing in the bottom four in points per possession scored.
Ohio State's numbers really took a nosedive over the past three games as the Buckeyes scored just .813 PPP (Purdue), .793 PPP (Northwestern) and .92 PPP (Wisconsin) without Wesson in the lineup.
A major key for Indiana on Thursday will be taking care of the ball. The Hoosiers have had their best stretch of the season in that regard in recent weeks as they've gone three straight games with a turnover percentage under 14. A major strength for Ohio State's defense is its ability to force turnovers. The Buckeyes had the fourth best defensive turnover percentage in Big Ten play (17.4).
Additionally, it also bears watching whether Indiana can generate any second chance points against the Buckeyes. Ohio State had the Big Ten's second best defensive rebounding percentage in conference play.
WHAT IT COMES DOWN TO
Indiana opened as a 1.5-point favorite in Vegas and Ken Pomeroy's ratings also like the Hoosiers by one. Pomeroy gives Indiana a 52 percent chance to advance to play Michigan State in Friday's quarterfinals. The Sagarin ratings favor Indiana by two.
Both teams have plenty to play for on Thursday as the NCAA tournament selection committee will be keeping close tabs on all of the conference tournaments going on throughout the country. While neither team should feel comfortable about its standing with a win, a loss could shut the door for the team that comes up short.
Ohio State has had Indiana's number under Chris Holtmann in three games and Jackson in particular has been difficult for the Hoosiers to handle. After its season appeared to be virtually dead following an overtime loss at Iowa on Feb. 22, can Indiana continue its march toward the right side of the tournament bubble?
Filed to: 2019 Big Ten tournament, Ohio State Buckeyes