6-Banner Sunday: Hoosiers deliver listless performance as two more difficult matchups loom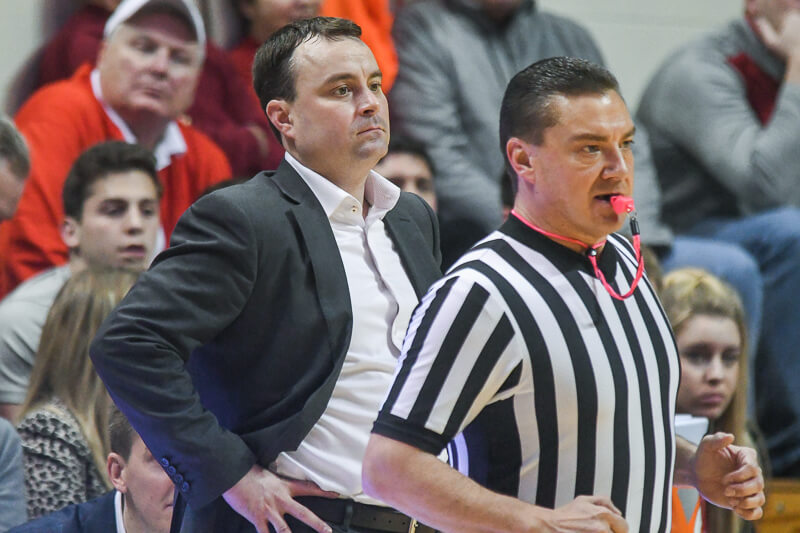 6-Banner Sunday is Inside the Hall's weekly newsletter in partnership with The Assembly Call. More than 6,000 Indiana fans receive the newsletter each week. In addition to appearing each week on the site, you can also opt to receive 6-Banner Sunday by email. A form to subscribe via email is available at the bottom of this week's 6-Banner Sunday.
Welcome to another edition of 6-Banner Sunday, a joint production between The Assembly Call and Inside the Hall where we highlight the six most essential IU basketball stories of the past week.
Indiana had only one game this week, a disappointing and discouraging loss at Minnesota on Saturday. The Hoosiers fell to 4-10 in conference play with the loss, tying them with Nebraska for 11th.
The bottom of the standings are tight, so Indiana definitely has a chance to avoid a Wednesday game in the Big Ten tournament. But IU needs to win some games to make that happen, and IU has a tough schedule in the coming weeks.
The Hoosiers' margin for error is slim. They'll continue to play on thin ice. Can they hang on? We'll find out.
But for now, here's what's going on with IU basketball.
In this week's edition:
• Minnesota runs IU out of the gym
• Big week looming for Indiana
• POTB and AC Radio
• Romeo Langford feature
• Bracketology updates
• Hoosiers in the NBA
Banner #1
Minnesota coasts by the Hoosiers on Saturday
Indiana had some time to rest and prepare for the Minnesota game, but it didn't make a difference. The Gophers cruised to a 21-point win over the Hoosiers.
Jordan Murphy dominated for Minnesota with his 18th double-double of the season, and the Gophers shot their second-best 3-point percentage of the season. Meanwhile Indiana struggled defensively all game and shot its worst 3-point percentage of the year.
Ryan Corazza discussed Indiana's lack of energy in Inside the Hall's The Minute After.
There was little intensity. It was a going through the motions affair where Indiana just seemed to feel like another loss was inevitable. This was in contrast to much of the losing streak. While Indiana has struggled mightily over the last six weeks, effort hasn't really been the issue. But that wasn't the case today. This was the first time it looked like the Hoosiers had given up in a contest, and that doesn't bode well for the remainder of the schedule.
Josh Margolis highlighted Race Thompson's return to action in his home state, among other things, in his notebook for Inside the Hall.
In the Assembly Call Postgame Show, Jerod, Ryan and Chad discuss the disparity at the 3-point line, the turning point in the game, and Romeo Langford and Al Durham's tough outings.
Banner #2
Big week looming for IU
Coming off the loss at Minnesota, Indiana's road doesn't get any easier. Two huge rematches await the Hoosiers this week: a Tuesday rivalry matchup with Purdue and a Friday road contest at Iowa.
Despite Indiana's struggles in conference play, the Hoosiers are still squarely on the NCAA tournament bubble because of their three great wins (Marquette, Louisville and at Michigan State) and the number of high-quality opponents remaining on the schedule. Games like these are the opportunities Indiana must capitalize on to keep postseason hopes alive.
Purdue comfortably held off IU the first time the foes played in mid-January, a 70-55 Boilermaker win at Mackey Arena. That was Romeo Langford's worst game of the season, as early foul trouble limited his first-half minutes and he was inefficient when he did get on the floor. He finished with just four points that day.
Indiana has gone 1-6 since then, while Purdue is 6-1. Carsen Edwards has been one of the top players in the Big Ten (and, really, one of the best in the country), and his supporting cast rounded into shape quite nicely. Nojel Eastern has become a very solid player — the sophomore is averaging nine points and eight rebounds per game in the last two weeks.
Purdue's loss at Maryland was the first time since Jan. 3 that Eastern and Ryan Cline were held to single-digit scoring, and it's the first time all season that those two, Matt Haarms, and Trevion Williams were limited to single-digits. It's tough to do, but that's the key to taking down the Boilermakers. You can only hope to reasonably limit Edwards, who has the same number of 30-point games as sub-20-point games this season.
IU came close to beating Iowa two weeks ago in Bloomington. The Hoosiers were in the game until the end but fell 77-72. Jordan Bohannon closed the game out for the Hawkeyes and proved very difficult to stop. He hasn't slowed down since, scoring 15 and hitting the game-winner in Iowa's crazy comeback against Northwestern.
Tyler Cook, as expected, was a handful in the IU-Iowa game as well. Justin Smith struggled to guard him early and Indiana was unable to adjust. Cook has been one of the better players in the conference this season. Between him, Bohannon, and freshman Joe Wieskamp, who's having a nice freshman season, Indiana will have its hands full.
In terms of points per possession, Iowa remains the worst defensive team in the Big Ten and one of the best offensive teams. Indiana's offense will have to step up to the challenge, because opportunities should be there against Iowa's defense.
Banner #3
POTB and AC Radio
In last week's edition of Podcast on the Brink, Alex and Jerod caught up with former IU guard Jordan Hulls. They discussed Hulls' career overseas, as well as his perspective on Indiana's struggles this season and how and he his teammates dealt with their struggles during his first two seasons at IU.
Last week's Assembly Call Radio also devoted a lot of conversation to IU's woes. Jerod, Andy, and Coach discussed Indiana's poor starts to halves and possible fixes to the problem, the atmosphere at Simon Skjodt Assembly Hall, and, in honor of Valentine's Day, they hand out IU valentines.
Be on the lookout early this week for a new episode of The Matchup, as Ben Ladner and I will break down the big Purdue and Iowa games. And as always, watch for this week's Podcast on the Brink and Assembly Call Radio.
Banner #4
Romeo Langford feature
In the midst of Indiana's slide, Bob Kravitz of The Athletic took an interesting look at Romeo Langford. Langford dominated in high school and AAU, and this is really the most losing he's dealt with in his life.
Langford is projected to be a lottery pick in the NBA Draft, and he's having a very good season for IU. He'll be a no-doubt Big Ten All-Freshman selection and has a very good shot at winning Big Ten Freshman of the Year.
Kravitz looked to Langford's past to find out how he's handling the adversity of this season.
Jim Shannon, Langford's New Albany basketball coach, sat in the front row behind the basket near IU's bench Sunday at Assembly Hall. He wore a red IU sweatshirt, as is required by law in these parts. He was watching Langford and the Hoosiers struggle with and eventually lose to Ohio State, another middling Big Ten team. It is the Hoosiers' fourth consecutive home loss.

He was telling me that in four years of high school, Langford lost 10 games – "and two or three of those, he didn't play,'' he said. Now it was halftime and the Hoosiers were poised to lose their 11th game this season, most of those losses coming in the past month-and-a-half.

Shannon doesn't talk too often with Langford these days – most of their communication comes via text – but his sense is that Langford is handling the first great adversity of his basketball life with aplomb. That's not terribly surprising: Langford has been an icon, a prodigy in the state of Indiana since he was a child, and throughout the process, he has remained unfazed by his station in life. A lot of other players would have attended school outside the state, away from the madness and the endless autograph lines that follow him everywhere, but Langford has always been comfortable in the limelight and in his own skin.
Banner #5
Bracketology updates
Given IU's struggles in Big Ten play, the Hoosiers aren't in great shape in Bracketology projections. Indiana's hopes aren't dead yet, thanks to good wins earlier in the season (and the stunning upset over Michigan State), the quality opponents remaining on the schedule, and an overall weak bubble. But the Hoosiers will have to take advantage of opportunities to keep any sliver of hope at making the NCAA tournament alive, and who knows if they'll be able to do that.
Inside the Hall and Assembly Call's Andy Bottoms has Indiana in his first five out in his projections.
While the most up-to-date bracket projection on ESPN has the Hoosiers among the last four in, that was before the Minnesota game. An in-game graphic during that game had the Hoosiers out of Joe Lunardi's bracket.
CBS Sports has IU out in its most up-to-date bracket projection.
Before the Minnesota game, Stadium had IU in its last four in.
Bleacher Report's latest bracket was well before the IU-Minnesota game, but it had IU as an 11 seed.
Banner #6
Hoosiers in the NBA
With the NBA in its All-Star Break, the league is quiet. But OG Anunoby had a big week, setting a new career-high with 22 points against the Wizards.
Here's a look at how all former Hoosiers have fared in the NBA up through the All-Star Break:
Victor Oladipo: The Pacers' All-Star suffered a season-ending quad injury in late January. He was having a solid season, averaging 18.8 points, 5.6 rebounds, 5.2 assists and 1.7 steals per game
Thomas Bryant: Bryant has come on strong this season with the Washington Wizards. He entered the starting lineup in November and has shown a lot of improvement through the season, even becoming a bit of a fan favorite in the nation's capital. He averages 19.1 minutes per game with 9.7 points and 5.7 rebounds per game. His best game was a wild December contest against the Phoenix Suns in which he shot 14-for-14 for 31 points and 13 rebounds. He'll continue to play a key role for the Wizards into the second half.
OG Anunoby: Anunoby's sophomore season brought him one of the best forwards in the NBA, Kawhi Leonard, to learn from. He's certainly improved this season, putting up higher points and rebounds per game. He plays around the same minutes that he did last year. He played in the Rising Stars Challenge on Friday, posting 12 points and two rebounds. The Raptors sit in second in the Eastern Conference, so Anunoby should get some NBA playoff experience again this year.
Eric Gordon: Gordon's having another solid season in Houston. Although he'd been a sixth man for the Rockets in the past, he's had to start more games this season because of teammates' injuries. He's averaging 16.1 points per game and shooting 32 percent on 3-pointers. The Rockets are in fifth in the West, and Gordon will be a key player in their playoff run.
Cody Zeller: Zeller has battled injury yet again this season, as he missed all of January with a broken hand. However, Zeller has already played more games than he did all last year. He's averaging 9.6 points and 6.7 rebounds per game in primarily a starting role for the Hornets. The Hornets are in a playoff spot, and it would be the third season Zeller has played in the playoffs if they hold on.
Yogi Ferrell: Yogi moved to the Sacramento Kings this season after spending parts of two seasons with the Dallas Mavericks. He's gotten decent playing time backing up De'Aaron Fox on an improved team, although his minutes per game are down from the minutes he got in Dallas. Fox is having a nice season, so barring something unforeseen, Ferrell's minutes will continue to be limited. But he has a shot to play in the playoffs for the first time as the Kings are right in the playoff hunt in the Western Conference.
Troy Williams: Williams has been with the Sacramento Kings this season with Ferrell, but rarely plays. His last action came in December. He's played in 18 total games this season.
Noah Vonleh: Vonleh is enjoying the best year of his NBA career. He's started 48 games with the Knicks and was thought to be a trade candidate at the deadline, but he stayed in the Big Apple. He's averaging 8.2 points, 8.1 rebounds and 1.9 assists per game. Though the Knicks won't sniff the playoffs, this season could be big for him as he enters free agency this summer.
And with that, the joy of hanging Banner #6 is now one week closer.
Thanks for your continued support for The Assembly Call and Inside the Hall. We'll be back next weekend with a new roundup.
Now go enjoy yourself a 6-banner Sunday.
Filed to: