Notebook: Indiana's Big Ten slide continues in blowout loss at Minnesota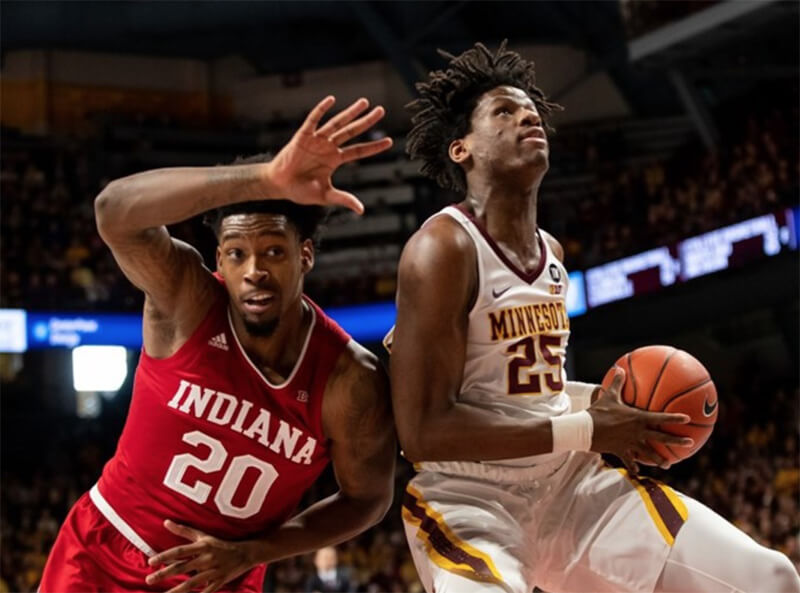 MINNEAPOLIS – Indiana has been mired in a slump for a month and a half.
Saturday afternoon against a similarly reeling Minnesota team, the Hoosiers had a chance to stem the tide and pick up a crucial win.
Instead, Indiana dropped their 10th game in 11 tries, placing themselves firmly on the outside of the NCAA tournament picture. The final score of 84-63 does a disservice to how one-sided the matchup truly was, as Indiana scored the final seven meaningless points and trailed by as many as 30.
The Hoosiers started off slow and never made a legitimate attempt to get back into the game. A lack of both confidence and communication on both ends of the court did Indiana in before the first media timeout.
"People have to play with a better sense of urgency," senior Juwan Morgan said after the game. "Coming out of the gates, it's just too lethargic. People just think teams aren't going to attack us. I think they're thinking 'woe is me,' instead of 'we've got to fight out of this rut'. Nobody else is going to do it for us."
Morgan, who graded Indiana's effort as either a D or an F, was one of only four Hoosiers to reach double-figures scoring, recording 14 points on just 4-for-11 shooting.
Coach Archie Miller tried to shake things up for this contest, placing juniors Devonte Green and De'Ron Davis into the starting lineup, but any positive impact of those changes were not visible on Saturday.
"We just need to play harder as a team. We need to be more together in tough times," Davis said. "Really, I didn't see the change coming. Me and Green started today. I didn't know I was starting until the time before the game. I guess he's just trying to change things up and see who's really trying to compete and work hard."
All of Indiana's points came from what was a completely stagnant offense. Indiana recorded only one assist in the first half as ball movement was almost nonexistent.
The defensive side of things was arguably even worse, as the Hoosiers allowed the Gophers to have almost anything they wanted. The Gophers made a season-high 12 triples on just 22 attempts.
It was almost as bad inside the perimeter, especially when it came to stopping Gopher senior big man Jordan Murphy. Murphy scored a game-high 23 points on an efficient 7-for-11 shooting while also grabbing 11 rebounds, with five of those coming on the offensive end.
"(Murphy's) got unbelievable hands and strength. For his size, to be able to do what he does in this league. He can ward you off, he can drive the ball and knock you off balance," Miller said. "Physically, I don't know if I've seen a guy that strong that's able to hold ground (while) not losing balance."
Now guaranteed to end the Big Ten season with a conference record at .500 or below, Indiana is running out of time to find the answers needed to salvage their season.
"This (loss) is sort of a deal-breaker," Miller said. "We have to make some real, in my opinion, drastic changes to the way we're doing things right now."
Langford takes just six shots
Indiana's backcourt star struggled to get much of anything going at Williams Arena.
The four-time Big Ten freshman of the week was guarded by Minnesota standout Amir Coffey for much of the game, and Langford found life difficult most of the game.
In 31 minutes of play Langford put up just six shots and scored ten points, marking his third lowest output of the season.
Even when Langford wasn't guarded by Coffey, he struggled to get much going. On two separate occasions a defensive switch led to him being guarded by Jordan Murphy, but Langford passed out of both opportunities.
"It was probably a combination of a little bit of everything," Miller said of the lack of involvement for Langford. "We've got to watch the film and then figure out what we've done a little bit better. But we can get better in a lot of different areas, not just getting shots up. Our team in general has got a lot of areas that we can control more so than that."
Although, as Miller noted, Langford's lack of aggression and usage was nowhere near Indiana's biggest issue for the game, it is still concerning how little the star freshman contributed.
In fact, Langford finished the game with a usage rate of 14.6 percent, which was fifth highest on the team. That means that in offensive possessions where Langford was on the court, he was only used on around 15 percent of possessions. That marks Langford's lowest usage rate of the season, according to Bart Torvik.
Thompson's homecoming
The one player for Indiana that unquestionably had a positive impact on the game was redshirt freshman forward Race Thompson. Thompson played high school ball just 14 miles northwest of Williams Arena and his father, Darrell, rushed for over 4,000 yards for the Gophers in the 1980s.
In seven minutes of play, Thompson scored two points, grabbed five rebounds, had two blocks and a steal. Thompson's plus/minus of +7 led the Hoosiers.
It was Thompson's first game action since a Nov. 9 non-conference contest with Montana State. Thompson suffered a concussion in practice in the days following that game and has been held out since.
"I'm definitely 100 percent right now. I feel really good," Thompson said. "Probably (better) than I've ever felt since I've been here."
Albeit, it was mostly in garbage time, but Thompson's productivity and effort were encouraging signs for a team stuck in a disastrous slump.
"I'll do anything to help the team," Thompson said. "That's just my main goal. Helping the team win is all I really want to do."
(Photo credit: Brad Rempel/GopherSports.com)
Filed to: Minnesota Golden Gophers