Bracketology: NCAA tournament projection as of February 12, 2019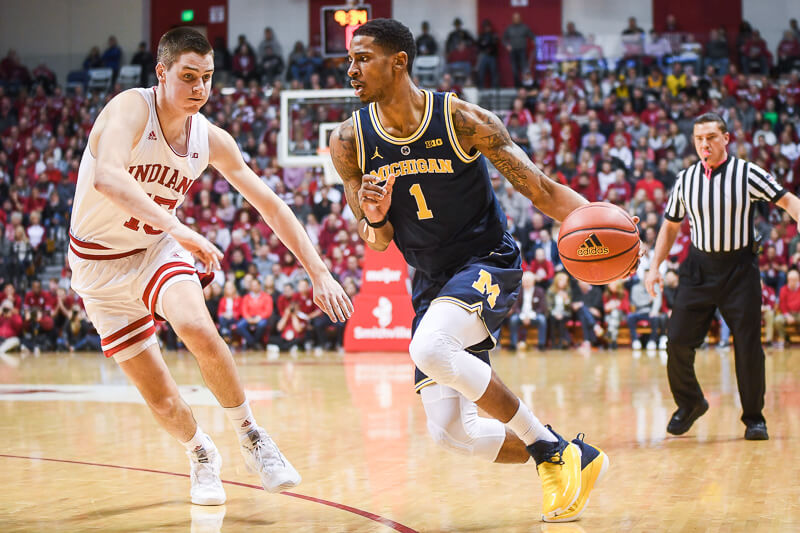 The NCAA Selection Committee revealed its Top 16 overall seeds on Saturday afternoon, and ultimately there were few real surprises. In the projections I tweeted out Saturday morning, I matched all the teams on the top three seed lines, and of that group, the only team I was a bit concerned about was Houston. The Cougars are one of three one-loss teams in the country, but given the committee's focus on Quad 1 wins, it was reasonable to question where they might land.
Iowa State was the only team revealed by the committee that I didn't have on my list, and while I wasn't shocked to see the Cyclones among the Top 16, I was surprised to see them slotted in as the 13th overall seed. They proceeded to drop a home game against TCU later that afternoon, while fellow four seeds Louisville and Wisconsin lost on the road. In this case, knowing the committee had them ranked so highly led me to leave Iowa State on the four line this week, although I did drop them a couple spots on the overall seed list.
It sounds as though Villanova was the team just outside of the Top 16 seeds, and the Wildcats are putting together an interesting profile. They have Quad 2 losses at home against Furman as well as at Penn, and they have just one win against the Top 45 of the NET through Sunday's games. However, they do have four Quad 1 wins and 11 victories in the top two quadrants.
A narrow loss at Marquette didn't bump the Wildcats off the five line yet, but it was a close call to leave Iowa on the six line following their miraculous comeback on Sunday against Northwestern. There were a number of similar instances where the difference between the last team on one seed line and the first team on the next was miniscule.
Before looking at the one seeds, I wanted to give a quick reminder about how the NCAA selection committee classifies wins based on the new NET Rating.
A breakdown of the four tiers:
· Tier 1: Home vs. teams ranked 1-30 / Neutral vs. teams ranked 1-50 / Road vs. teams ranked 1-75
· Tier 2: Home vs. teams ranked 31-75 / Neutral vs. teams ranked 51-100 / Road vs. teams ranked 76-135
· Tier 3: Home vs. teams ranked 76-160 / Neutral vs. teams ranked 101-200 / Road vs. teams ranked 136-240
· Tier 4: Home vs. teams ranked 161-351 / Neutral vs. teams ranked 201-351 / Road vs. teams ranked 241-351
One Seeds
Duke was named the top overall seed by the committee, and they backed that up with an impressive 10-point road win at Virginia. Tennessee remains entrenched behind the Blue Devils on the seed list, and Gonzaga has been steamrolling all comers of late. Virginia remains on the one line despite that loss to Duke thanks to an impressive road win in Chapel Hill on Monday night. In fact, that pushed them back above Gonzaga on my seed list.
Kentucky and Michigan have established themselves as the two teams with the best chance to ascend to the one line with less than five weeks left until Selection Sunday.
The Bracket
The projections below are based on all games played through February 11, 2019. Following the bracket, I included a few thoughts on the last four in and first five out.
| | | |
| --- | --- | --- |
| EAST (WASHINGTON, DC) | | WEST (ANAHEIM) |
| Columbia – March 22/24 | | Salt Lake City – March 21/23 |
| 1) Duke | | 1) Gonzaga |
| 16) Norfolk St. / St. Francis (PA) | | 16) Sam Houston St. |
| 8) Buffalo | | 8) Auburn |
| 9) Texas | | 9) TCU |
| | | |
| San Jose – March 22/24 | | Jacksonville – March 21/23 |
| 5) LSU | | 5) Villanova |
| 12) New Mexico St. | | 12) Belmont |
| 4) Iowa St. | | 4) Louisville |
| 13) Vermont | | 13) Hofstra |
| | | |
| Hartford – March 21/23 | | Tulsa – March 22/24 |
| 6) Maryland | | 6) Virginia Tech |
| 11) Oklahoma | | 11) Arizona St. |
| 3) Marquette | | 3) Kansas |
| 14) Yale | | 14) UC Irvine |
| | | |
| Columbus – March 22/24 | | Des Moines – March 21/23 |
| 7) Baylor | | 7) Mississippi St. |
| 10) Wofford | | 10) NC State |
| 2) Michigan | | 2) Michigan St. |
| 15) Radford | | 15) Montana |
| | | |
| SOUTH (LOUISVILLE) | | MIDWEST (KANSAS CITY) |
| Columbia – March 22/24 | | Hartford – March 21/23 |
| 1) Tennessee | | 1) Virginia |
| 16) Bucknell | | 16) Canisius / Prairie View A&M |
| 8) Syracuse | | 8) Washington |
| 9) St. John's | | 9) Ole Miss |
| | | |
| San Jose – March 22/24 | | Salt Lake City – March 21/23 |
| 5) Kansas St. | | 5) Texas Tech |
| 12) Clemson / VCU | | 12) Butler / Central Florida |
| 4) Nevada | | 4) Wisconsin |
| 13) Old Dominion | | 13) Davidson |
| | | |
| Des Moines – March 21/23 | | Tulsa – March 22/24 |
| 6) Florida St. | | 6) Iowa |
| 11) Seton Hall | | 11) Lipscomb |
| 3) Purdue | | 3) Houston |
| 14) South Dakota St. | | 14) Northern Kentucky |
| | | |
| Jacksonville – March 21/23 | | Columbia – March 22/24 |
| 7) Ohio St. | | 7) Cincinnati |
| 10) Alabama | | 10) Minnesota |
| 2) North Carolina | | 2) Kentucky |
| 15) Texas St. | | 15) Loyola Chicago |
Last Four In:
VCU – Once again the Rams are slotted for a trip to Dayton for the First Four. They rank fifth in non-conference strength of schedule through Sunday's games, which should at least get the committee's attention. VCU has a Quad 1 win at Texas plus a neutral court victory over Temple and a home win over surging Hofstra, but a home loss to Charleston is a notable blemish. Saturday's trip to Dayton is their only remaining game against a team in the KenPom Top 100, so the Rams desperately need to avoid further missteps.
Clemson – It seems like there's always a bubble team that hangs its hat on not having taken a bad loss, and the Tigers appear to be that team this season. They picked up a key home win over Virginia Tech over the weekend, but their only other notable victory came at home against Lipscomb. Clemson takes its four-game winning streak on the road this week with trips to Miami and Louisville.
Butler – The Bulldogs avenged a home loss to Georgetown by beating the Hoyas at their place on Saturday, which was enough to propel Butler into this week's field. Most of Butler's best wins have come at home, and a neutral court win against Florida represents their lone Quad 1 victory through Sunday's games. The remaining schedule is tough for the Bulldogs, who still have trips to St. John's, Marquette, Villanova, and Providence on the docket.
Central Florida – It came down to Temple and Central Florida for the final spot, and this week I ended up giving UCF the nod thanks to their superior computer numbers. The Knights don't have a Quad 1 win, but they do have victories over Alabama and Temple. However, four of their five losses have come against teams outside of the at-large picture. UCF needs to take care of business at home this week against South Florida and Memphis, as their final six AAC games include trips to Cincinnati, Houston, and Temple.
First Five Out:
Temple – A blowout road loss at Tulsa helped push the Owls out of this week's field. Temple boasts a home win over Houston, but they have no other victories against teams in the Top 65 of the NET through Sunday's action. A 6-4 road mark helps, as does the fact the Owls don't have a sub-100 loss. The remaining schedule looks to be manageable, and solid play down the stretch can propel Temple to an at-large bid.
UNC Greensboro – The Spartans are 15-1 in their last 16 games with the lone loss coming at home to Wofford by a whopping 29 points. Their only other defeats have come on the road at LSU and Kentucky. While they deserve credit for their lack of losses, it's worth noting that their lack of top-end wins may ultimately leave them on the outside looking in. A road victory at East Tennessee State and a home win against Furman are the only Quad 1 and 2 wins on UNCG's profile. This week will make or break their case with road games at Furman and Wofford.
Indiana – Despite owning wins over three of the committee's Top 16 seeds, the Hoosiers simply have too many losses to be included in current projections. All 11 defeats fall in Quads 1 and 2, but a 2-7 road record is a blemish the committee will surely take into consideration. The opportunities are there to get back on the right side of the cut line, but very little we've seen from Indiana of late suggests that will happen.
Georgetown – The Hoyas ranked 78th in the NET through Sunday's games, and all three of their Quad 1 wins have come away from home (St. John's, Butler, Providence). Three sub-100 losses don't help Georgetown's case, but a 7-7 mark against Quads 1 and 2 warrants consideration, particularly when compared to other bubble teams. The Hoyas hit the road to take on Seton Hall in their only game this week.
Arkansas – Had the Razorbacks not dropped Saturday's game at South Carolina, it's conceivable the Hogs would have been on the right side of the cut line. They have wins at LSU and home against fellow bubbler Indiana but not much else. Home losses to Georgia Tech and Western Kentucky in the non-conference are the worst of their nine defeats. This week features a road trip to Missouri followed by a home date with Mississippi State.
Conference Breakdown:
ACC (9): Clemson, Duke, Florida State, Louisville, North Carolina, North Carolina State, Syracuse, Virginia, Virginia Tech
Big Ten (8): Iowa, Maryland, Michigan, Michigan State, Minnesota, Ohio State, Purdue, Wisconsin
Big 12 (8): Baylor, Iowa State, Kansas, Kansas State, Oklahoma, TCU, Texas, Texas Tech
SEC (7): Alabama, Auburn, Kentucky, LSU, Mississippi, Mississippi State, Tennessee
Big East (5): Butler, Marquette, St. John's, Seton Hall, Villanova
American (3): Central Florida, Cincinnati, Houston
Atlantic 10 (2): Davidson, VCU
Pac-12 (2): Arizona State, Washington
America East: Vermont
Atlantic Sun: Lipscomb
Big Sky: Montana
Big South: Radford
Big West: UC Irvine
Colonial: Hofstra
Conference USA: Old Dominion
Horizon: Northern Kentucky
Ivy: Yale
MAAC: Canisius
MAC: Buffalo
MEAC: Norfolk State
Missouri Valley: Loyola Chicago
Mountain West: Nevada
Northeast: St. Francis (PA)
Ohio Valley: Belmont
Patriot: Bucknell
Southern: Wofford
Southland: Sam Houston State
SWAC: Prairie View A&M
Summit: South Dakota State
Sun Belt: Texas State
WAC: New Mexico State
West Coast: Gonzaga
Follow Andy on Twitter (@andybottoms) for more thoughts on college hoops and to receive an update whenever new brackets are posted.
Filed to: 2018-2019 bracketology