The Minute After: Minnesota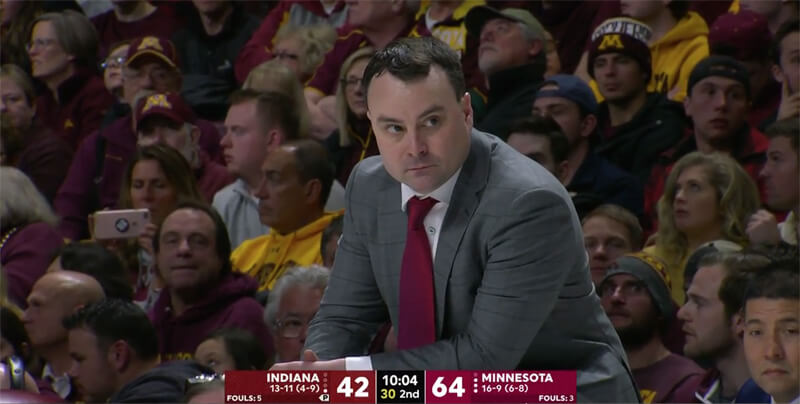 Thoughts on an 84-63 loss to the Golden Gophers:
With De'Ron Davis into the starting lineup for Justin Smith and at least a competent start for the Hoosiers — even having a lead early! — it seemed as if Indiana would have a good shot against a Minnesota team that had lost its last four games and was sporting the second-worst defense in league play.
But those looks were oh so deceiving.
Because this was Indiana's worst loss of the season, a sad, listless performance, where the Hoosiers didn't seem to care and looked over it all. This team just continues to find new lows, now losers of 10 of 11 and the NCAA Tournament door just about shut unless a miraculous turnaround happens. As the Golden Gophers torched the Hoosiers in the second half, Indiana's play could be summed up as such:
I care more at 4:45 on a Friday before a vacation than the Hoosiers do right now. pic.twitter.com/sSc7NzuTct

— Big Ten Geek (@bigtengeek) February 16, 2019
There was little intensity. It was a going through the motions affair where Indiana just seemed to feel like another loss was inevitable. This was in contrast to much of the losing streak. While Indiana has struggled mightily over the last six weeks, effort hasn't really been the issue. But that wasn't the case today. This was the first time it looked like the Hoosiers had given up in a contest, and that doesn't bode well for the remainder of the schedule.
Minnesota won this game on the back of an inspired performance from Jordan Murphy (23 points, 11 rebounds) as the Hoosiers had trouble containing the double-double machine once he got the ball near the basket. But this blowout victory from the Golden Gophers, a game in which they pushed the lead all the way out to 30 in the second half, also came from an unlikely spot: the 3-point line. Minnesota has shot just 31 percent from distance this season, good for only 313th best in the country in that category. And just 19.7 of its points in league play had comes from 3-point range.
But that changed in a big way this afternoon.
The Gophers got lucky with two banked-in 3-pointers, as well as a desperation heave from Daniel Oturu as the shot clock was winding down, in the first half. It meant Minnesota entered halftime 5-of-8 from distance. But as the second half got going, and Indiana's defensive effort dwindled, it allowed for a number of open looks from distance from Minnesota and the Golden Gophers capitalized in a big way. They hit 12-of-22 (54.5 percent) from the 3-point line, their most makes of the season. That meant 42.8 percent of their points came from deep this afternoon, a 23.1 percent increase over their average in league play up until this point.
Indiana's offense, as its been for most of Big Ten season, was discombobulated for much of the contest (.91 points per possession). Often, Romeo Langford was an afterthought in terms of getting him the ball in position to succeed. He had just six field goal attempts. And even when Langford did have the ball, he often wasn't very aggressive.
This was without a doubt a new low for the Hoosiers. And man oh man, Indiana still has six games to go. Will this be as bad as it gets? Or are we in for more of the same to close out this head-scratching, disappointing, underachieving season?
Filed to: Minnesota Golden Gophers