In its tough loss to Iowa on Thursday evening, Indiana was faced with a zone defense from the Hawkeyes for a good chunk of the contest. While Indiana struggled — especially early on and when it got pressured with double teams — it eventually found enough success to score a solid 1.09 points per possession for the game.
We'll take a look at some good and bad from the Hoosiers against the zone in the latest edition of Film Session:
Not long after its initial implementation, Indiana goes to work against the zone. Robert Phinisee passes it from the left wing to Romeo Langford at the top of the key, while Devonte Green cuts off the left side through the lane: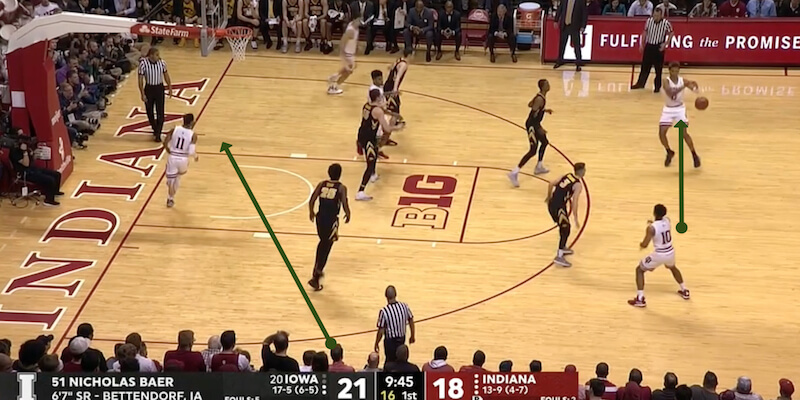 From there, Langford passes to Evan Fitzner on the right wing. Green is now almost into the right corner as Juwan Morgan posts up on the right high block:
Fitzner finds Green in the corner and he's got a little room: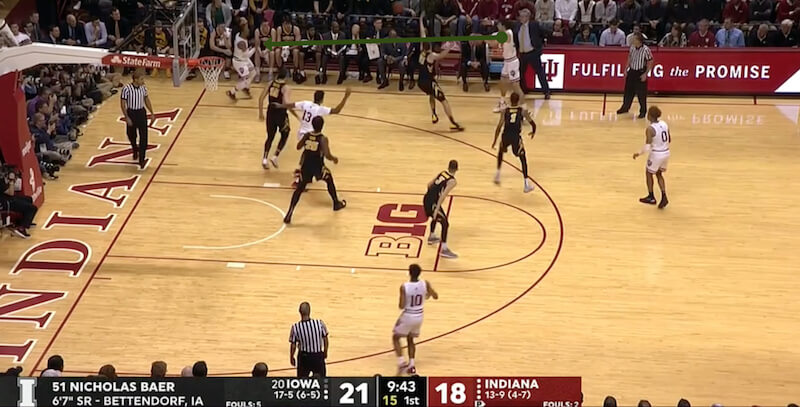 But Nicholas Baer comes off the wing and Ryan Kriener comes off Morgan to double Green. So Green winds up for a pass to Morgan, which gives Tyler Cook time to get in front of Morgan. Jordan Bohannon is the lone Iowa defender on the weak side, as Langford and Phinisee are open: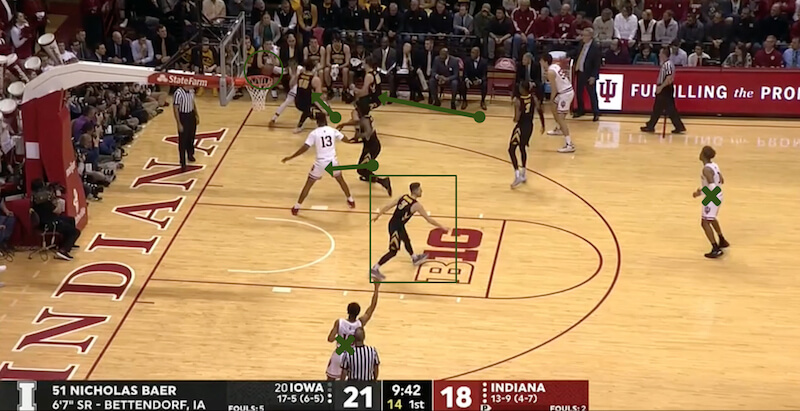 Cook is able to come up with the steal: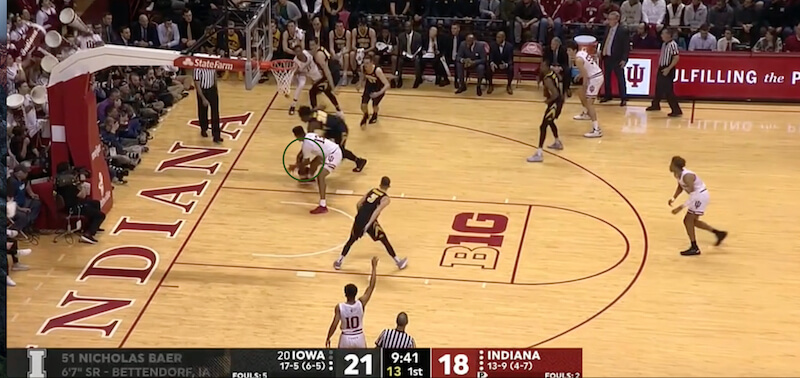 On the other end, Kriener sets a ball screen for Bohannon as Green hangs in the lane: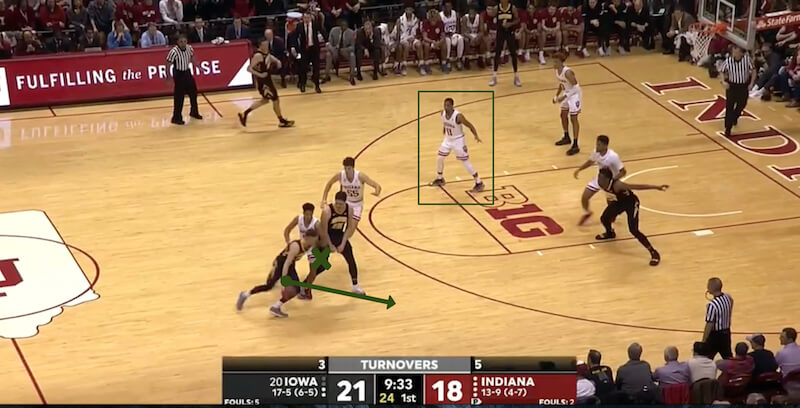 As Bohannon, who is trailed by Fitzner, passes back up top to Kriener, Green has floated further down into the lane, which isn't helping matters at all as the ball begins to be rotated: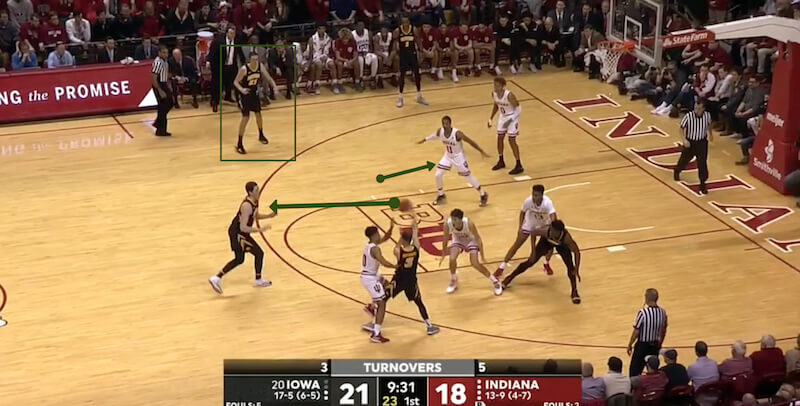 He initially runs out to Kriener as Fitzner recovers back. From there, it's a simple quick pass out to an open Baer on the left wing: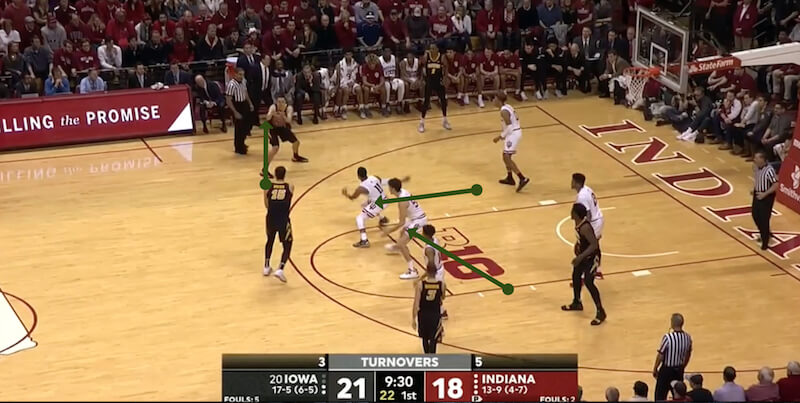 He knocks down the triple: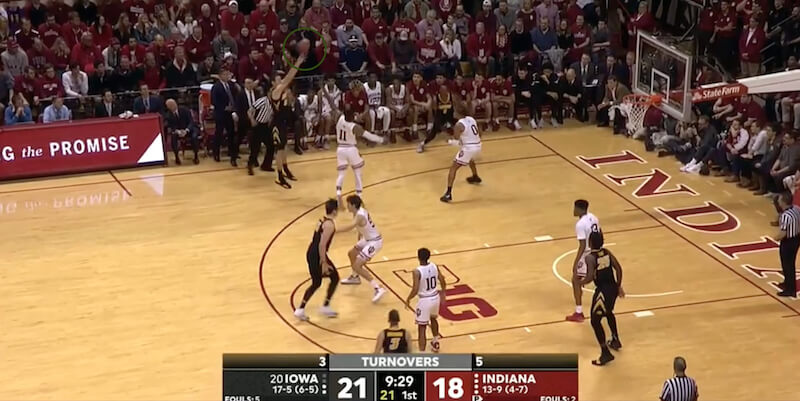 Rough look for Green on both ends here on a night he just didn't have it. Indiana's turnovers turned into 19 points for the Hawkeyes in this one, a key decider in the outcome.
Dan Dakich on the call: "You can't wind up and pass. You wind up and take the ball behind your body and try to throw a bounce pass, it's going to get stolen. Guys are too quick."
Video:
Continue to page 2 to see a Justin Smith score:
Filed to: Iowa Hawkeyes