6-Banner Sunday: Romeo Langford's elite efficiency at the rim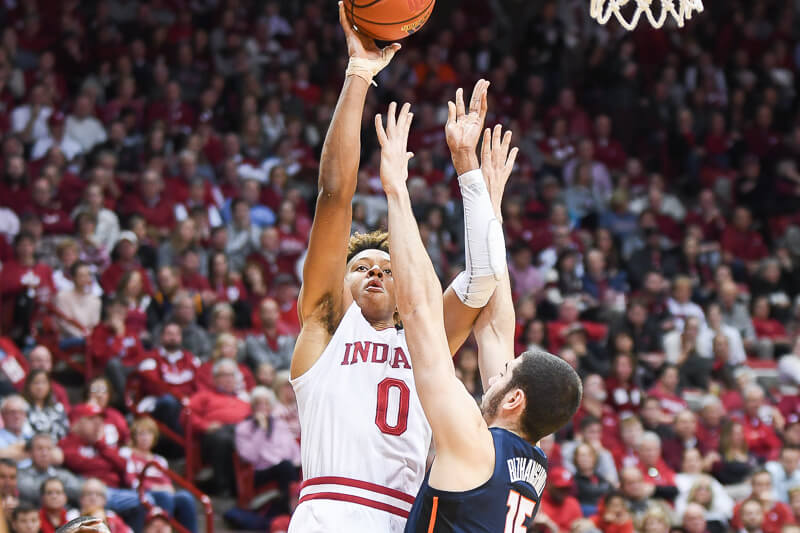 6-Banner Sunday is Inside the Hall's weekly newsletter in partnership with The Assembly Call. More than 6,000 Indiana fans receive the newsletter each week. In addition to appearing each week on the site, you can also opt to receive 6-Banner Sunday by email. A form to subscribe via email is available at the bottom of this week's 6-Banner Sunday.
Welcome to another edition of 6-Banner Sunday, a joint production between The Assembly Call and Inside the Hall where we highlight the six most essential IU basketball stories of the past week.
The new year isn't off to a rollicking start for Indiana after two straight losses, but the positive side of the Big Ten's unforgiving nature is that every week presents plenty of opportunity to build confidence and momentum.
Noise begins to filter out this time of year — outlier statistics, preseason speculation, and non-basketball buzz — as we gain a larger and more meaningful sample size of on-court production. That allows for more precise examination of teams and players, and we can safely toss the teams don't belong from public consciousness.
There are no such teams in the Big Ten — save for perhaps Rutgers. The conference has proven even more difficult that most observers predicted; and Indiana, as expected, sits in the upper end of the middle of the pack. In this week's 6-Banner Sunday, we dive into that and more.
In this week's edition:
• IU looks to push through rough patch with quick turnaround
• A look at Langford's brilliance
• Juwan Morgan's NBA prospects
• Big Ten roundup
• Checking in on IU's non-conference opponents
• Hoosiers in the NBA
Banner #1
IU looks to push through rough patch with quick turnaround
Indiana dropped its second game in a row for the first time all season on Friday with a loss to Maryland. For recaps and analysis of that game and all of IU's contests, stay up to date with Inside the Hall's coverage, as well as The Assembly Call's postgame newsletter.
The Hoosiers, currently ranked 22nd in the AP poll, may well fall out of the top 25, but their recent play should be no cause for panic. Michigan and Maryland are tough opponents, especially on the road, and with Indiana's depth chart still banged up, keeping up with such opponents is a challenge.
Indiana must now put those losses behind them quickly as Nebraska visits Bloomington on Monday evening, just three days after IU's game in College Park. The Cornhuskers, like nearly every team in the Big Ten, are a solid team once again this season.
Flanked by capable shooters, James Palmer leads one of the best offenses in the country, which also features an experienced rotation of upperclassmen. For a more extensive preview of what is to come against Nebraska, listen to the most recent episode of Podcast on the Brink.
Banner #2
A look at Langford's brilliance
Romeo Langford's outstanding production has been the subject of much praise and attention already, but it's worth examining just how good he has been for Indiana.
On the broadcast of the Maryland game, Donny Marshall proclaimed Langford the best finisher at the rim in college basketball. As Sam Vecenie noted on Twitter today, Langford's 78 percent field goal percentage at the rim ranks first (first!) among Division I players this season.
The freshman doesn't explode off the ground and power through defenders like Duke's Zion Williamson or other elite finishers do, but rather uses his craft, timing, and shiftiness to scurry past defenders and finish from any angle he must.
One of the defining plays from his 28-point performance against Maryland was a pick-and-roll in which Langford drove from the right wing around a help defender to the right baseline, then leapt from nearly behind the backboard to finish around Bruno Fernando at the basket. There is no angle too sharp and no speed too fast for Langford, whose body control and touch are well beyond his years.
IU's offense has trended upward since Langford took on a larger role within it, and there are no signs that his usage will decrease.
Banner #3
Juwan Morgan's NBA prospects
ProfessionalBasketballCombine.com released an article this week detailing Juwan Morgan's strengths and weaknesses as an NBA prospect, going into great depth on what the forward does well and could translate to the NBA level.
Morgan's NBA stock remains fascinating as Indiana enters the home stretch of its season. He has vaulted into second-round discussions this season as his jumper has picked up, and his playmaking ability in the frontcourt makes him an intriguing role player candidate at the next level.
His defensive ability is largely a question mark at this point given that IU's scheme doesn't ask him to defend in space very often, if ever. Morgan has quick hands, deceptive strength, and a great motor, but how he fits within an NBA context remains to be seen.
Banner #4
Big Ten roundup
The Big Ten is probably the best top-to-bottom conference in college basketball at this point in the season. Eleven teams have double-digit wins already, and Michigan looms as a legitimate national title contender. Michigan State, when clicking, has decimated opponents, and Maryland is emerging as a real threat. Easy wins are nowhere to be found. Every team's schedule is absolutely unforgiving.
Indiana currently sits in fifth place, but could very well finish as high as second or third in the conference. IU has knocked off Penn State, Northwestern, and Illinois, and might have the toughest remaining schedule in the conference, with Nebraska, Purdue, and Michigan all on this month's docket.
Every remaining game could prove vital, and the final month of the season could see teams swing as many as five or six spots in the standings before the Big Ten tournament starts on March 13. Those who penciled Indiana in as a top-four seed prior to the season should be ready to make edits, even if that possibility remains strongly in play.
Among the most interesting non-IU results in Big Ten play this week:
• Nebraska, Indiana's next opponent, stopped a two-game losing streak with a six-point win over Penn State.
• Wisconsin surprisingly dropped their second straight Big Ten home game, losing to Purdue in overtime. Minnesota won at the Kohl Center last week.
• Ohio State lost at Rutgers and at Iowa, meaning they have now lost three straight conference games.
• In addition to beating Ohio State, Iowa won at Northwestern. The Hawkeyes have won three straight.
Banner #5
Checking in on IU's non-conference opponents
In addition to a tough conference slate, Indiana played a fairly difficult non-conference schedule early in the season, with several opponents having gone on to put together impressive seasons.
And it's worth keeping tabs on these teams throughout the season, because their final ratings in the computer polls (especially the NCAA's new NET ranking) will go a long way toward defining how strong (or weak) Indiana's NCAA tournament resume ultimately will be.
Marquette is 14-3 after a win over Seton Hall on Saturday, with wins over Wisconsin and Kansas State as well. Markus Howard, who Indiana held relatively quiet, is averaging a shade under 26 points per game while the team ranks 29th nationally in 3-point percentage.
Arkansas is now 10-5 (and could very easily be 9-6 had a De'Ron Davis tipped layup gone differently). Daniel Gafford remains a potential lottery pick in the upcoming NBA draft, and the Razorbacks sport a top-50 defense.
Duke, who was ranked third in the country when it blew Indiana out of Cameron Indoor Stadium, has held onto the top spot for three consecutive weeks and will likely retain it after fending off No. 13 Florida State on Saturday. The Blue Devils, as IU found out the hard way, are still a force to be reckoned with.
Louisville picked up a huge win over No. 12 North Carolina on Saturday, improving the Cardinals to 11-5. Much like the Big Ten, the ACC is an extremely competitive, if slightly more top-heavy, league in which even the best teams are vulnerable. If Louisville uses Saturday as a momentum-builder, IU's win over the Cards could look even better in time.
Butler has struggled since losing to Indiana on December 15, going 3-3 over its last six games — a stretch that included an ugly 77-43 loss to Florida. IU's win over the Bulldogs is a win all the same, but likely won't serve as a major résumé booster come NCAA Tournament time.
Banner #6
Hoosiers in the NBA
Victor Oladipo has seen a slight boost to his numbers over the last six games, thanks in large part to a 36-point, seven-rebound, four-assist game against the Bulls last week. The Pacers have won eight of their last 10, with Oladipo, as always, at the forefront of their success.
Look for Noah Vonleh's name to come up in rumors as the February 7 trade deadline approaches. He has played wonderfully for the sad-sack Knicks this season and fits the sort of stretchy, switchy big-man archetype contending teams need to fortify themselves for the playoffs. Vonleh is too useful to play on a team as bad as the Knicks; it would be nice to see him in a situation that amplifies his skills.
OG Anunoby is slowly but surely coming around after a freezing-cold start to the season. He is hitting 34.4 percent of his 3s and, somewhat surprisingly, playing more minutes per game this year than he did last season, when he started the majority of Toronto's games.
As has been discussed in this space before (and will continue to be discussed), Anunoby is a crucial variable in whether the Raptors reach their ceiling this year — and, by extension, whether they can keep Kawhi Leonard. His defensive versatility helps unlock ruthless lineups capable of smothering opponents for long stretches of games. In order for those units to be viable, however, Anunoby needs to hit shots on the other end of the floor. He is trending in the right direction.
Eric Gordon has missed the last six games for the Houston Rockets with knee soreness. He is listed as day-to-day, and does not appear to be in danger of missing extended time. In his and Chris Paul's absences, James Harden has carried the Rockets almost singlehandedly, playing his way to the fore of the MVP discussion. In order for Houston to return to the conference finals, however, it needs all of its pieces, Gordon included.
Thomas Bryant has continued his strong play for the Washington Wizards after stepping in as the starter midseason. Bryant doesn't play starter minutes, necessarily, but fills the basic functions of a role-playing center in the modern NBA. He screens, rebounds, plays hard, and even steps out to hit the occasional 3-pointer. I must say that I was skeptical of Bryant's NBA abilities when he left IU, but he's been a pleasant surprise in a situation that has demanded him to be.
And with that, the joy of hanging Banner #6 is now one week closer.
Thanks for your continued support for The Assembly Call and Inside the Hall. We'll be back next weekend with a new roundup.
Now go enjoy yourself a 6-banner Sunday. If you'd like to receive this newsletter in your inbox each Sunday, please enter your email address below:
Filed to: