Five takeaways from Indiana's loss at Maryland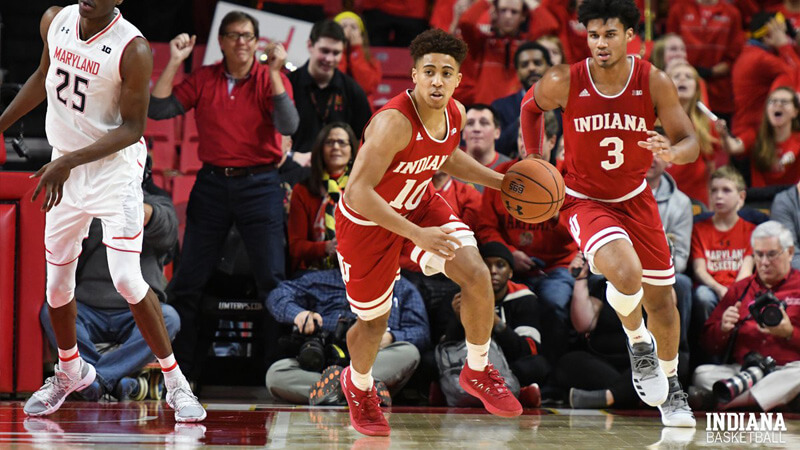 Indiana dropped its second straight game on Friday night as the Hoosiers fell 78-75 to Maryland at the XFinity Center in College Park. It was Indiana's fourth road loss in five tries this season.
Here's a look at five takeaways from the loss to the Terrapins:
• Indiana replaces slow first half start with second half collapse: Indiana's slow starts have been a theme all season, but the Hoosiers got off to a terrific start on Friday.
Indiana led 19-6 early and then by 14 with just over six minutes to play in the first half before taking an eight-point cushion into intermission.
And then, the wheels came off.
Maryland controlled the game early in the second half with a 16-0 run and scored 51 points on 32 possessions. Once the Terps took the lead, they never relinquished it.
"Things got out of whack to start the first four minutes of the second half," Archie Miller said. "We had a couple shots blocked, (and) had a couple really tough jump shots that I thought got us unorganized. Then they were able to capitalize on that."
It was a major opportunity missed for the Hoosiers against a quality opponent on the road.
Indiana played well enough offensively to win, but surrendering 1.59 points per possession in a half on the road in the Big Ten isn't going to yield positive results.
• Romeo Langford continues to elevate his game: Romeo Langford is taking his game to another level.
The five-star recruit scored a game-high 28 points in Friday's loss on an efficient 8-for-14 shooting line. He scored 20 of his 28 points in the second half and was the primary reason the Hoosiers were even in the game late.
Through five Big Ten games, Langford is averaging 22 points, five rebounds and two assists in 34.6 minutes per game.
More importantly, his shooting percentages are trending upward.
In Big Ten play, Langford is shooting 61.4 percent on 2s, 40 percent on 3s and 88.9 percent from the free throw line.
• Phinisee makes surprising return: After a less than positive update on the status of Rob Phinisee in Thursday's press conference from Archie Miller, he was back on the court Friday in College Park.
Phinisee clearly wasn't himself as he came off the bench and scored just two points in 17 minutes, but the fact that he is back should give the Hoosiers a major boost moving forward.
"He hasn't practiced but maybe half a practice, he hasn't played basically a basketball game since Butler," Miller explained. "To ask him to come out here and play perfect and do things was going to be tough. He ended up playing, I think, 17 minutes. I never thought he'd play 17 minutes."
Once Phinisee gets more reps, he should return to the starting lineup with Devonte Green shifting back to a reserve role.
• Hoosiers have no answer for Fernando and no answer for Maryland's rebounding: In his pregame radio interview with legendary IU broadcaster Don Fischer, Mark Turgeon called sophomore Bruno Fernando one of the nation's most improved players.
On Friday night, Fernando showed why Turgeon's comments were on the mark.
Fernando dominated the game in the paint as he finished with 25 points and 13 rebounds. The Terps grabbed 18 offensive rebounds in the game and scored nine second chance points.
"He was as good as it gets in terms of what he was being asked to do, finishing around the rim, offensive rebounding," Miller said. "He's a load. He's a much-improved player first to second year. He's one of the better guys in our league."
• Cowan spearheads second half Maryland surge: Anthony Cowan has been up and down this season for the Terps, but on Friday, he was the catalyst for Maryland's second half run.
Cowan scored 16 of his 24 points in the second half and repeatedly got into the lane off the dribble.
"I thought Anthony Cowan really took it upon himself and really started to attack," Miller said. "He was making straight runs at the basket, back part of the first half. Then in the second half, we had a really hard time in awhile containing him off the dribble."
For the most part, Indiana's guards have been solid defensively this season, but that wasn't the case on Friday. In the second half, Cowan's ability to create for himself and for others was the difference.
(Photo credit: IU Athletics)
Filed to: Maryland Terrapins, Romeo Langford