Notebook: Indiana can't sustain hot start in loss at Maryland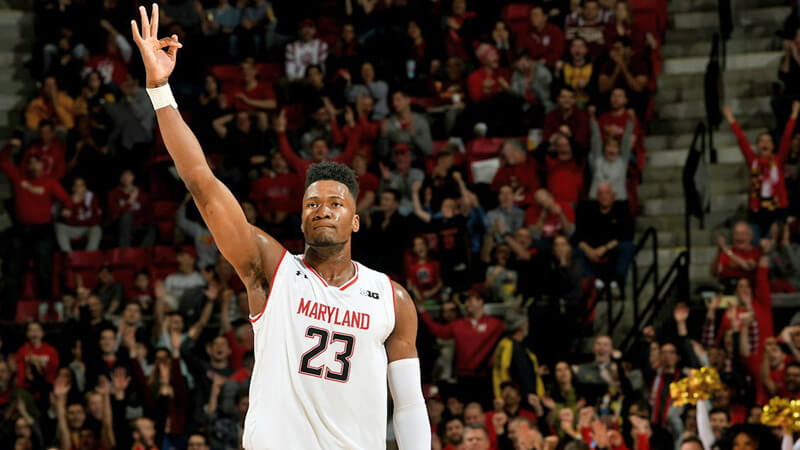 COLLEGE PARK, Md. — Indiana has been plagued by slow starts for over a month.
When the problem was finally solved, the solution was untenable, as the No. 22-ranked Hoosiers fell 78-75 to Maryland on Friday night at the XFinity Center.
IU led 14-2 five minutes into the game and led by as much as 14 in the first half. The Hoosiers played stifling defense and were getting the shots they wanted.
IU head coach Archie Miller said his team was locked in from the beginning.
"We played really hard defensively," Miller said. "We competed really hard, I think, to start the game. I thought we didn't turn the ball over, which was good to see. To be able to finish the half and to go into halftime, I think, with the lead, 35-27, we had a good start. Guys were really dialed in a lot more so than we've been in recent games, so hopefully that can carry over."
But as halftime neared, Indiana's defense started to falter.
Anthony Cowan found some holes and Bruno Fernando got on a roll. While Jalen Smith didn't score like he had in recent games, he and Fernando were dominant on the glass for the Terps. Maryland opened the second half on a 16-2 run and Indiana could never fully recover.
Devonte Green said rebounding was a big factor in Maryland's second-half run.
"I think keeping them off the boards was our biggest problem, and stopping them in transition," Green said. "We stopped doing that in the second half."
Phinisee and Davis return, but in limited capacity, and IU's depth continues to be impacted by injuries
The Hoosiers have been bitten hard by the injury bug all season, but two key players returned to the court on Friday, although not at full strength.
Rob Phinisee and De'Ron Davis both played, giving Indiana its full complement of desired rotation options for the first time since the Butler game on Dec. 15. But both players — Davis in particular — weren't really able to impact the game in their current condition. Davis played just four minutes in the first half and looked to be in discomfort before sitting the rest of the way.
Miller said Davis shouldn't have played at all and blamed himself for forcing the issue. He added that Phinisee played more than he was expecting and is still working his way back after missing several weeks.
"Rob, obviously, isn't himself, he hasn't practiced but maybe a half a practice," Miller said. "He hasn't played, basically, in a basketball game since Butler. So to ask him to come out here and play perfect and do things, that's going to be tough. He ended up playing 17 minutes. I never thought he would probably even play 17 minutes. So hopefully he feels good after this, and hopefully he can get back to the consistency that he had leading into before he got injured in terms of his ability to help us practice and what not."
The lack of a full-strength Davis was a big blow to Indiana in this matchup.
Maryland's size caused problems, particularly in the second half when Fernando shot 8-for-8 for 17 points. When Smith got in foul trouble, Indiana turned to Evan Fitzner to hold things down, but the Saint Mary's graduate transfer struggled on both ends.
Offensively, Indiana had solid performances from its starters but got just two points from the bench on two Phinisee free throws late in the game. Having Phinisee and Davis healthy will not only allow production to spread itself out more among lineups involving bench players, but it will also allow starters playing heavy minutes to get more rest.
"We're trying to do our best to keep those guys fresh and what not," Miller said. "I thought Juwan played an iron man 36 minutes, it's hard to play 36 minutes in that type of game. We'd like to get him a few more blows. "
Phinisee and Davis will have the weekend to continue working their way back to full strength before the Hoosiers take on Nebraska at home on Monday.
(Photo credit: UMTerps.com)
Filed to: Maryland Terrapins