6-Banner Sunday: Matchup at Michigan begins challenging 6-game gauntlet for IU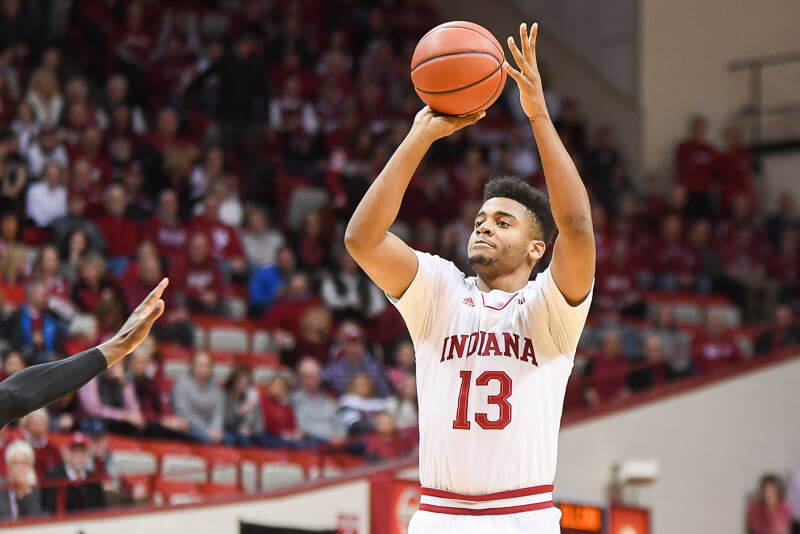 6-Banner Sunday is Inside the Hall's weekly newsletter in partnership with The Assembly Call. More than 6,000 Indiana fans receive the newsletter each week. In addition to appearing each week on the site, you can also opt to receive 6-Banner Sunday by email. A form to subscribe via email is available at the bottom of this week's 6-Banner Sunday.
Welcome to another edition of 6-Banner Sunday, a joint production between The Assembly Call and Inside the Hall where we highlight the six most essential IU basketball stories of the past week.
Indiana opened the new year with a win over Illinois, but the challenge has just begun for the 21st-ranked Hoosiers.
A tough slate ahead begins today with a matchup against No. 2 Michigan in Ann Arbor at 4:30 p.m. on CBS. IU will have to prove it can win away from Simon Skjodt Assembly Hall, as four of its next five games are on the road.
After the long holiday layoff prior the Illinois game, Indiana fans can take solace in (or worry about) the amount of quality games IU will play in the next few weeks. The Hoosiers' next four opponents all rank in KenPom's top 30.
But for now, here's what's going on in the realm of IU basketball.
In this week's edition:
• Indiana beats Illinois
• Previewing today's game against No. 2 Michigan
• Analyzing IU's non-conference schedule
• Oladipo's game-winner and Bryant's strong play
• Big Ten roundup
• IU Football, Men's Soccer, and Women's Basketball updates
Banner #1
Indiana beats Illinois
Indiana got off to another slow start, as the Illini led by 10 points more than 13 minutes into the ballgame. But the Hoosiers battled back to tie it at halftime, and the Hoosiers — led by Romeo Langford — exploded out of the gates in the second half.
Langford enjoyed what may have been his best game in an IU uniform. The star freshman put up a season-high 28 points on an 8-of-13 shooting line with six rebounds and three assists. Langford was getting to the line often, going 11-for-15 at the free-throw line.
Juwan Morgan followed up on his historic triple-double with a double-double, shooting 4-of-9 for 15 points and grabbing 10 rebounds.
On the Assembly Call Postgame Show, Jerod, Ryan and Andy discussed Langford's big night, how Devonte Green and IU's bench struggled, another strong performance from Justin Smith, and much more.
Ryan Corazza examined Indiana's defense in his film session. In Alex Bozich's five takeaways, he made note of the effect of Rob Phinisee sitting on the bench.
Indiana freshman Rob Phinisee missed his second straight game after being hit in the head against Central Arkansas on Dec. 19, but was on the end of the bench in sweats after sitting in the locker room against Jacksonville.

Phinisee's absence wasn't too noticeable in the win over Jacksonville, but the Hoosiers missed their point guard against the Illini. Junior guard Devonte Green struggled with the Illinois pressure as he shot just 3-for-11 from the field and committed four turnovers in 33 minutes.

Based on Miller's postgame comments, it sounds like the earliest Phinisee could return is next Friday at Maryland.

"I doubt he plays at Michigan. I would take that off the table," Miller said. "Today (Thursday) was the first day that Rob smiled in a long time, so I know he's feeling better. He's been doing cardio work. He's been doing some shooting. That's about it. And as he doesn't have any be problems or setbacks, they keep letting him do more.

"But today was the first time — at shoot around today was the first time I saw him where he was smiling. He had a really good way about him. So I think that's probably the first step in understanding he's feeling better."
Banner #2
Previewing today's game against No. 2 Michigan
Indiana's seven-game win streak will face a serious threat today in the second-ranked Wolverines. Michigan is the toughest defensive team the Hoosiers have faced this season, and likely the toughest they'll face all season.
Michigan allows the third-fewest points per game in the country at 55.1, the sixth-fewest assists per game in the country at 9.4, the 11th-lowest 2-point field goal percentage in the country at 42.4 percent, and the 22nd-lowest overall field goal percentage at 38.7 percent.
Offensively, freshman Ignas Brazdeikis has stepped up this season. He's giving Romeo Langford serious competition for Big Ten Freshman of the Year. The 6-foot-7 forward leads the Wolverines in scoring with 16.4 points per game, and he can score in a lot of ways. His game is far from one-dimensional.
Jordan Poole has been crucial for Michigan as well, as he's evolved into one of the best shooters in the Big Ten. The sophomore shoots 52 percent from the field and 48.6 percent from 3-point range. Both Poole and Brazdeikis will be tough assignments for the Hoosiers' defense.
Jon Teske could cause some problems for Juwan Morgan with his sheer size. The 7-foot-1 center has the length to close off the passing lanes Morgan has been so good at finding this season, and he's been an important part of Michigan's ball screen game this season. Indiana will really need Langford to rise to the occasion in a big game.
Rob Phinisee's likely absence could loom large in this one. The Hoosiers would've really benefitted from the freshman's poise and high basketball IQ. IU can't afford to have Devonte Green playing anything less than his best basketball in this game.
But ultimately, as a lot of games for IU do, it may come down to whether the Hoosiers can limit their turnovers. As John Beilein's teams are known to do, the Wolverines hardly ever turn the ball over. They're sixth in the country with just 9.5 turnovers per game. Indiana averages 14.6 turnovers per game. A high-turnover game would give the Hoosiers little to no chance at victory.
Banner #3
Analyzing IU's non-conference schedule
Inside the Hall and Assembly Call's own Andy Bottoms has been impressed with Indiana's resume so far. In his five takeaways post last week, he broke down why you can get excited about Indiana's potential seeding come March.
Andy points out that IU's win over Marquette looks better and better, and combined with the Big Ten conference's overall strong play in the non-conference slate, IU could be in position for a top-four seed.
IU is one of just eight teams with five wins in quadrants one and two, and with 10 Big Ten teams currently in the top 50 of the NET, there will be plenty of chances to earn quality wins and very few opportunities to take on a bad loss. In fact, the only remaining games that would currently fall into quadrant three are the home games with Illinois and Rutgers.

The Big Ten's strong non-conference play has positioned the league to challenge for 9-10 bids to the NCAA tournament, so if the Hoosiers can manage to win 13 or 14 conference games, a top four seed seems likely. At the very least, their performance to date hasn't eliminated that possibility.
Andy will release his first bracket projections this coming week.
Banner #4
Oladipo's game-winner and Bryant's strong play
Victor Oladipo had a big week in the Pacers' wins over the Hawks and Bulls. On New Year's Eve against Atlanta, Oladipo shot 9-of-19 for 22 points and added four rebounds, seven assists, and four steals.
But the local star outdid himself on Friday in Chicago. The stats were very good: 14-for-28 shooting, 36 points, seven rebounds, four assists, three steals, and one block. But the final 1:35 of this overtime contest tells the full story of Oladipo's brilliance in this game — and, really, the brilliance of this game itself. The Bulls made clutch play after clutch play, but Oladipo answered every single time, from picking up a clutch assist out of a double-team to Myles Turner, to banking in the game-winner with fractions of a second on the clock.
Oladipo's Pacers are playing great basketball. They're currently riding a six-game winning streak and are the third in the Eastern Conference.
Meanwhile, Thomas Bryant's strong play has continued in the nation's capital. He had a quiet night in Washington's loss to Miami on Friday, putting up 10 points on a 5-of-7 line with five rebounds. But in the Wizards' win over the Hawks on Wednesday, the second-year big man was a big factor. Bryant shot 5- of-7 for 16 points and grabbed 15 rebounds in that game.
Bryant has really come on strong in the past two weeks. In seven games, beginning with his historic 14-for-14 performance against Phoenix on Dec. 22, the big man is averaging 15.4 points and 8.7 rebounds per game. He's started every game for the Wizards since Nov. 20, and this run of strong play has seen his playing time increase.
Banner #5
Big Ten roundup
The Big Ten has gotten a lot of love nationally so far this season. CBS Sports Bracketologist Jerry Palm has the Big Ten at 10 NCAA tournament bids, which is the most of any conference. The conference currently has 11 teams in the KenPom top 50: Michigan State (No. 3), Michigan (No. 5), Nebraska (No. 14), Purdue (No. 15), Wisconsin (No. 20), Ohio State (No. 25), Indiana (No. 27), Maryland (No. 28), Iowa (No. 48), Penn State (No. 49) and Minnesota (No. 50).
The Big Ten has seven teams in the AP Top 25: No. 2 Michigan, No. 8 Michigan State, No. 14 Ohio State, No. 21 Indiana, No. 22 Wisconsin, No. 24 Nebraska and No. 25 Iowa.
The same seven teams are ranked in the USA Today Coaches Poll: No. 4 Michigan, No. 7 Michigan State, No. 12 Ohio State, No. 20 Iowa, No. 22 Indiana, No. 23 Nebraska and No. 24 Wisconsin.
With Big Ten play underway, there were six significant conference matchups last week. On Wednesday, Maryland outlasted Nebraska 74-72 in College Park, Md. in a really good game that came down to a Jalen Smith floater with 3.8 seconds left. Michigan State crushed Northwestern 81-55 at home.
On Thursday, Purdue dismantled Iowa 86-70 at Mackey Arena. Michigan maintained its undefeated record with a 68-55 win over Penn State in Ann Arbor. Minnesota earned a solid road win over Wisconsin with a 59-52 final.
On Saturday, Michigan State won a battle of ranked opponents, coming out with an 86-77 win at Ohio State.
This week brings several enticing matchups, including Indiana-Michigan, Nebraska-Iowa, Maryland-Minnesota, Purdue-Michigan State, Indiana-Maryland, and Purdue-Wisconsin.
Banner #6
IU Football, Men's Soccer, and Women's Basketball updates
Last week brought two noteworthy changes to Indiana football's coaching staff.
Associate head coach, offensive coordinator, and tight ends coach Mike DeBord announced his retirement on Sunday. He spent two years on Tom Allen's staff in charge of the offense.
The announcement wraps up a coaching career spanning four decades that began and ended in the state of Indiana. DeBord got his start in 1982 coaching the offensive line at Franklin College. He moved up the ranks and got into the Big Ten with Northwestern in 1992 before joining Michigan a year later, where DeBord spent much of his career. He was Central Michigan's head coach for four seasons from 2000-2003.
Allen also recently relinquished his role as defensive coordinator to focus on his head coaching responsibilities. Linebackers coach Kane Wommack was promoted to defensive coordinator.
While IU men's soccer's season ended in a heartbreaking College Cup loss, the program received good news on Friday evening. Senior defender Andrew Gutman was awarded the MAC Hermann Trophy for college soccer's top player. Gutman becomes the seventh player in program history and the first since 2004 to take home the prestigious award. He had a trial with the Rangers F.C. in Scotland in December and reportedly has a contract offer from the Scottish Premier League side.
Finally, IU women's basketball is on a roll this season. The Hoosiers are 13-1, with the only loss coming in Puerto Rico to Grambling State 65-62.
IU is 2-0 so far in Big Ten play. In Monday's 83-75 win over Penn State, guard Ali Patberg shot 9-of-18 for 26 points with eight rebounds, and forward Brenna Wise put up 20 points and six rebounds. The two transfers have been instrumental to IU's success this season.
The Hoosiers have a big game today against No. 15 Michigan State in Bloomington followed by road games at Ohio State and Wisconsin coming up.
And with that, the joy of hanging Banner #6 is now one week closer.
Thanks for your continued support for The Assembly Call and Inside the Hall. We'll be back next weekend with a new roundup.
Now go enjoy yourself a 6-banner Sunday. If you'd like to receive this newsletter in your inbox each Sunday, please enter your email address below:
Filed to: