What to expect: Michigan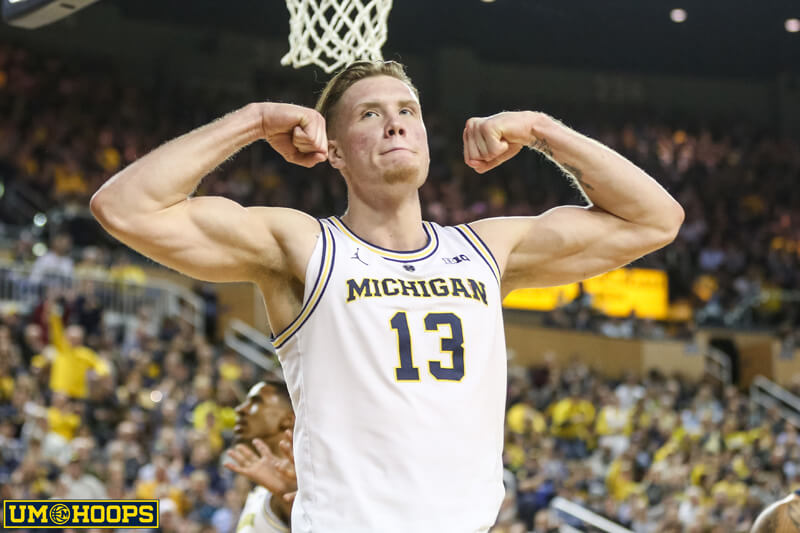 Indiana will play its fourth road game of the season on Sunday afternoon as the Hoosiers travel to Ann Arbor to take on Michigan. The Wolverines are No. 2 in the latest Associated Press top 25 poll and are 3-0 in the Big Ten with a 14-0 mark overall.
The game will be broadcast at 4:30 p.m. ET on CBS with Spero Dedes and Clark Kellogg on the call:
Indiana's brutal stretch of six of eight games away from Bloomington begins this weekend with arguably its toughest remaining game of the regular season.
Michigan, once a program built on John Beilein's offensive wizardry, has morphed into a defensive power. Under the tutelage of assistant coach Luke Yaklich, the Wolverines owned the nation's No. 3 defense last season and rode it all the way to an appearance in the national championship game.
Despite losing Muhammad-Ali Abdur-Rakhman and Duncan Robinson to graduation and Moritz Wagner to the NBA draft, Michigan hasn't skipped a beat this season. The Wolverines currently boast the nation's No. 2 KenPom defense this season and already own wins over Villanova, North Carolina and Purdue.
With its early resume and a Hall of Fame coach roaming the sidelines, Michigan is the favorite to win the Big Ten regular season title. After a narrow road loss early in the season at Arkansas, a blowout loss at Duke and a narrow conference win at Penn State, Sunday should provide a good litmus test for where Indiana stands with a little more than two months remaining in the regular season.
MEET THE WOLVERINES
Michigan is a balanced team offensively with three players averaging double figures and three others averaging between 6.8 and 7.9 points per game.
Ignas Brazdeikis is currently in line to challenge Romeo Langford for the Big Ten freshman of the year award and doesn't play like a newcomer to college hoops. The 6-foot-7 wing will turn 20 on Jan. 8, so he's a year older than most freshmen across the country.
At 6-foot-7 and 215 pounds, Brazdeikis has a stellar left handed shooting stroke and is one of the best spot-up shooters in the country. His 16.4 points per game lead Michigan and he's scored 83 points in 60 spot-up possessions this season, according to Synergy Sports. That currently grades out in the 96th percentile nationally.
Like most players who are successful in Ann Arbor and earn the trust of Beilein, Brazdeikis doesn't make many mistakes (7.9 TO%) and is solid offensively from just about everywhere on the floor. He's shooting 52.2 percent on 2s, 42.2 percent on 3s and 76.8 percent from the free throw line.
Sophomore guard Jordan Poole has taken a major step forward in his second season and like Brazdeikis, he's deadly as a spot-up shooter. Poole grades out in the 98th percentile nationally in spot-up possessions, according to Synergy, at 1.43 points per possession. Many of those looks are coming from the perimeter and if Poole is given space, he will hoist without hesitation. The 6-foot-5 guard is shooting 48.6 percent from distance, which is 44th best in the country.
In addition to his spot-up ability, Poole is also excellent as the ball handler in pick-and-roll situation. He grades out in the 90th percentile there, according to Synergy, with 44 points in 41 possessions. Poole is third on the team in scoring at 13.8 points per game.
Redshirt junior Charles Matthews, who played for Kentucky in its 2016 NCAA tournament loss to Indiana, is now in his second season with the Wolverines. Matthews is a terrific defender and is also efficient in spot-up situations. While he's not in the same territory as Brazdeikis and Poole, Matthews is scoring 1.1 points per possession on spot-up opportunities, per Synergy.
Matthews will likely be tasked with guarding Langford and his length and athleticism should provide quite a challenge for IU's freshman star. While he's shooting just 44 percent overall from the field, Matthews is Michigan's second leading scorer at 13.9 points per game.
Point guard Zavier Simpson is the most disruptive point guard defender in the Big Ten and a very good facilitator. Devonte Green's struggles to take care of the ball against Illinois won't be lost on the Michigan coaching staff and Simpson is likely to make things very difficult on Green. His assist rate of 34.5 percent is stellar and he's shooting a solid 49.2 percent on 2s.
Sophomore Eli Brooks is the backup for Simpson and he's capable of knocking down the occasional 3-pointer (10-for-29).
Junior center Jon Teske is a very good rim protector (2.1 bpg) who will look to disrupt Indiana's elite 2-point field goal percentage. The 7-foot-1 Teske is solid in the pick-and-roll situations as he's scored 42 points in 36 possessions, per Synergy. Teske's 7.6 points per game are fifth on the roster and he's the team's leading rebounder at 6.2 per game.
The health of sophomore Isaiah Livers is a storyline entering the game as the versatile four-man missed Michigan's win over Penn State with back spasms. If he can't go, the Wolverine bench becomes very thin and this is already a group that only plays seven or eight guys regularly. If he can go, he's another perimeter threat that must be accounted for. The 6-foot-7 Livers is shooting 46.5 percent on 3s.
TEMPO-FREE PREVIEW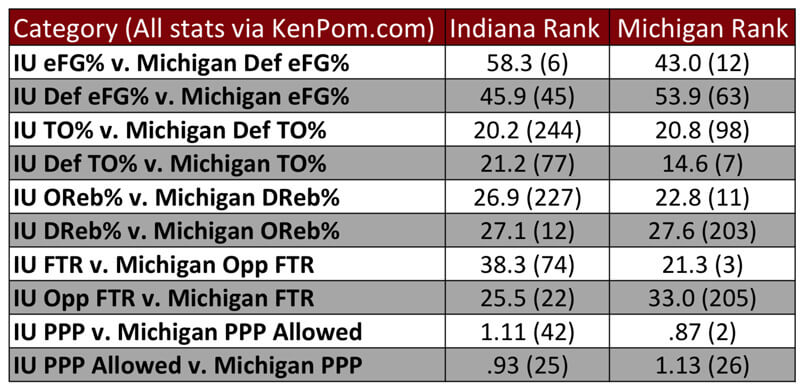 Michigan's formula for success has been well documented across the league for many years, but is still incredibly difficult for teams to beat.
The Wolverines shoot it well from the perimeter, don't foul, don't turn it over and control the pace to their liking. In other words, this is not a team to spot a big lead, particularly in its own building. The obvious new wrinkle for Michigan the last 1.5 seasons is the elite defense, which currently boasts the nation's 36th best 2-point defensive field goal percentage and the 11th best 3-point field goal percentage defense.
Michigan is also playing just the 321st fastest pace in the country, so Indiana taking care of the ball and making good decisions will be even more crucial than usual.
WHAT IT COMES DOWN TO
According to Pomeroy, this is Indiana's second toughest game remaining in the regular season behind the road trip to Michigan State in early February. Pomeroy projects a 70-62 win for the Wolverines with just a 22 percent chance for an IU victory. Sagarin likes Michigan by six.
Indiana will likely need someone other than Juwan Morgan or Langford to step up and make plays offensively to have a shot to win. Taking away Morgan's post touches will be a focus for Michigan as will taking away driving lanes for Langford. The absence of Rob Phinisee, who is still out with concussion-like symptoms, is going to be put a lot of pressure on Green to step up against arguably the league's best defender.
The Hoosiers have put together some memorable performances in Ann Arbor in recent seasons with a thrilling come from behind victory in 2013 to win the Big Ten regular season title and a blowout victory back in 2016, another Big Ten title season in Bloomington.
(Photo credit: UMHoops)
Filed to: Michigan Wolverines