Five takeaways from Indiana's win over Illinois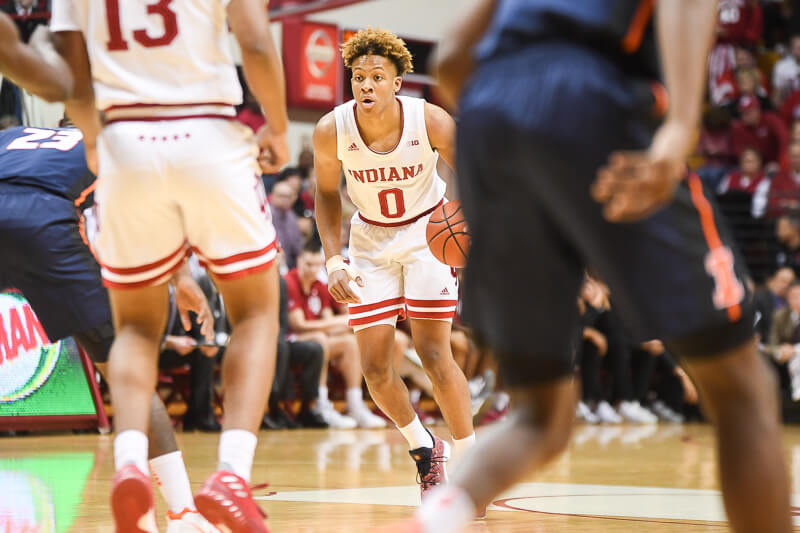 Indiana won its seventh consecutive game on Thursday as the Hoosiers beat Illinois, 73-65. The win improved Indiana to 12-2 overall and 3-0 in Big Ten play.
Here's a look at five takeaways from the win over the Fighting Illini:
• Langford breaks out in a big way: Indiana freshman guard Romeo Langford came into Thursday's game with three 20-point games on his ledger, but had yet to score more than 22 in a game.
Against the Illini, Langford elevated his game to another level offensively as he poured in 28 points on 8-for-13 shooting from the field and 11-for-15 from the free throw line.
The New Albany product scored 19 points in the second half, including Indiana's first 10 after intermission.
"I felt like this was my best game so far, all around, maybe on the defensive end, too," Langford said postgame. "I am getting a lot more comfortable and now that Rob (Phinisee) is out for a while with his injury he has, that caused for me to have the ball more in my hands and I'm comfortable with doing that."
Langford spent much of the game on Illinois wing Aaron Jordan, who came into the contest averaging 10.8 points, but managed just two points on 1-for-6 shooting against the Hoosiers.
• Morgan's steady production continues: After recording a triple-double last time out against Jacksonville, Indiana senior Juwan Morgan turned in another stellar performance on Thursday.
Morgan had his sixth double-double of the season with 15 points and 10 rebounds and also added four steals and a block in 36 minutes.
And while he did have issues covering Illinois freshman Giorgi Bezhanishvili in the post, Morgan didn't commit a foul in the game. It was the fifth straight game in which Morgan didn't commit more than three fouls. In IU's first nine games, Morgan had four fouls on four different occasions.
Over IU's first three Big Ten games, Morgan is averaging 14 points, 9.3 rebounds, two steals, 1.3 blocks and an assist in 32.7 minutes.
• Slow starts remain an issue: With an 11-day layoff, it was fair to wonder if Indiana would emerge with some rust to shake off.
And that's exactly what happened.
In what has become a theme through 14 games, Indiana fell behind early and had to play from behind as Illinois took the Simon Skjodt Assembly Hall crowd out of the game.
When asked about Indiana's difficulty in starting games in his postgame press conference, Archie Miller jokingly responded with this quip, "Are you saying that that's becoming a habit type of thing?"
Kidding aside, Indiana has been able to overcome the slow starts against the bottom tier of the Big Ten, but playing from behind could be an issue as the schedule toughens up for the remainder of the month.
• Hoosiers miss Phinisee's steady presence: Indiana freshman Rob Phinisee missed his second straight game after being hit in the head against Central Arkansas on Dec. 19, but was on the end of the bench in sweats after sitting in the locker room against Jacksonville.
Phinisee's absence wasn't too noticeable in the win over Jacksonville, but the Hoosiers missed their point guard against the Illini. Junior guard Devonte Green struggled with the Illinois pressure as he shot just 3-for-11 from the field and committed four turnovers in 33 minutes.
Based on Miller's postgame comments, it sounds like the earliest Phinisee could return is next Friday at Maryland.
"I doubt he plays at Michigan. I would take that off the table," Miller said. "Today (Thursday) was the first day that Rob smiled in a long time, so I know he's feeling better. He's been doing cardio work. He's been doing some shooting. That's about it. And as he doesn't have any be problems or setbacks, they keep letting him do more.
"But today was the first time — at shoot around today was the first time I saw him where he was smiling. He had a really good way about him. So I think that's probably the first step in understanding he's feeling better."
• McRoberts returns, Smith continues to quietly shine: Zach McRoberts missed Indiana's win over Jacksonville after experiencing a setback with a back injury, but was back on the floor against Illinois.
McRoberts isn't offering Indiana anything offensively right now, but he was a pest defensively against the Illini. In 23 minutes, McRoberts had four steals, two rebounds and an assist.
Justin Smith was another bright spot in the win as he grabbed six rebounds (all offensive) and scored eight points and had three blocked shots in 33 minutes.
Smith has grown into a very solid defender in his second season and is 15-for-17 on 2s over his last three games.
Filed to: Illinois Fighting Illini, Justin Smith, Juwan Morgan, Romeo Langford, Zach McRoberts