6-Banner Sunday: Hoosiers cruise to season-opening victories as tougher opponents loom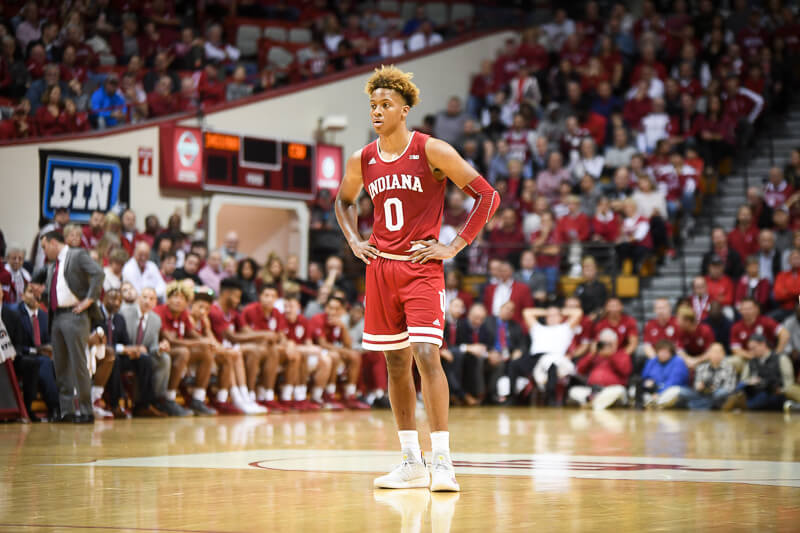 6-Banner Sunday is Inside the Hall's weekly newsletter in partnership with The Assembly Call. More than 6,000 Indiana fans receive the newsletter each week. In addition to appearing each week on the site, you can also opt to receive 6-Banner Sunday by email. A form to subscribe via email is available at the bottom of this week's 6-Banner Sunday.
Welcome to another edition of 6-Banner Sunday, a joint production between The Assembly Call and Inside the Hall where we highlight the six most essential IU basketball stories of the past week.
The Hoosiers are 2-0 after taking care of two of the worst teams in college basketball to open the season. Even if you account for the lack of opponent competitiveness, the Hoosiers have had some impressive stretches of play that hint at how good this group could be.
But the season gets real next week as Indiana hosts Marquette and then travels to Arkansas — two tests that tell us a lot about how good this team is early in the season.
In this week's edition:
• Indiana rolls to win over Chicago State in opener
• IU dismantles Montana State
• Romeo Langford is growing on and off the court
• Derek Elston eyes a career in coaching
• Brian Evans inducted into IU Athletics Hall of Fame
• IU Men's Soccer in Big Ten Tournament Final; IU Football notches big win
Banner #1
Indiana rolls to win over Chicago State in opener
The Hoosiers had no trouble with Chicago State in their season opener, cruising to a 104-55 win in Bloomington on Tuesday. Romeo Langford led Indiana with 19 points on a 7-of-12 shooting line, and he looked notably comfortable and commanding on the court.
Evan Fitzner, Justin Smith, and Devonte Green — who made his season debut after missing Indiana's exhibition game — also scored in double-digits for IU. Juwan Morgan led IU in rebounding with eight, although, if anything, Tuesday's performance from the senior was a little underwhelming compared to his expectations for the season.
The Cougars weren't the toughest opponent for the Hoosiers, in fairness, as their offense was sloppy and their defense was lackluster. Despite a slow start, Indiana was able to do pretty much whatever it wanted on both ends of the court.
In this week's Podcast on the Brink, Alex and Jerod were joined by BTN's Jon Crispin, who was on the call for the IU-Chicago State game, to recap Indiana's performance in the opener. They also discuss Crispin's outlook for Indiana this season and how he views the Big Ten as a whole.
The Assembly Call Postgame Show broke down Romeo's performance and several other topics from the game.
Ben Ladner looked at Indiana's ball movement and defense in his notebook for Inside the Hall. Also on ITH, Alex shared his five takeaways from the game, including thoughts on Rob Phinisee and Evan Fitzner.
Indiana Daily Student columnist Murphy Wheeler wrote that Tuesday's game was a good example of why Juwan Morgan deserves more credit for what he does for the Hoosiers.
The reason Morgan deserves more credit isn't just the toughness or loyalty he's shown to IU these past three seasons. Those other reasons were evident Tuesday night.

Even when his numbers aren't gaudy and his stat line doesn't pop out, Morgan is still doing the little things that helped him crack the lineup as a freshman back in 2015-16. Watch closely and you'll notice Morgan has a hand in almost everything IU does on both ends of the floor, even if he's doing something that doesn't go in the box score.

Defensively, he's the Hoosiers' anchor. If there's one aspect of his game that's most-underrated, it's his ability to guard all five positions on the floor.
Wyandotte Safety Solutions is your one-stop shop for safety training and safety products. WSS offers CPR & First Aid training, fall protection, and lift training. We also sell PPE, AEDs, and First Aid supplies.
We are an Indiana company serving Indiana and all of North America. Check out our website for more information: ptsarcflash.com.
Banner #2
IU dismantles Montana State
Though Montana State was expected to pose at least a little more of a challenge for Indiana than Chicago State did, you wouldn't know it from watching the game. The Hoosiers trounced the Bobcats en route to an 80-35 win.
Montana State's 35 points were the second-fewest points Indiana has ever allowed in Assembly Hall. The top mark was set in 1971 when the Hoosiers allowed 29 points to Notre Dame. The Bobcats shot just 25 percent from the field and committed 25 turnovers in the game.
Juwan Morgan posted his 10th career double-double, shooting a perfect 6-6 from the field en route to 14 points and grabbing 11 rebounds. Justin Smith scored 13, and Romeo Langford and Rob Phinisee each added 12.
Al Durham and Race Thompson made their season debuts after sitting out the Chicago State game with injuries. Durham played 15 minutes and scored five points. Thompson didn't play until the game was out of reach and Archie Miller had began emptying the bench. He scored two points.
There was noteworthy, and unfortunate, news that came out after the game in Archie Miller's press conference. He shared that freshman forward Jerome Hunter will likely miss a significant period of time with a leg injury. The severity of the injury and the timetable for Hunter's return are unclear.
My notebook from the game on Inside the Hall touched on the strong efforts from Morgan and Smith. In 'The Minute After,' Ryan Corazza shared thoughts on Indiana's offense and its free-throw shooting, among other topics.
The Assembly Call Postgame Show broke down Indiana's stellar defensive performance.
Zach Osterman wrote that IU's offense looks capable of causing damage this season.
Nobody should be playing February basketball in November, and Indiana certainly isn't. We'll have a far better idea of where these Hoosiers are 10 days from now — after Marquette's visit Wednesday, and the trip to Arkansas next weekend.

But their first two games have given Miller's players a clear way forward offensively.

Morgan down low. Smith cutting and crashing. Langford attacking from all angles. And everybody locking in when the ball is turned over.
Banner #3
Romeo Langford growing on and off the court
The star freshman made his long-awaited debut in an IU uniform this past week, and he looked good in both games. He was featured in multiple stories this week on The Athletic.
First, Sam Vecenie analyzed Langford's game and how it will potentially carry over into the NBA next season should he take the one-and-done route that many expect him to.
Vecenie acknowledges Langford's big-time scoring ability and his playmaking prowess, but also adds that his defense may need to improve to be a good enough player on both ends to be a top-five pick in the NBA Draft.
Obviously given his acumen for finding shots and reputation as a bucket-getter, Langford is an aggressive player. But for a player whose mobility is most synonymous with a Cadillac in the way that he glides on offense, it's worth noting that he's by no means soft. He embraces and finishes through contact well for a relatively skinny player due to what appears to be strong core strength. Because of that contact-seeking attitude, Langford draws fouls at a high clip, finishing 24th out of the 79 U17 Adidas circuit players to finish at least 200 possessions in free throw rate.
Later in the week, Brian Hamilton wrote a feature on Langford and how he's adapted to college life and is continuing to learn. The story included an anecdote about a laundry mishap that Langford suffered in his dorm.
In retrospect, Romeo Langford believes, it was not the idea of cleaning shoes in the washing machine that was problematic. It was more the number of shoes being cleaned. He'd often tested the waters, as it were, back home in New Albany, throwing maybe one or two pairs into the wash with a couple of towels and coming away satisfied with the result. So Langford can vouch for the process and the underlying theory. But he concedes it is probably unadvisable to clean five sets of sneakers at once, which is what Langford and his roommate, Rob Phinisee, decided to do one day. He thinks this may be why the washing machine on their floor broke.
Banner #4
Derek Elston eyes a career in coaching
Derek Elston played for the Hoosiers from 2010-13. His IU career was riddled with injuries, but he was an important leader on Indiana's Sweet Sixteen teams in 2011-12 and 2012-13. He's now in his fourth season on IU's staff as Director of Player Development.
Dustin Dopirak of The Athletic wrote about Elston's role with the program.
But nine years after he arrived in Bloomington and five years after he helped IU win a Big Ten title and reach a second straight Sweet 16, Elston is working on IU's bench with visions of one day running his own program. As the Hoosiers' director of player development, he's not technically a coach — NCAA rules prohibit him from working with players on the floor — but he's entering his fourth season in the position, which Crean created in 2015 so Elston could interact with his players and get them to interact with the world around them. After Crean was fired in 2017, new coach Archie Miller not only decided to keep the position, but he also elected to retain Elston.
Dopirak noted that Elston's humorous personality, dating back to his playing days, makes his fit in that role pretty unique.
Crean found Elston entertaining, and he started to truly understand his value when Cody Zeller, the most important recruit in Crean's tenure, arrived on campus in 2011. Zeller was Indiana's reigning Mr. Basketball, a McDonald's All-American and a top-20 recruit who carried the weight of being asked by many to be a savior of Indiana basketball. However, he was also a bit introverted and shy. He was also a prankster who would quietly set up the element of surprise, but Crean may not have picked up on that and was simply concerned that his prized addition didn't feel comfortable around the group.

But whenever he saw Zeller hanging out with Elston, the young star seemed totally different.

"Cody was way different with Derek than he was with any other player," Barnett says. "Derek could make him laugh, and he could make him laugh on cue. And I think that really helped especially with the weight that was on Cody being Indiana Mr. Basketball, being the guy who was the last piece to bring it back to where we all wanted it to get. Derek's humor and the way he would go back and forth with Cody really made Cody laugh."
Banner #5
Brian Evans inducted into IU Athletics Hall of Fame
On Friday, IU Athletics inducted six people into its Hall of Fame. Among this year's induction class was former IU basketball star Brian Evans.
Evans played forward at Indiana from 1993-96. He checks in at 12th on Indiana's all-time scoring list with 1,701 career points. He's 10th on the program's all-time rebounding list with 750 boards. He was a third-team All-American and Big Ten Player of the Year in 1996, when he averaged 21.2 points per game and 7.1 rebounds per game, and he posted a field goal percentage of 44.7.
Mike Miller wrote about Evans' IU career, going as far back as when he was recruited by Bob Knight.
Evans gained exposure during the summer leading into his senior year, when he played on an AAU team headlined by future IU teammate Alan Henderson. Ron Felling, one of Knight's former IU assistants, was the first on IU's staff to take interest in the growing 6-foot-8 prospect. Evansville, Indiana State, Western Illinois, Ball State, and Butler — before it was Butler — were all eager to recruit Evans. So was Felling. He just needed his boss to take a look.

Eventually, that happened. As the signing period drew closer, and the Hoosiers saw their options dwindle, Felling convinced Knight to scout Evans. So Knight drove to Terre Haute for an open gym, watched a ragtag South team scrimmage without several players still practicing with the football program and made his decision.
Banner #6
IU Men's Soccer in Big Ten Tournament Final; IU Football notches big win
Indiana Men's Soccer, ranked No. 2 in the country, punched its ticket to the Big Ten Tournament Championship Match for the second year in a row. The top-seeded Hoosiers defeated No. 2 seed Maryland 4-3 in penalty kicks on Friday. Sophomore goalie Trey Muse came up huge in PKs with two saves.
Jeremy Price wrote highly of senior defender Andrew Gutman's goal in regulation.
Gutman provided a stroke of individual brilliance and determination for the only IU goal of the match in the 69th minute, settling a pass just across midfield and bursting between two defenders, past a third and never slowed in slaloming past two more defenders into the left side of the box before cutting back to elude another Terrapin and unleashing a right-footed shot into the lower right corner past Maryland goalkeeper Dayne St. Clair and a covering defender.
Indiana faced Maryland again on Saturday, except in a different variety of football.
IU football picked up a sorely needed win over the Terps 34-32 in Bloomington. Indiana led 31-15 midway through the third quarter, before Maryland came back to take a 32-31 lead in the fourth quarter. But the Hoosiers put together the drive they needed on the ensuing possession, and Logan Justus drilled a 42-yard field goal to put IU back on top. Indiana sealed the game by recovering a Maryland fumble on the next possession.
The win keeps IU's bowl hopes alive, as the Hoosiers need just one more win for bowl eligibility. IU plays at No. 4 Michigan next week and then returns to Bloomington to face Purdue for the Old Oaken Bucket.
IDS columnist Cameron Drummond wrote that Justus' game-winning field goal proved his value to the Hoosiers.
Justus has gone 13 of 15 on field goal attempts this season, having one kick blocked against Virginia and missing a 50-yard try at Ohio State. He also had an extra point blocked against Virginia, but he's been as steady as can be otherwise.

Consistency and poise have been two qualities lacking at times from IU this season, but Justus seemingly specializes in these characteristics.

"I think we have that much trust in Logan," sophomore quarterback Peyton Ramsey said. "He's done a really good job for us all year."
And with that, the joy of hanging Banner #6 is now one week closer.
Thanks for your continued support for The Assembly Call and Inside the Hall. We'll be back next weekend with a new roundup.
Now go enjoy yourself a 6-banner Sunday. If you'd like to receive this newsletter in your inbox each Sunday, please enter your email address below:
Filed to: