Notebook: Morgan leads IU to comfortable win over Montana State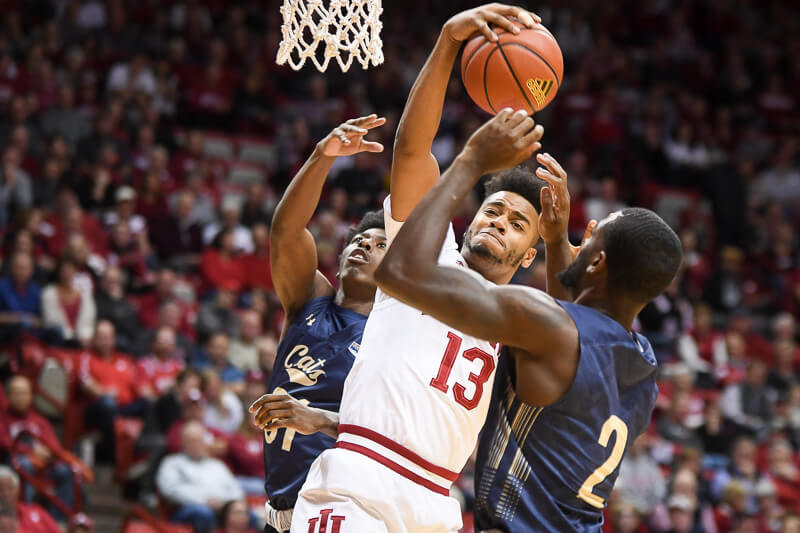 Indiana thrived in the paint in its 80-35 win over Montana State, and Juwan Morgan led the charge.
The IU senior forward posted his first double-double of the season and the 10th of his career, shooting a perfect 6-of-6 for 14 points and 11 rebounds. He was also second on the Hoosiers in assists with four.
Morgan was able to get seemingly whatever he wanted down low, exploiting holes in the Bobcat zone and working the glass for several tip-ins. He said the addition of weapons such as Romeo Langford took some adjustment for him on offense, but he's not doing anything different from last year.
"I think it took a little getting used to and just took building some chemistry on that side of the ball," Morgan said. "But I think just having all those weapons around me, just if I kept doing what I was doing last year, even if the ball wasn't coming to me, still setting people up with just a hard seal, being able to open up, say, a lob for Romeo for just a drive for Justin or something like that. Just keep staying aggressive."
As important as his leadership is to the Hoosiers, Morgan's play will be equally crucial. Indiana utilized high-low action several times in the game, and the strategy was typically effective. Should IU continue to run its offense like that, Morgan holding his own in the post will be the key to making it all work.
Archie Miller said aggressiveness was an emphasis for Morgan.
"Part of it is him wanting the ball, demanding the ball and us making sure that we understand, getting the ball to him, and he did his job tonight in terms of the want. He wanted it. When he caught it, he was very, very focused and he had a good approach the last two days, and it was good to see him pretty much dominate the paint tonight."
Jerome Hunter out "probably for a significant stretch"
Al Durham and Race Thompson made their season debuts in the lopsided IU victory. However, freshman Jerome Hunter remained sidelined. And it might be a while before he's able to suit up.
Miller said after the game that Hunter is dealing with a leg issue and the severity is still unknown, as is the freshman's timetable for a return.
"Jerome is on a to-be-determined basis," Miller said. "He's going to be out probably for a significant stretch here as we continue to try and figure out and find ways to get his diagnosis done, find out what the correct way of handling it is, and then see where the next step is. It's sort of a leg injury, but it's not a typical leg injury that is an injury caused by practicing or something. It's more of an underlying effect that's causing him some pain. When we get all the answers, he'll be evaluated and decided on."
The 6-foot-7, 195-pound forward looked to carve out a role in a deep IU team this year, but it's suddenly unclear how long doing so will take. A four-star recruit from Pickerington, Ohio, Hunter was the first of Indiana's five-man freshman class to commit in July 2017.
In Hunter's extended absence, fellow freshman Damezi Anderson will be able to continue establishing his role with the Hoosiers. Anderson played 17 minutes against Montana State, scoring three points.
Justin Smith proving his worth
Though Morgan led the Hoosiers on the stat sheet, Smith was equally effective in exposing holes in Montana State's zone. He put up 13 points on a 6-of-8 line, and he showcased his impressive vertical in the second half on a big dunk.
Smith has looked markedly more confident this season on both ends of the floor. While last year, he'd mainly camp along the baseline and attempt to drive in on one or two dribbles, he's been able to contribute from different areas of the court in Indiana's two games this season. He's been important to IU's efforts in transition and been key in perimeter ball movement, while still maintaining (even improving upon) his ability to drive in and score.
His length and size are a big asset for the Hoosiers defensively, and he's been active on that end. He picked up two steals and one block against Montana State after recording two steals Tuesday against Chicago State.
"He's got a wealth of experience after (last) year," Miller said. "He's had an off-season to continue to change physically, and he's a much tougher player on both ends of the floor. But he's a much tougher player on offense right now. He's more confident in terms of his finishing and his ability to get to the basket, especially in transition. But defensively he's a lot better than he ever has been and so he's definitely an improved part of our team."
Filed to: Justin Smith, Juwan Morgan