Notebook: Ball movement, defense stand out as IU trounces Chicago State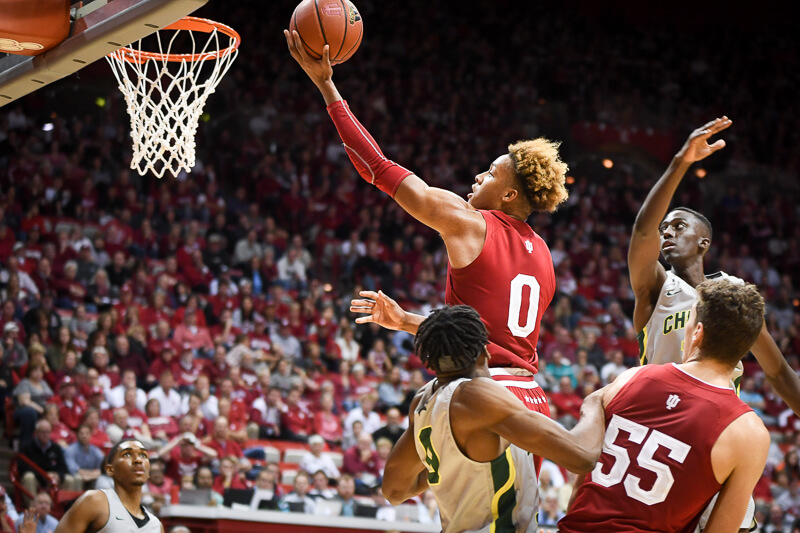 Indiana's 104-55 victory over Chicago State wasn't so much a season opener as it was another tune-up before the meaningful portion of the schedule begins.
The Cougars provided little resistance to the onslaught of drives, cuts and forays to the rim they faced. Indiana, meanwhile, exploited nearly every fissure in Chicago State's defense it could find, moving the ball willingly and cooperatively until some advantage formed. The Hoosiers scored 54 points in the paint, generating layups and dunks with ease, and shot 33 free throws. Indiana tallied 20 assists on 39 made baskets, which produced a robust 1.3 points per possession.
That is the mark of a free-flowing and well-run offense, even against a team as helpless as the one IU faced Tuesday night, and will be a bellwether of IU's offensive efficiency all season. When the ball moves as crisply and frequently as it did against Chicago State, it facilitates the game for every player willing to commit to that sort of offensive spirit. The team's collective passing acumen and individual playmaking ability of a deep backcourt will allow Indiana, on its best nights, to pick-apart inferior opponents as a matter of course. Should it run into a team capable of slowing that attack, Romeo Langford's ability to manufacture offense out of nothing will serve as a handy fallback plan.
Langford began the game looking almost exclusively to share the ball before exploding for 17 first-half points after the Cougars sought to take away his passing lanes. He sauntered into the lane at will, setting up teammates or gliding to the rim himself depending on which option Chicago State made available.
"My job is to attack, and I was just attacking," Langford said. "People were getting on me and it left my teammates open, so I was just making the right basketball play and letting the game come to me."
Evan Fitzner, who finished with 14 points on 5-of-6 shooting off the bench, was on the receiving end of many of those plays, as well as dimes from Juwan Morgan, Rob Phinisee, and Devonte Green. Fitzner helped anchor a bench that scored 51 points, and already appears a natural fit with Indiana's best players and the team's offensive ecosystem. He is a natural end point to a sequence of swing passes along the perimeter or a well-timed pick-and-pop. When he isn't lurking on the perimeter, he has a knack for finding open space in the heart of a defense. Tuesday night, those spaces were all too apparent to him and the rest of the Hoosiers.
"Coach talked a lot about how he wants us to be a team that shares the ball with one another," Fitzner said. "I was the beneficiary of that tonight. And we'll see, hopefully we can continue to share the ball moving forward."
IU further along defensively than a year ago
The contrast of how Indiana looks defensively this season and where it stood this time last year is stark, due in no small part to heightened institutional knowledge and improved personnel at nearly every position. The length IU possesses on the wing has the potential to overwhelm teams, as it did Chicago State, and has helped fuel a relentless transition attack.
Indiana recorded 12 steals, 25 points off of 20 Chicago State turnovers, and 30 points in transition. Simply by virtue of keeping its arms outstretched and staying in sound defensive position, IU's defense makes the simplest of passes feel uncomfortable.
Having an anchor like Morgan patches any holes that may form, while Phinisee, who had five steals in his first collegiate game, hounds opposing point guards soon after crossing halfcourt. Langford, Zach McRoberts, and Justin Smith fill the spaces in between, denying entries, deflecting passes into tight pockets, or constricting the court to the point that scoring becomes a luck-based endeavor. Defenders have the tools to recover from mistakes and negate many offensive advantages.
Encouragingly, those mistakes are far scarcer than they were last year. Rotations are sharper, ball pressure is more intense, and players are communicating more clearly.
Still, Indiana feels it has significant margin for improvement on that end of the floor.
"I didn't think, from our staff's perspective, we had a real good feel defensively on what we were doing out there," Archie Miller said. "Just wasn't as happy regardless of the score with our defense and what we're trying to do."
Despite noticeable improvement, Indiana hasn't yet mastered the finer points of the pack-line defense. Had Chicago State boasted more capable passers and shooters, it might have generated far more open shots than it did Tuesday night. More talented and connected teams will exploit whatever gaps, small or large, Indiana provides. Phinisee's dogged performance notwithstanding, Indiana's ball pressure left Miller wanting. Defenders died on ball screens far too often.
"Our on-ball defense, our pressure on the ball, wasn't where it has to get to," Miller said. "And just in general, defending off the ball with a lot of screening actions. You saw a lot of just communication breakdowns and you saw some guys, really, to be honest with you, just fade into the screens and die."
Those issues can be fixed relatively easily as the season progresses. Indiana is building from a more workable foundation, and has less ground to cover than it did a year ago.
Filed to: Robert Phinisee, Romeo Langford