The Minute After: Montana State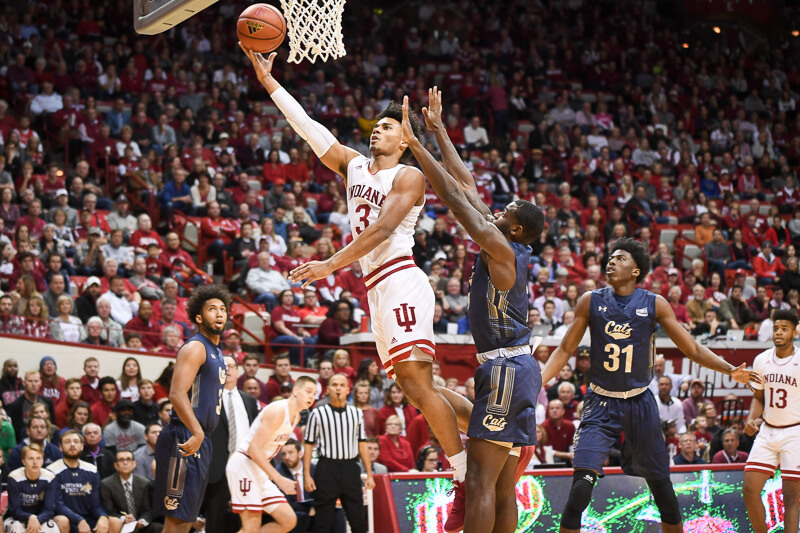 Thoughts on an 80-35 win against the Cougars:
Facing its second zone defense of the week, Indiana came prepared with patience, methodically passing the ball around the half court until it found space for easy scores. And so this one was pretty much over as it began, Indiana controlling the game throughout and winning with ease, a 45-point thrashing of Montana State.
About the only time in the first half Indiana's offense suffered was during a stretch in the closing minutes, when it settled for too many 3-pointers. The heaves from distance didn't come in rhythm or off ball movement and Indiana failed to connect on most of them, heading into the locker room at just 2-of-11 from deep despite scoring 1.21 points per possession. Of Indiana's 43 points at the break, 28 came in the point. By game's end, it was 48 of 80. All the points in the paint allowed Juwan Morgan to get going, as he led all scorers with 14 points on a perfect 6-of-6 performance from the floor. He added 11 rebounds for a double-double on the evening.
Indiana also got double-digit scoring efforts from three of its other starters, as Justin Smith (13 points), Romeo Langford (12 points) and Robert Phinisee (12 points) were big contributors on offense, too. De'Ron Davis (eight points) got into the mix as well, at one point dribbling in transition and laying it in for score.
Indiana's free throw shooting is still leaving too much to be desired, as it shot just 10-f-19 from the line (10-of-19). There's still plenty of time to turn things around, but it remains a concern. And its poor 3-point shooting continued into the second half, as it ended the contest 6-of-21 (28.6 percent) from deep. Still, the Hoosiers mustered a solid 1.12 points per possession for the game and looked pretty good doing it.
For as good as Indiana was on offense tonight, the Hoosiers also got it done on the defensive end and it was perhaps more impressive. The Hoosiers were particularly pesky on the ball, frustrating the Cougars throughout the contest, giving great effort despite the opponent. Guys were hitting the floor and diving for loose balls. There were a number of deflections. Indiana had five blocks and 10 steals. The Hoosiers turned the Bobcats over on 35 percent of their possessions, leading to 28 points off those miscues. They held Montana State to just .49 points per possession and only 35 points overall — the second lowest point total from an opponent in Assembly Hall history.
"We worked harder defensively to challenge them," Archie Miller said after the game.
This kind of effort and performance on both ends was a nice tuneup before Wednesday's game against Marquette (No. 28 on KenPom). The Golden Eagles are going to make things harder on both ends for the Hoosiers and they're likely going to have to adjust to an opponent throwing more man-to-man defense at them.
But if Indiana is able to not get lackadaisical against the Cougars, it bodes well for Wednesday inside an Assembly Hall that is sure to provide plenty of extra energy to get the home team going even more.
Filed to: Montana State Bobcats