Five takeaways from Indiana's win over Chicago State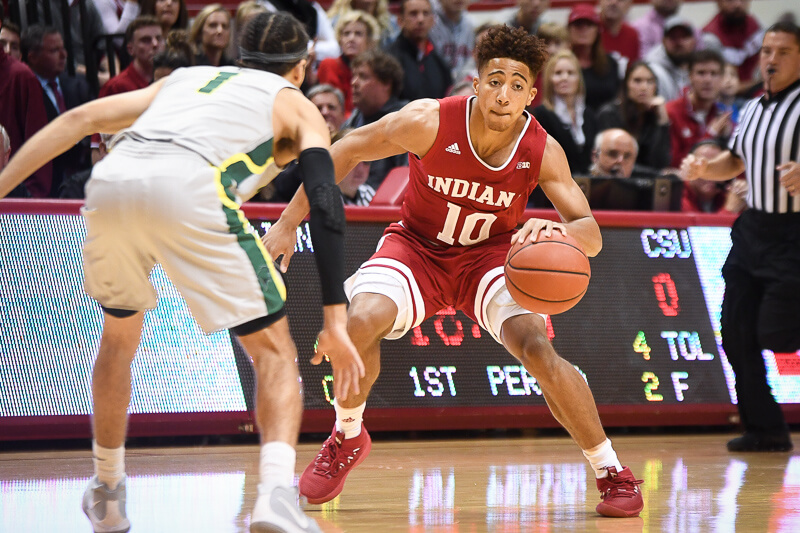 Indiana tipped off the 2018-2019 season with a 104-55 blowout win over Chicago State on Tuesday night at Simon Skjodt Assembly Hall.
Here's a look at five takeaways from the win over the Cougars:
• Langford hits his stride in first half: It didn't take long to Romeo Langford to make his presence felt on Branch McCracken Court.
The New Albany product got going early with a couple of assists and then took over after hitting a baseline jump shot. Langford scored 11 straight points for the Hoosiers just after the midway point of the first half on his way to 17 first half points. He finished with a game-high 19 points.
For a player that was as closely watched as any in the state of Indiana in recent history, the unassuming guard approached his debut like any other game.
"It really was no pressure," Langford explained. "Emotions were high. Couldn't wait, all of our freshmen, just to get out here get our first game under our belt."
• Phinisee staking claim to point guard position: Devonte Green appeared to be Indiana's starting point guard entering the season.
But an injury sidelined Green in both of IU's exhibitions, which provided freshman Rob Phinisee an opportunity to claim a spot in the lineup.
Even with Green healthy for Tuesday's season opener, Phinisee remained in the starting lineup. And he may not relinquish that spot for the foreseeable future.
"To be honest, I'm not really used to a freshman coming in and being that tough mentally," Evan Fitzner said of Phinisee. "Physically, I think he can definitely hold his own. And he has shown that in our scrimmages. And tonight again. If he can continue that, it's going to help us a lot."
While Green may have more upside offensively, Phinisee has been strong defensively and also appears to be a lot less mistake prone than Green. Fortunately for IU, the duo appears more than capable of playing together as Green can move off the ball and create offense with perimeter shooting.
• Fitzner strong in IU debut: He's not on any of the impact transfer lists that were released in the preseason, but Evan Fitzner looks like he'll be a key addition for the Hoosiers.
In 16 minutes against Chicago State, Fitzner filled up the stat sheet with 14 points, six rebounds and a blocked shot.
"He did a nice job. Very high IQ, very skilled offensive player," Archie Miller said of Fitzner. "He has size and length and great touch with either hand around the basket. He obviously can stretch the floor. I thought he did a nice job of throwing over the zone at times, catching it in the middle and skipping it out at times."
Indiana has found success in recent seasons with graduate transfers like Nick Zeisloft and Max Bielfeldt and Fitzner looks like he'll continue to make an impact off the bench.
• IU turns Chicago State's mishaps into points: Miller has emphasized the importance of this team turning its defense into offense and the Hoosiers got off to a strong start on Tuesday night.
Chicago State turned it over 20 times, which Indiana converted into 25 points in the blowout win. The Hoosiers have more length and athleticism than last season, which should pay dividends as the season moves along.
"You can't teach size," Chicago State coach Lance Irvin said postgame. "They're big. They're athletic. They're long."
• Free throw shooting remains a concern: The Hoosiers were a poor free throw shooting team last season and it appears there's still plenty of work to do in year two of the Miller era.
Indiana was just 19-of-33 (57.6 percent) from the free throw line in the season opener.
It's an important facet to improve upon as this Indiana team has the ability to get to the line much more frequently than last season.
"It's black and white. You make them or don't make them," Miller said. "Guys have to step up, go to the line, knock them in. Especially your better shooters.
"And I think that will always balance out over the course of the year. Sometimes your guys that aren't very good free throw shooters, it's just going to be what it is. You've got to keep working to get better, and we'll do that. We're going to get fouled."
Filed to: Chicago State Cougars, Evan Fitzner, Robert Phinisee, Romeo Langford