6-Banner Sunday: Reactions to IU's exhibition win and a Hoosiers in the NBA update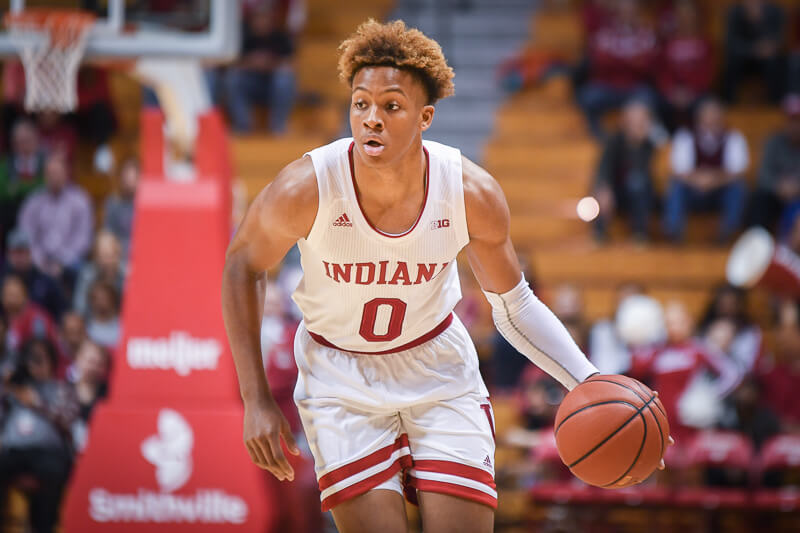 6-Banner Sunday is Inside the Hall's weekly newsletter in partnership with The Assembly Call. More than 6,000 Indiana fans receive the newsletter each week. In addition to appearing each week on the site, you can also opt to receive 6-Banner Sunday by email. A form to subscribe via email is available at the bottom of this week's 6-Banner Sunday.
Welcome to another edition of 6-Banner Sunday, a joint production between The Assembly Call and Inside the Hall where we highlight the six most essential IU basketball stories of the past week.
We have arrived at the final Sunday before the start of the college basketball regular season. Indiana will officially kick off its 2018-19 campaign this Tuesday against Chicago State in Assembly Hall.
Until then, we have you covered on all the goings-on of IU basketball.
In this week's edition:
• IU knocks off Southern Indiana in tune-up game
• The Assembly Call kicks off its 8th season of postgame shows
• Inside the Hall postgame coverage
• Roundup of college basketball season preview articles
• Big Ten win total over/unders
• Hoosiers in the NBA
Banner #1
IU knocks off Southern Indiana in exhibition game
Indiana defeated the University of Southern Indiana 96-62 last Thursday in the team's final tune-up before the regular season. The Hoosiers overwhelmed USI with their length and activity on the defensive end, racking up 10 steals, which led to 32 points off turnovers and 31 fastbreak points.
IU scored nearly 1.3 points per possession against an overmatched USI defense, and held the Screaming Eagles to under 0.82 points per possession. After the game, Southern Indiana coach Rodney Watson was complimentary of IU and Archie Miller.
"They really have good purpose with what they're trying to do," Watson said. "Coach Miller is one of my favorite coaches ever because he knows how to put his personnel in great positions."
Indiana's freshman class showed encouraging signs as Romeo Langford tallied 13 points and five rebounds, while also accounting for four of Indiana's 10 steals. Robert Phinisee scored 13 points and dished out four assists. Damezi Anderson drilled four three-pointers off the bench en route to a team-high 14 points.
They will each look to carry that production over to the regular season, which begins on November 6.
A few reaction pieces:
• Zach Osterman described how Indiana's newfound length and quickness could give teams a lot of trouble defensively.
• Mike Miller wrote about how Damezi Anderson is trying to fill a shooting niche for IU.
• And Stu Jackson provided his observations on each IU player.
Wyandotte Safety Solutions is your one-stop shop for safety training and safety products. WSS offers CPR & First Aid training, fall protection, and lift training. We also sell PPE, AEDs, and First Aid supplies.
We are an Indiana company serving Indiana and all of North America. Check out our website for more information: ptsarcflash.com.
Banner #2
The Assembly Call kicks off its 8th season of postgame shows
The Assembly Call had its first postgame show of the season after Indiana's win over USI, as Jerod Morris, Andy Bottoms, Ryan Phillips discussed Phinisee's emergence, Langford's defensive performance, the importance of Zach McRoberts' confident 3-point stroke, and more.
As the new season ramps up, so too will the Assembly Call's coverage of the Hoosiers. Tune in after every game to get instant, smart reactions and analysis of Indiana's performance, and check out every Banner Morning IU basketball news update throughout the week.
Every episode of The Assembly Call is available on the YouTube channel, and you can subscribe for free to the podcast at Apple Podcasts, Google Podcasts, and anywhere else podcasts are available (just search for "assembly call").
Banner #3
Inside the Hall's extensive postgame coverage begins
Inside the Hall will also produce extensive and detailed coverage of IU basketball all season long, with instant recaps, reactions, press conference videos, film breakdowns, and other postgame analysis.
Make sure you're prepared for the season by following Alex Bozich, Ryan Corazza, Seth Tow, and Ben Ladner on Twitter, and stay tuned to Inside the Hall to keep up with everything within the realm of IU hoops.
Banner #4
Roundup of college basketball season preview articles
With the offseason officially winding down, it's worth revisiting some of the best stories, analysis, and reporting in college basketball this offseason.
At Sports Illustrated, Dan Greene and Michael Sokolove provided insight into the NCAA corruption trial; Emily Caron looked at Nassir Little's fit at UNC; and Will Ragatz assessed some of the most important transfers in the country.
For ESPN, Jordan Schultz ranked the best seniors in college basketball; Mark Schlabach discussed some of the repercussions of the corruption trial; and the college basketball staff examined the most pressing questions surrounding the Big Ten.
Over at The Athletic, CJ Moore detailed the rise of the playmaking four in college basketball and Dustin Dopirak profiled Rob Phinisee.
And at the Assembly Call, we dove into the fascinating world of pick-and-roll defense in each of the last two weeks.
Banner #5
Big Ten win total over/unders
On this week's Podcast on the Brink, Andy Bottoms joined Alex Bozich and Jerod Morris to discuss every Big Ten team's over/under line going into the season, including where Indiana might fall in the conference hierarchy.
Subscribe to every episode of Podcast on the Brink here.
Banner #6
Hoosiers in the NBA
In perhaps the most unexpected Indiana-related NBA story of the season, Troy Williams scored 12 points in 33 minutes this week for the scorching-hot Sacramento Kings in a win over the Orlando Magic. Williams, who was waived by New Orleans prior to the start of the season, is playing for his fourth team in three years. Most every team in the NBA could use additional depth on the wing, and Williams fits the athletic profile of a pro combo forward. Time will tell if he sticks this time around.
His teammate, Yogi Ferrell, was moved to a bench role after struggling out of the gate, but continues to play rotation minutes for the Kings. Cody Zeller is thus far having the most efficient season of his career for Charlotte, and Noah Vonleh is having the most productive year of his young career. Thomas Bryant has been called into mop-up duty just twice for the struggling Washington Wizards.
Victor Oladipo has settled into a rhythm early, scoring between 20 and 25 points in each of his last eight games for the Pacers. The All-Star is averaging over 22 points per game on above-average efficiency while grabbing nearly seven boards per game and maintaining his usage and assist rates from a season ago. As a result, the Pacers have burst out to a 6-3 start, good for fourth in the Eastern Conference.
OG Anunoby continues to play major minutes for the first-place Toronto Raptors despite coming off the bench, while Eric Gordon has assumed a starting spot as injuries have made the Rockets' star guards, James Harden and Chris Paul, unavailable.
Stats current as of Saturday afternoon.
Also, don't miss Andy Bottoms' complete preseason NCAA Tournament bracket projections. (Just, you know, don't hold him to these picks.)
And Branch McCracken's granddaughter got to play on the court named for her granddad.
And with that, the joy of hanging Banner #6 is now one week closer.
Thanks for your continued support for The Assembly Call and Inside the Hall. We'll be back next weekend with a new roundup.
Now go enjoy yourself a 6-banner Sunday. If you'd like to receive this newsletter in your inbox each Sunday, please enter your email address below:
Filed to: