The Minute After: Southern Indiana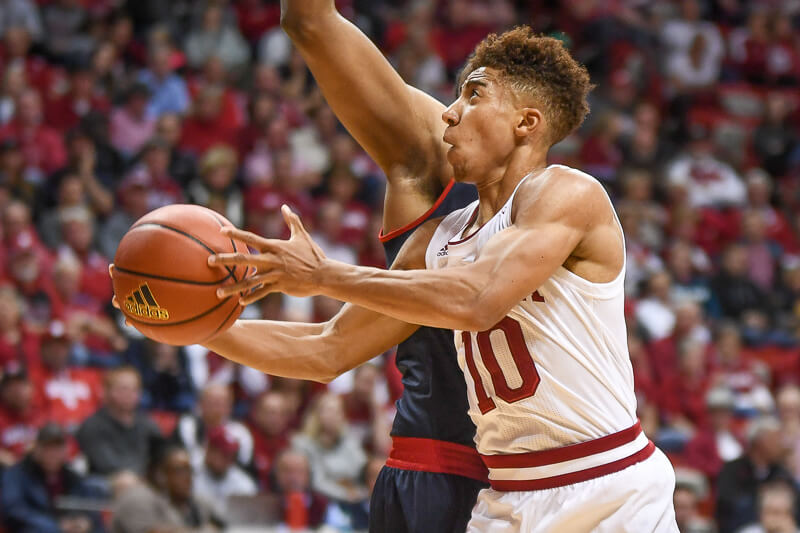 Thoughts on a 96-62 win against the Screaming Eagles:
The start of Indiana's season debut played true to what Archie Miller noted before the contest: Indiana's defense is ahead of its offense.
The Hoosiers clamped down early on the Screaming Eagles, getting up in their airspace and not letting them find much, if any, of the paint. It led to Southern Indiana settling for tough perimeter shots late in the possession and shot clock violations. Indiana also got into the passing lanes with freshman Romeo Langford leading the charge there. Early on, that was Indiana's best offense — steals into breakaway scores. By half, the Hoosiers held Southern Indiana to just .53 points per possession. The Screaming Eagles shot only 25 percent from the floor.
While Indiana had some moments on offense — freshman Robert Phinisee played with no fear and had some nice takes on his way to 10 first half points — it was a bit of a disjointed affair. Indiana often lacked identity and cohesion and some of last year's issues were on clear display. The Hoosiers weren't great from the line (8-of-13, 61.5 percent) or from 3-point range (3-of-10, 30 percent).
But the Hoosiers broke out offensively in a big way in the second half. There appeared to be a concerted effort to feed Juwan Morgan in the post at the onset as he got a number of looks. This brought a bit of an identity to each possession and well … it's just a good idea. Morgan shot 63 percent on 2s last season, is this team's senior leader and deserves touches. Going inside-out to start the half brought some nice steadiness to Indiana's possessions. And then all of a sudden this team got insanely hot from distance. Indiana hit 8-of-12 from 3-point range over the final 20 minutes of the contest. It helped them run away with the 34-point victory.
Freshman Damezi Anderson hit 4-of-6. Zach McRoberts splashed two in from the right corner and looked quite comfortable doing it. Evan Fitzner — who had a nice start to the season with 10 points on 4-of-5 shooting along with four rebounds, an assist and a block — splashed in one of his own. Finding minutes in the rotation after Al Durham Jr. went down with an injury, Johnny Jager rounded out the 3-point barrage with a triple as well.
It made up for an Indiana defense that showed some lethargy and allowed the Screaming Eagles 42 points in the second half after allowing just 20 in the first. Southern Indiana was able to get more going in transition against an IU defense that looked a little gassed.
Romeo Langford didn't have the best debut, as he had five of Indiana's 11 turnovers for the night and hit just 4-of-12 from the field. However, Langford was a co-leader in rebounds (five) and led the team with four steals. Jake Forrester made the most of his eight minutes, scoring four points and grabbing three rebounds. And while Phinisee was great (13 points, four assists, zero turnovers) one wonders what the offense would have looked like with Devonte Green manning the point.
Overall, this was a solid debut from the Hoosiers. If they're able to couple the first half's defense with what went well on offense in the second half, it's a solid foundation on which to build.
Filed to: Southern Indiana Screaming Eagles