Notebook: Phinisee thrives in Indiana's exhibition win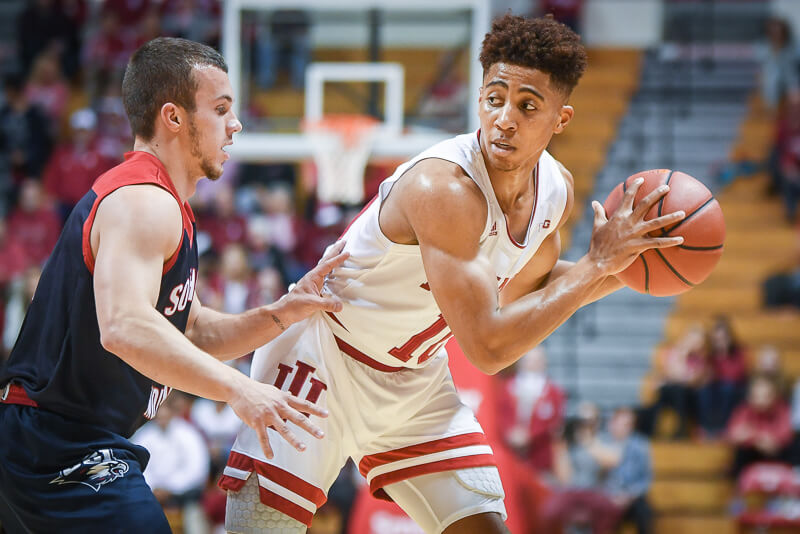 Indiana's likely starter at point guard – Devonte Green – sat out Thursday's exhibition with a nagging thigh injury.
In his absence, freshman Robert Phinisee and appeared very comfortable running the Hoosier offense. The freshman shot 5-of-13 for 13 points, put up a team-high four assists along with three rebounds and a steal in IU's 96-62 win over Southern Indiana.
When Green returns to the court, it seems unlikely that Phinisee will play 28 minutes as he did against the Screaming Eagles. But the Lafayette native has been impressing in practice, and he showed in the exhibition game that Archie Miller can rely on him in a bigger role.
"I think it's definitely what we've been seeing in practice and scrimmages, our previous scrimmage against another team," Evan Fitzner said. "He's done a good job as a freshman coming in, playing tough. It's tough as a freshman to come in and play well defensively, kind of run the team. He's done a really good job with it so far."
The production IU is able to get out of the point guard position could be crucial to the team's outlook this season. Miller has said Green, Phinisee and Al Durham's battles in practice have made all three better players. Durham was only able to log seven minutes in the exhibition, as he appeared to suffer a minor injury near the end of the first half and sat out for the second. Durham logged two points on a 1-for-4 line with two rebounds and a steal.
Although it remains unclear where Phinisee and Green rank in the guard rotation, the freshman helped his case with his performance against Southern Indiana.
"He's taking advantage of opportunity," Miller said. "He has to be able to step in and do a good job. I think you saw a little bit of a glimpse of what we kind of see every single day: solid, really, really tough-minded defensively, smart. Offensively still has to learn how to play the college game. Doesn't really know how that feels yet. For the most part he's been pretty impressive."
IU strong in transition
While Indiana's offense as a whole struggled in the first half before improving in the second half, its transition offense was a positive throughout the entire game. The Hoosiers forced 19 Southern Indiana turnovers (10 in the first half and nine in the second) and converted that into 32 points (17 in the first half and 15 in the second).
"We have a long team. We have a quick team. We have an active team," Miller said. "As we become better defensively, a little bit more locked in, hopefully we're a team that does a better job of being able to convert off of those things."
Romeo Langford was a big reason why Indiana had so much success converting turnovers into points. The heralded freshman racked up four steals, and his smooth handles were effective in jumpstarting Indiana's transition offense off of those turnovers. His length at shooting guard could be key for Indiana on defense this season.
"He has to keep getting better defensively," Miller said. "I think he knows that. He's been getting better week by week. Naturally he's gifted in the passing lane. Can get his hand on a lot of balls, deflections. As we get better, you'll see him out more in transition being able to finish."
Anderson catches fire from perimeter
The Hoosiers had six players register double-digit scoring outings in the exhibition, but its leading scorer didn't score a single point in the first half.
Freshman Damezi Anderson caught fire in the second half, shooting 5-of-8, including a 4-of-7 clip from 3-point range, for 14 points. It's hard to ask for more from a role player than knocking down four 3-pointers in 11 second-half minutes.
"He's a shooter, as you can see," Johnny Jager said. "Put it up, he makes it. Having a weapon like that stretches out the defense. You have to stay with him. Opens up driving lanes. Kick it to him, money three. It's a big weapon."
The more impressive part of Anderson's performance goes beyond the numbers. He didn't rack up points due to lazy defense in a game that was well out of hand; he showed an ability to create shots for himself, which could be an asset for the Hoosiers if he's able to do that during the regular season.
Miller said defensive improvement is Anderson's ticket to increased playing time.
"His struggles are like all young guys," Miller said. "He's learning how to play defense the first time a certain way. Offensively he's learning how to play a new style. He thinks a lot at times. But I thought tonight it was nice to see him let it go. He has that ability, the skill level behind the three-point line. He's a big, strong kid. I think the better he gets defensively, the more minutes he'll get."
Filed to: Damezi Anderson, Robert Phinisee, Southern Indiana Screaming Eagles