6-Banner Sunday: Jackson-Davis Announces Top Three, Big Ten Media Day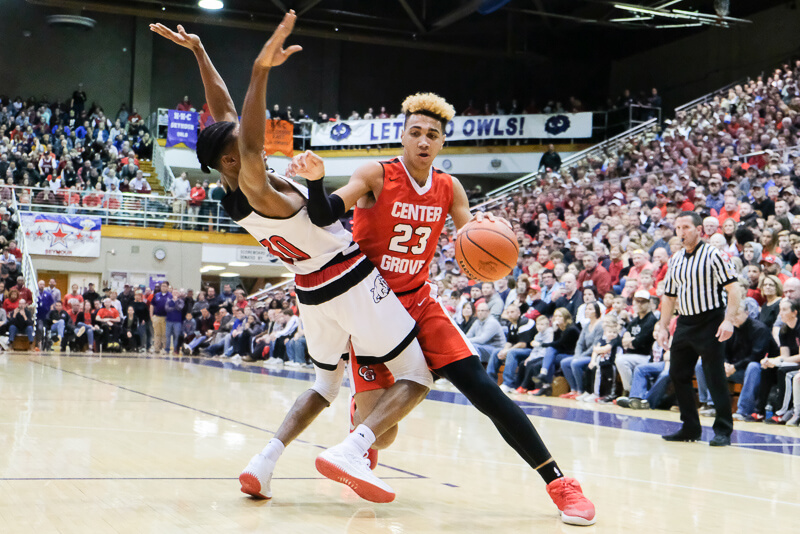 6-Banner Sunday is Inside the Hall's weekly newsletter in partnership with The Assembly Call. More than 5,800 Indiana fans receive the newsletter each week. In addition to appearing each week on the site, you can also opt to receive 6-Banner Sunday by email. A form to subscribe via email is available at the bottom of this week's 6-Banner Sunday.
Welcome to another edition of 6-Banner Sunday, a joint production between The Assembly Call and Inside the Hall where we highlight the six most essential IU basketball stories of the past week.
The weather finally got colder as basketball season continues to creep up on us. And believe it or not, the opening tip will probably be here before you'll be able to say "Martha the Mop Lady."
Big Ten Media Days was earlier this week in Chicago, and there was notable recruiting news from the past week as well. So dig in and read up about your Hoosiers.
In this week's edition:
• TJD Top Three; Watford to visit
• Big Ten Media Day
• IU Big Ten media straw poll
• Marshall's Widespread Impact
• George Taliaferro Passes Away
• Miscellaneous Links
Banner #1
TJD Top Three; Watford to visit
This past week, two of Indiana's top prospects for the class of 2019 made noteworthy updates in their recruitments.
Trayce-Jackson Davis, five-star forward and ranked #15 in the 247Sports Composite Rankings for the Class of 2019, announced his top three on Friday. As expected, Indiana made the cut along with UCLA and Michigan State.
Inside the Hall has more on Jackson-Davis.
As a junior, Jackson-Davis was named a core Indiana junior All-Star and averaged 25 points, nine rebounds, and four blocks per game as Center Grove advanced to the Seymour Class 4A regional championship.

Jackson-Davis has already completed official visits to all three of his finalists. His first official visit was to UCLA in late August. Indiana was his second official visit for Hoosier Hysteria weekend and most recently, he visited Michigan State last weekend.
Earlier in the week, the coveted kin of a recent IU star announced an in-season visit to Bloomington.
Trendon Watford, younger brother of Christian Watford, will likely be at Assembly Hall for the Indiana-Louisville game on December 8. The younger Watford is a five-star prospect and ranked #26 in the 247Sports Composite for the class of 2019.
Zagsblog reported that Watford visited Memphis recently and is working on visits to other schools.
Watford will next visit LSU (Nov. 3) and also plans to visit Indiana, Florida State and Alabama. He said dates aren't finalized but he plans to visit Indiana for the Louisville game on Dec. 8, and Alabama for the Kentucky game Jan. 5.

"I know the Alabama official visit is when they play Kentucky," he said. "I'm not sure when the Florida State one is, but I'm pretty sure I'm taking one."

Watford is also considering TCU and Vanderbilt, he said, but plans to cut his list at some time.

"I'll probably cut it down after I take two more officials," he said. "Just see how that goes and then I'll probably cut it down again probably in like December or January."He hopes to decide sometime in early 2019.
Wyandotte Safety Solutions is your one-stop shop for safety training and safety products. WSS offers CPR & First Aid training, fall protection, and lift training. We also sell PPE, AEDs, and First Aid supplies.
We are an Indiana company serving Indiana and all of North America. Check out our website for more information: ptsarcflash.com.
Banner #2
Big Ten Media Day
Media gathered in Chicago on Thursday, October 11 for Big Ten Media Day.
Indiana was represented in the Windy City by Archie Miller, Juwan Morgan, and Zach McRoberts. Miller gave a press conference, as every Big Ten head coach took the podium. Media were then able to talk to Miller, Morgan, and McRoberts separately in a breakout session.
The day was capped off with the three Hoosiers going on-set on Big Ten Network. Watch that segment here. Juwan Morgan became a bit of a meme when people noticed his eyes popping out while watching a highlight of Romeo Langford in high school.
Ben Portnoy of the Indiana Daily Student recapped the updates that were given at Media Day here. Morgan, McRoberts, and Miller spoke highly of Indiana's freshman class:
Though this year's freshmen –- the highest rated group since 2013 –- is set to play a major role in 2018, Miller is urging observers to be patient.

"All five guys have their strengths and obviously all five have their weaknesses right now," Miller said. "Our staff is trying to help them speed up the improvement level of their weaknesses and continue to emphasize who they are, developing a role within our team."

That said, Morgan, McRoberts and Miller sang the praises of IU's young team during the afternoon.

"I just think they're more than meets the eye," Morgan said. "I think that's the best compliment I can give them because they're all willing learners, they're all ready to attack –- none of them have taken a back seat."
IndyStar's Jordan Guskey learned that IU's point guard battle is still up for grabs.
Green and Durham walked in the first day of practice with an understanding of what Miller expects. Phinisee didn't. So when it comes to who will start at point guard Nov. 6 against Chicago State at Assembly Hall, the advantage lies with Green, and then Durham, over the newcomer from Lafayette.

"That's the advantage of having veteran guys," Miller said at Thursday's Big Ten Media Day in Chicago. "A year ago there wasn't any difference between a freshman and a senior, they were all learning the same way. So in many ways it was fairer. But in most great programs around the country those older guys have such an edge."
Banner #3
Big Ten media straw poll
Earlier this week, Brendan Quinn of The Athletic and Adam Jardy of the Columbus Dispatch released an unofficial Big Ten basketball preseason poll of Big Ten media complete with picks for Player of the Year, Freshman of the Year, and All-Big Ten First Team. Two members from every Big Ten beat voted in the poll, creating a voting body of 28.
Indiana was picked to finish third in the conference. Michigan State was projected to win the conference, with Michigan in second, Nebraska in fourth and Purdue in fifth. Romeo Langford was the unanimous selection for Freshman of the Year, and Purdue's Carsen Edwards was voted as Preseason Big Ten Player of the Year.
You can view the entire poll results here, and go here to see how each member of the voting body made their picks.
In this week's Podcast on the Brink, Alex and Jerod talked with Jardy about Ohio State's season outlook and how the Big Ten as a whole will shape up. This was released the day before the straw poll was released, so it's a bit of a precursor to the results.
This week's Assembly Call Radio also discussed the upcoming Big Ten season and how they thought the standings will look at the end of the season.
Banner #4
Marshall's Widespread Impact
Many fans take notice of the way IU players have changed their bodies while working with Clif Marshall. He's not shy about tweeting out before and after photos, like these.
But Marshall's impact on the IU basketball program goes far beyond the weight room. He values his relationships with the players highly, and some even see him as a trusted source in the program to vent when needed:
The players equally value their relationships with Marshall. Some see him as a confidante within the program.

"He's our strength coach, he's our agility coach, but he's also like a sounding board for us to go to if we need to talk to somebody or really get something off our chest," Justin Smith said. "He's a part of the coaching staff, but he's also kind of separate. He does his own thing because he's the main guy that focuses on his area. So he's a good sounding board to go to if we ever need to talk about anything."
For more about Marshall and how he impacts the program, check out my story for Inside the Hall.
Banner #5
George Taliaferro Passes Away
IU football legend and trailblazer George Taliaferro passed away Monday, October 8 at age 91. He was a three-time All-American with the Hoosiers from 1945-48, and more importantly, he became the first African-American player selected in the NFL Draft. He went on to make three NFL Pro Bowls in a seven-year career.
Taliaferro was also a notable civil rights advocate in the Bloomington community.
A few years ago, Indiana University produced a video about the impact Taliaferro (and former university president Herman B Wells) had on the university.
Mike Miller of the Bloomington Herald-Times wrote about Taliaferro's impact off the field.
Taliaferro had long been frustrated by the lack of dining options for African Americans near campus, so he sought Wells' assistance. Wells called The Gables and asked if he and Taliaferro could eat there. The initial response was no.

After some strong-arming, Wells and The Gables came to an agreement: Taliaferro and another African American friend could dine at the restaurant for one week. If there were no complaints from white patrons, Taliaferro and his friend could add two more to their party for a second week. If there were no complaints after the two-week period passed, The Gables would open to all African Americans.

There were no complaints.

What Taliaferro started at the restaurant extended to Bloomington's movie theaters. Emboldened, Taliaferro began sitting in sections reserved only for white patrons at the Indiana and Princess theaters. At the latter, Taliaferro famously brought a screwdriver to take down a sign that read "COLORED."

He kept the sign for the rest of his life.
Banner #6
Miscellaneous Links
Inside the Hall made its annual 'State of the Hall' post earlier this week, providing updates on what's happening with the site heading into the new season. Give it a read.
Our staff for the 2018-2019 season will consist of editors Alex Bozich and Ryan Corazza, photographer Jamie Owens and IU seniors Ben Ladner and Seth Tow, who are in their first season writing for the site. Andy Bottoms of The Assembly Call will also contribute regularly throughout the season with his Bracketology content, which we're hopeful will be far more Big Ten-centric after the league earned just four NCAA tournament bids in 2018.

If you've been reading the site regularly over the last couple of weeks, you've already read several pieces from Ben and Seth. They are both also contributing to The Assembly Call.
Assembly Call took a look at several 'What-ifs' in IU Athletics history, and they didn't go small on any of them. Everything examined in this post, from Oscar Robertson to Knute Rockne, would have significantly changed IU history.
All in all, [Larry] Bird felt out of place, and felt that staying put in Bloomington was not an option. He eventually left the campus without telling any of the Indiana coaching staff, only speaking to his roommate Jim Wisman.

Bird, unable to find a ride back to French Lick, hitchhiked back to his hometown, never to return as an Indiana University student. Years later, Indiana head coach Bob Knight stated, "Larry Bird is one of my great mistakes. I was negligent in realizing what he needed at that time in his life."
And with that, the joy of hanging Banner #6 is now one week closer.
Thanks for your continued support for The Assembly Call and Inside the Hall. We'll be back next weekend with a new roundup.
Now go enjoy yourself a 6-banner Sunday. If you'd like to receive this newsletter in your inbox each Sunday, please enter your email address below:
Filed to: