Marshall's impact on IU basketball goes beyond weight room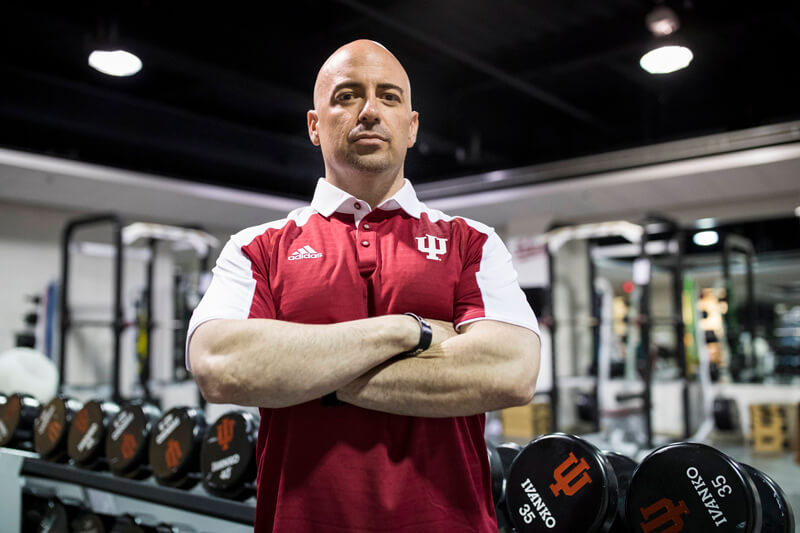 Though many within the IU basketball program describe him as much more, Clif Marshall views himself as just another piece of the puzzle.
He doesn't think he's any more important than any other staffers in the program. However, he sees his impact as much more than just a strength coach.
"My goal is to be a servant leader for our team," Marshall said. "It's more than just teaching the players how to lift weights. It is looking for other ways to serve our team. Whether that is taking guys grocery shopping, helping them through a mental block, incorporating sport science in practices like tracking our heart rates, speeds and distances or getting to know recruits and their families on official visits. I am here to help this program in any way that I can."
Marshall, 36, came to Indiana in April 2017 to join Archie Miller's staff as Director of Athletic Performance. His background is extensive.
His last job before IU was Performance Director at Ignition Athletics Performance Group in Cincinnati, where he worked with over 10,000 athletes in various sports over 10 years. He has also worked as a personal trainer for the Cincinnati Bengals, Dayton Basketball and Xavier basketball, and was a strength assistant for Louisville football.
Among the NFL stars Marshall has worked with are A.J. Green (Cincinnati Bengals) and Luke Kuechly (Carolina Panthers). Marshall often references professionals such as those when working with the Hoosiers, and he's had some of the NFL players he's trained come to Bloomington to speak to the team.
"I speak about Pro Bowlers like A.J. Green and Luke Kuechly simply because they are the best in their sport and they do it the right way," Marshall said. "They are the elite of the elite. Most often I talk to the team about how the pros take care of their bodies. When you are at that level your 'body is your business' so things like getting in the cold tub, stretching, doing yoga and working on your nutrition are all examples of how my pro clients would become better and ultimately make more money."
Many IU players have noticeably changed their bodies while working with Marshall. In offseason workouts, he emphasizes strength, power, speed, body fat and flexibility. He develops individualized goals and programs for each player, and he frequently celebrates progress. Anytime a player breaks a personal record in the weight room, they get to ring a bell.
During this past offseason, Marshall said Juwan Morgan and Al Durham earned championship belts for showing the most progress in workouts. Durham added 20 pounds of muscle and eight inches to his vertical, and Morgan broke some all-time program lower body records. Marshall said their work extended beyond the weight room, though, as they put up extra shots, participated in yoga and brought positive energy to workouts.
From the players' perspective, they pretty much just adhere to whatever Marshall tells them.
"I just did what Coach Clif told me to do in the weight room," Romeo Langford said. "I've put on like 15 pounds since I've been here."
"I've definitely changed a lot since coming from Westtown (High School)," Jake Forrester said. "Our strength coach, Clif Marshall, put on about 15 to 18 pounds on me — it fluctuates, but definitely made me a much stronger player all around."
Marshall especially enjoys working with freshmen in their first month in Bloomington, ranking it among his favorite times of the year. To ease them into the weight room, where he says most have little experience, he'll initially train the freshmen away from the rest of the team. And for those looking to gain weight, which Marshall says most freshmen are, he'll prescribe a 7,000-calorie-per-day diet consisting of three meals, a late snack and four protein shakes every day.
Miller gave high praise for Marshall's impact on the team.
"Clif has really, really been monumental for us," Miller said. "I think our players gravitate to his style, and from a strength and conditioning element, I don't think that we're really lacking there in terms of the development side of things."
The style Miller references is more personal than most realize.
Results and relationships are the two things Marshall values the most in his position. While results ultimately reflect the job he's doing as a strength coach, he cherishes his relationships with the players and enjoys being there for them.
Marshall's most memorable moment in his time at IU thus far involved his relationship with Robert Johnson when the guard was struggling.
"We met in the hotel ballroom the night before the game (at Minnesota) and discussed never losing faith," Marshall said. "We talked about having faith as small as a mustard seed and you can move mountains. At every timeout during that game we said 'faith as small as a mustard seed' and Rob went on that game to have a career high in points."
The players equally value their relationships with Marshall. Some see him as a confidante within the program.
"He's our strength coach, he's our agility coach, but he's also like a sounding board for us to go to if we need to talk to somebody or really get something off our chest," Justin Smith said. "He's a part of the coaching staff, but he's also kind of separate. He does his own thing because he's the main guy that focuses on his area. So he's a good sounding board to go to if we ever need to talk about anything."
So while stronger and fitter players are the tangible products of his work as a strength coach, Marshall's impact is remarkably widespread for a man who is entering his second season with the program. But he sees that impact as part of the job.
"I have to remind myself that being a performance coach can be more than physical training," Marshall said. "I hope I can help our players become strong in mind, body and heart. That is total athlete training."
Filed to: Clif Marshall