State of the Hall: October 12, 2018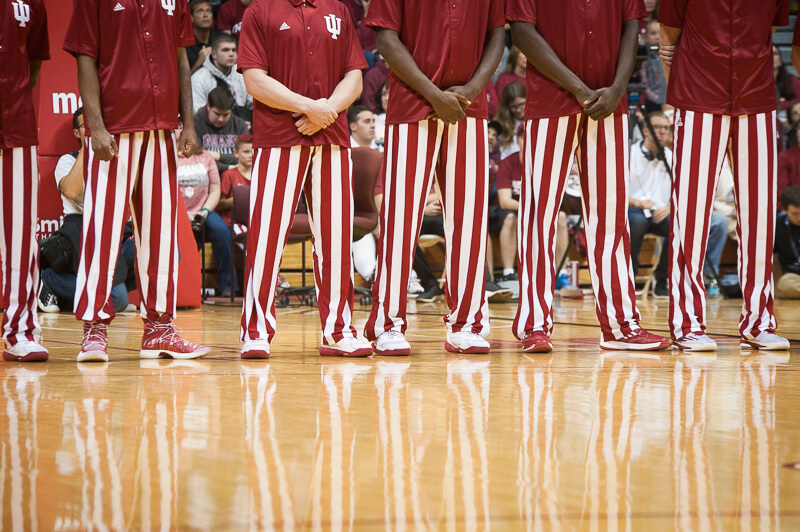 It's been 351 days since our last State of the Hall post and it's an exciting time for both IU basketball and Inside the Hall.
As we prepare to cover our 12th season of Indiana basketball (and eighth from press row), we first want to say thank you. Since June 2007, IU basketball fans have supported this site and grown it into a vibrant community. We truly appreciate your support.
Our staff for the 2018-2019 season will consist of editors Alex Bozich and Ryan Corazza, photographer Jamie Owens and IU seniors Ben Ladner and Seth Tow, who are in their first season writing for the site. Andy Bottoms of The Assembly Call will also contribute regularly throughout the season with his Bracketology content, which we're hopeful will be far more Big Ten-centric after the league earned just four NCAA tournament bids in 2018.
If you've been reading the site regularly over the last couple of weeks, you've already read several pieces from Ben and Seth. They are both also contributing to The Assembly Call.
Podcast on the Brink, our weekly podcast hosted by Jerod Morris and Alex Bozich, continues to grow and we would like to thank our sponsors – Homefield Apparel, IU Athletics and SeatGeek – for their support.
In the early years of Inside the Hall, the "State of the Hall" was an annual call for donations. That was before we started to regularly travel for road games, the NCAA tournament and other events. In 2012, we stopped accepting donations at the same time we launched the premium forum.
The premium forum, which was redesigned last fall to make it more modern and to provide a better experience for mobile users, is an ad-free community that continues to grow. We encourage anyone who covets more in-depth discussion and interaction with the Inside the Hall staff to try out the premium forum.
Supporting the forum allow us to continue to do things like travel regularly to road games and hire freelancers for certain games when we are unable to travel. The premium forum is also home to a passionate community of knowledgable Indiana fans. We also host a monthly Ask-Me-Anything (AMA) for our readers in the forum. And it's only $34.95 annually, which is less than $3 per month.
In addition to the premium forum, we wanted to share other ways in which you can support the site with the start of the season less than a month away.
If you're in the market for tickets to a game this season, our schedule page has links to the SeatGeek marketplace for nearly every game. If you are going to purchase IU basketball tickets through SeatGeek, we would appreciate it if you use our links from the schedule page. Through an affiliate deal with SeatGeek, using the links from the schedule page to purchase tickets via SeatGeek will help directly support the site. Podcast on the Brink listeners already know about our promo code to save $20 off their first order, which can be used in conjunction with our affiliate links.
We continue to partner with HoosierProud.com for Inside the Hall t-shirts. These shirts are super soft and are made from 100 percent cotton with the exception of the heather colors, which contain polyester. Premium forum members currently have the option to order Inside the Hall polo shirts through the end of the month.
For Podcast on the Brink listeners, please consider subscribing to our feed or leaving a review on our iTunes page. You can also follow us on Twitter, like our page on Facebook and subscribe to our YouTube channel, which offers free IU basketball video content.
We also continue to partner with The Assembly Call for 6-Banner Sunday, which you can sign up to receive for free at this link. You can also read the newsletter directly on the site each Sunday morning.
As we did last fall, we wanted to share a few thoughts on the current state of online publishing. Despite multiple overtures in recent years to move the site to a network or move our content to another platform, we continue to believe that staying independent is our best path forward.
One of our biggest challenges, however, is ad blocking.
Our content here has always been free because of advertising, so we wanted to raise awareness on the negative impact that ad blocking has on our ability to maintain our current model.
This offseason, we moved the site to a new best in class hosting provider that charges monthly by the visit for its services. It was a significant investment, but one that we feel is worthwhile as the site continues to grow. When ad blocking is enabled, we are still charged by our host, but earn no revenue from advertising. Many publishers have implemented models in which visitors using ad blocking measures cannot read content, but we have not seriously considered going that route at this particular time.
While we understand that it is an individual's choice to block ads, we also ask that you seriously consider adding us to your whitelist if you are using a tool to block ads. It is typically easy to whitelist a site and we would appreciate your consideration of this request.
Again, thank you for reading Inside the Hall and we look forward to bringing you the best IU basketball coverage possible.
Filed to: