6-Banner Sunday: DJ Carton off the board as July evaluation period heats up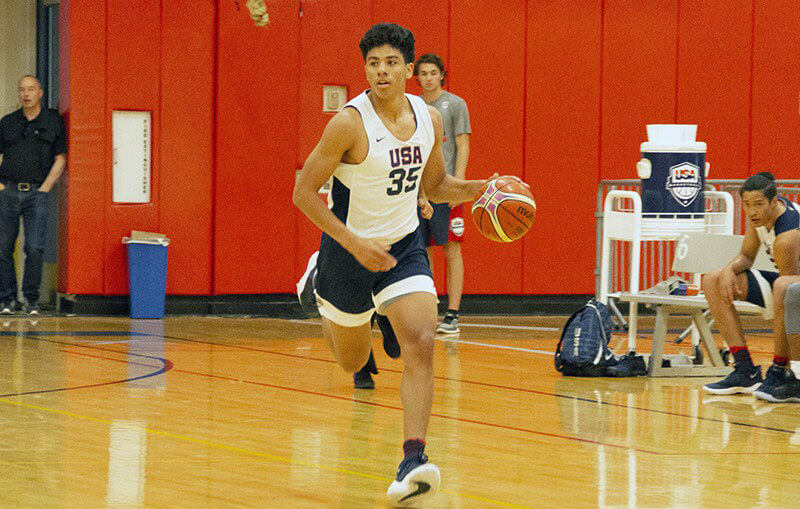 6-Banner Sunday is Inside the Hall's weekly newsletter in partnership with The Assembly Call. More than 5,800 Indiana fans receive the newsletter each week. In addition to appearing each week on the site, you can also opt to receive 6-Banner Sunday by email. A form to subscribe via email is available at the bottom of this week's 6-Banner Sunday.
Welcome to another edition of 6-Banner Sunday, a joint production between The Assembly Call and Inside the Hall where we highlight the six most essential IU basketball stories of the past week.
This year's July evaluation period looks nearly identical to year's past. The places and stakes are the same; only the names and faces have changed. Come next summer, that may not be the case.
In this week's edition:
· July evaluation period heats up and Carton commits to OSU
· Changes coming to July recruitment period?
· Hoosiers in Summer League
· Yogi Ferrell staying in Dallas
· Brayton Bailey thrives in father's shadow
· Jared Jeffries speaks out on the current state of IU hoops
Banner #1
July evaluation period heats up and Carton commits to OSU
The July evaluation period for college basketball recruiting is fully underway and 6-Banner Sunday has all the updates you need.
We'll start with everything you need to know from Peach Jam, the premier AAU tournament of the Nike EYBL Circuit.
The Speice Indy Heat team featuring five-star targets Keion Brooks Jr. and Trayce Jackson-Davis didn't make the quarterfinals, but they certainly made a splash. In a Friday night contest against Nike Team Florida, Jackson-Davis scored 27 points and grabbed 17 boards in a win.
In an earlier contest against Oakland Soldiers, Brooks Jr. filled the stat sheet, recording 12 points, nine rebounds, and two assists.
For the City Rocks, five-star big Isaiah Stewart provided massive contributions over the first several days. City Rocks secured a quarterfinal berth with a 3-1 record in pool play, with Stewart posting three double-doubles, including a 23-point, 17-rebound effort against Woodz Elite.
For more on the IU targets participating in Peach Jam, check out this guide from Inside The Hall. For information on what to watch for this July, view this link.
Carton commits
Heralded class of 2019 point guard DJ Carton will not be heading to Bloomington. The 6-foot-1 Carton committed to Ohio State on Saturday afternoon.
Indiana made the final three for Carton, but he decided the Buckeyes were a better fit for him. Indiana will now likely focus on securing a commitment from someone like Armaan Franklin, the Cathedral combo guard that recently earned an IU offer. Brandon Newman is another in-state guard with an IU offer, and there are a slew of out-of-state guards that Indiana is involved with.
Wyandotte Safety Solutions is your one-stop shop for safety training and safety products. WSS offers CPR & First Aid training, fall protection, and lift training. We also sell PPE, AEDs, and First Aid supplies.
We are an Indiana company serving Indiana and all of North America. Check out our website for more information: ptsarcflash.com.
Banner #2
Changes coming to July recruitment period?
Indiana head coach Archie Miller along with assistants Ed Schilling, Tom Ostrom and Bruiser Flint were among the scores of coaches spotted at Peach Jam over the last several days.
Come next year, there may not be a single D1 coach at the event. That's because the NCAA is pondering a major change to the July Evaluation Period.
What exactly are the changes being proposed? I'll let Gary Parrish of CBSSports explain:
The recommendation — which is expected to eventually be rubber-stamped, perhaps in time to alter next summer's recruiting calendar — will have college coaches essentially banned each July from attending anything other than two NCAA-sponsored regional camps, and one subsequent NCAA-sponsored national camp. That's it. No Peach Jam. No Fab 48. No Super 64. Every event college coaches have attended each July for decades will suddenly be off-limits in an attempt by the NCAA to shift power away from grassroots coaches and shoe company executives.
As Parrish goes on to explain, the move is seen by a majority of coaches as a knee-jerk reaction to complaints about AAU basketball and the FBI investigation, but won't actually help fix anything:
The number of prospects that will spend July playing in front of Division I coaches will be slashed drastically — meaning some players who would otherwise be seen won't. And who benefits from that? Answer: Nobody. All eliminating the normal July Evaluation Period will do is make it more difficult for mid-major and low-major coaches to find so-called diamonds in the rough. And, in turn, it'll make it less likely for off-the-radar prospects to shoot themselves onto anybody's radar.
Hopefully the NCAA realizes how foolish this idea is and backs off from implementing it. But my hopes aren't high that this will happen –- we are talking about the NCAA, after all.
Banner #3
Hoosiers in Summer League
The NBA Summer League in Las Vegas has entered the bracket play portion of the schedule, and the majority of the six former Hoosiers participating have finished up play. Here are the notable stats and information about each:
OG Anunoby: The sophomore stud's Raptors squad went 0-3 in the preliminary round before shocking the Denver Nuggets in the first round of the playoffs. Anunoby led the way in the win, scoring 22 points and securing four boards. Through four games, Anunoby is averaging 15.8 points, six rebounds, 0.8 assists, and 1.3 blocks.
Thomas Bryant: The big man played in three games for the Washington Wizards, averaging 15.3 points, 8.7 rebounds, and two blocks on 59 percent shooting. In the consolation round game, Bryant put up 22 points on 10-of-13 shooting.
Troy Williams: Williams recorded significant playing time in all five Knicks' Summer League games, averaging 11.8 points, four rebounds, 1.6 assists, and 1.2 steals over 20.6 minutes per contest. His contract for the 2018-19 season remains unguaranteed, but he's making a strong case for a spot on the roster.
Robert Johnson: With Trae Young sitting out the final two games for the Hawks, Johnson started in his place. Over the five games in Las Vegas, Johnson averaged 8.6 points, 1.8 rebounds, and 0.6 assists. Johnson took advantage in the Hawks' finale, ending the night with 18 points.
James Blackmon Jr.: Played in three games in Las Vegas, averaging 3.7 points in 18.3 minutes per game for the Bucks. The former Hoosier sharpshooter shot just 14 percent from the floor (2-of-14).
Christian Watford: Scored two points over 14 minutes for the Memphis Grizzlies. Watford will be suiting up for Armored Athlete in The Basketball Tournament next week.
Banner #4
Yogi Ferrell staying in Dallas
Entering his third season in the NBA, the Mavericks and Yogi Ferrell are nearing an agreement on a multi-year deal that will keep him in Dallas.
Ferrell was a restricted free agent, but the Mavs rescinded their qualifying offer to him late on Friday, making him an unrestricted free agent. That designation looks to be only temporary, as Ferrell is expected to ink a deal with Dallas in the near future.
The rescinding of the qualifying offer appears to simply have been a move to free up some cap space. Ferrell will have to fight for minutes this upcoming season, as the Mavs backcourt will also include Jalen Brunson, J.J. Barea, Luka Doncic, and Dennis Smith Jr.
More on Yogi Ferrell:
· Why is Yogi running a basketball camp at Bluffton High School next week? Reggie Hayes of The News-Sentinel connects the dots.
Banner #5
Brayton Bailey thriving in father's shadow
Damon Bailey is unquestionably one of the greatest high school hoopers in Indiana history and was a pretty darn good collegiate baller as well.
Now it's his son Brayton's turn to put the state of Indiana on notice.
I know what you're thinking – can he possibly live up to his father's legacy? Well, as Gregg Doyel writes for The Indianapolis Star, Bailey is embracing the expectations as his career with Bedford North Lawrence heats up:
Same brownish-blonde hair. Same earnest face, like you'd see walking off a farm in Lawrence County. He's a slightly smaller version of his father, slender, more angular. His shoulders are not as broad, his chest not as thick, but he's just 17. Brayton Bailey isn't finished growing, becoming whatever he will become.

But he's good, very good, right now. All-Hoosiers Hills Conference as a freshman at Bedford North Lawrence, and again as a sophomore. Had a double-double in his first high school game, 12 points and 10 rebounds, and averaged 12 ppg that year. This past season he averaged 14 points, seven rebounds and five assists as a sophomore. Smaller schools like Indiana Wesleyan are on him hardest, but Valparaiso is watching. Western Kentucky. Miami of Ohio. And he's still filling out, this 6-0, 145-pound freshman now closer to 6-2, 180, working toward his father's 6-3, 201-pound frame.
And one thing is for certain -– Brayton isn't afraid of the vitriol he receives on the road following in his father's footsteps. Rather, the 17-year-old relishes in it:
Opposing gyms use Brayton Bailey's background as a bludgeon. At Jeffersonville, where Johnson Arena seats 5,306, someone started chanting: "Daddy's shadow" -– clap, clap, clap-clap-clap –- "Daddy's shadow!"

"I was trying not to pay attention," Brayton says, "but I mean, it's kind of hard when the whole gym is saying that."

Now he's really smiling. This kid? He loves it. It's why he chose basketball over football. It's why he wears No. 22. And it's why, when he played last summer for former North Central star Eric Gordon's AAU program, he chose to play with the older kids. He was 16, but played with the 17-year-olds.
Banner #6
Jared Jeffries dishes on state of IU hoops + bonus links
One of the leaders of the 2001-02 squad that made the National Championship game, Jared Jeffries relayed his thoughts on the current state of Hoosier hoops to local radio show JMV this week.
Perhaps most notably, Jeffries said one reason he thinks Archie Miller is a better fit than Tom Crean at IU is his ability to relate to fans:
"I'm excited about (Miller). I think that (he's) is exactly what the university needed. You've gotta have energy in there that is positive and with a real person."
Before you go:
· Bill Murphy joined the latest Podcast on the Brink to chat about the 1940 and 1953 IU Natonal Title winning teams
· This week's Assembly Call Radio looked at recruiting, preseason projections, and the most underrated players of the last 25 years
· Swimmers Ian Finnerty and Lilly King, along with soccer player Grant Lillard, were named 2017-18 IU Athletes of the Year
· Jeff Mercer has solidified his coaching staff for IU baseball
And with that, the joy of hanging Banner #6 is now one week closer.
Thanks for your continued support for The Assembly Call and Inside the Hall. We'll be back next weekend with a new roundup.
Now go enjoy yourself a 6-banner Sunday. If you'd like to receive this newsletter in your inbox each Sunday, please enter your email address below:
Filed to: