Reports: Yogi Ferrell expected to sign multi-year deal with Dallas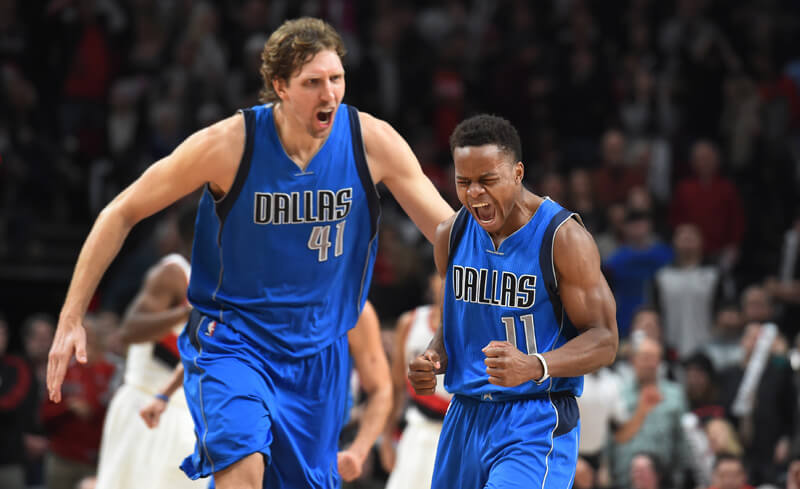 Former Indiana guard Yogi Ferrell, who is entering his third NBA season, is reportedly closing in on a multi-year contract agreement with the Dallas Mavericks.
Multiple media outlets, including The Dallas Morning News and ESPN.com, reported late Friday night that the Mavericks rescinded the qualifying offer worth $2.9 million for next season to Ferrell with the intent of reaching a multi-year deal.
The former Indiana point guard played in all 82 games for Dallas last season and averaged 10.2 points, three rebounds and 2.5 assists 27.8 minutes per game.
According to Albert Nahmad of HeatHoops, who tracks the NBA salary cap closely, the move to rescind the qualifying offer to Ferrell was done with cap savings in mind:
If Yogi Ferrell is on verge of re-signing with Mavs, rescinding his qualifying offer by 11:59pm on 7/13 deadline could be a cap room maximization strategy – replacing $2.9M RFA cap hold with a $1.5M UFA hold while keeping Early Bird, a $1.4M savings that increases room to $6.5M.

The key to the strategy is renouncing Yogi Ferrell's qualifying offer by 11:59 pm on 7/13. If Mavs were to do it after, Ferrell would lose his Early Bird rights, which would kill the strategy.

If a qualifying offer to a restricted free agent is outstanding, the team can withdraw it unilaterally through July 13 at 11:59pm. It can be withdrawn after July 13 if the player consents but, even if he does, the player is also renounced as a free agent.

With or without qualifying offer, Mavs can use Yogi Ferrell's Early Bird rights to offer a starting salary up to $8.9M… which is more than enough. So, if there's an agreement in place, taking his cap hit from $2.9M (RFA) to $1.5M (UFA) is essentially $1.4M of free cap savings.
The Dallas point guard rotation could be crowded next season as the team drafted Jalen Brunson and Luka Doncic and also brings back Dennis Smith Jr. and veteran J.J. Berea.
Filed to: Yogi Ferrell