What to watch for: July evaluation period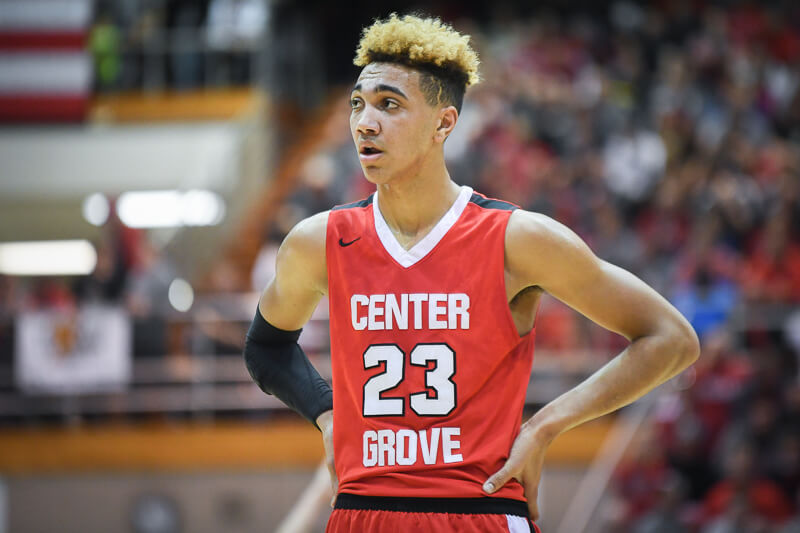 The first of three five-day July evaluation periods begins Wednesday at 5 p.m. ET and Inside the Hall takes you through five things we'll be watching for as college coaches hit the trail to evaluate prospects:
· The end of July as we know it? If the Rice Commission's recommendations are implemented, this could be the final July in which college coaches are attending events like the Peach Jam, the adidas Gauntlet Finale and the Under Armour Association Finals.
The Rice Commission wants to eliminate the shoe companies from July recruiting and instead wants the NCAA to host its own camps at rotating college campuses across the country.
These potential changes are being met with plenty of skepticism by those who cover the sport and recruiting closely – with good reason – but are expected to be enacted for next summer. That means this is likely to be the final summer of great head-to-head matchups at events like the Peach Jam and the end of the debates each July on which grassroots team had the strongest summer. (SBNation has a pretty good breakdown of what recruiting in July could look like in the future.)
· The race for Trayce: Center Grove forward Trayce Jackson-Davis has been a priority recruit for Archie Miller for more than a year. Jackson-Davis has been on campus numerous times and has already locked in an official visit for Hoosier Hysteria this fall.
While Indiana has positioned itself as well as any school in his recruitment, this is no time to let off the gas pedal in pursuing Jackson-Davis. And the Hoosiers won't.
Jackson-Davis has already said he will take official visits to Indiana, Michigan State and UCLA. One thing we could learn this month is how the other schools still involved with Jackson-Davis feel about their chances in his recruitment.
With all four Rivals recruiting analysts recently predicting that Jackson-Davis will end up in Bloomington and his Crystal Ball at 100 percent to Indiana, will the other schools involved in his recruitment invest significant time this month watching him?
· Carton's timetable and other point guards: DJ Carton begins his official visit to Ohio State today and with official visits to Michigan and Indiana already behind him, he could soon be entering decision making mode.
"He's just kind of wanting to move on from the process," Carton's mom, Jennifer, told Inside the Hall recently. "It's been a great process. People have been very respectful for the most part. Overall, it's been a good process. He's enjoyed it. But I think he's kind of getting a little bit burnt out."
With their inclusion in Carton's final three, the Hoosiers are firmly in the mix to land the five-star point guard from Bettendorf (Iowa).
But with a desire to add a point guard in the class, will other viable targets emerge if Carton announces this month and doesn't choose Indiana?
· 2019 priorities come into a more clear focus: Jackson-Davis, Keion Brooks and Carton are clearly at the top of Indiana's recruiting board for 2019.
But beyond that, there are questions that could sort themselves out in July.
One of the most pertinent questions is how hard Indiana will push for in-state prospects Armaan Franklin and Brandon Newman, who recently announced plans to transfer to Montverde Academy in Florida for his final prep season. Both players added Indiana scholarship offers in July and are in the top eight of our most recent 2019 recruiting board.
It's also worth tracking guys like Matthew Hurt, Trendon Watford, Isaiah Stewart, Zeke Nnaji and Anthony Harris to see which schools invest the most time this month.
· 2020 and beyond: Unlike the previous coaching regime, Indiana doesn't offer many scholarships early.
It's a strategy that is hard to argue as the staff doesn't want to make any recruiting missteps as it continues to build a solid foundation for the years to come.
The Hoosiers have offered very few 2020 prospects to this point, but that could change in the coming weeks. While there is some debate as to who is the top 2020 in-state player, the two names that Indiana has spent the most time on so far are Bloomington South's Anthony Leal and Trey Galloway of Culver Academies. Will either player earn an offer with a strong July?
In 2021, the top prospect in the state right now is Blackhawk Christian forward Caleb Furst. He's ranked No. 21 in the first ESPN rankings for 2021 and already has scholarship offers from Butler and Purdue. Will Furst add any other offers this month?
In addition to Furst, the 2021 class has plenty of names that we've mentioned here before that are worth tracking like Brownsburg's Pierce Thomas, Lawrence North's D.J. Hughes, Marion's Jalen Blackmon and Khristian Lander of Evansville Reitz.
Filed to: