6-Banner Sunday: At long last, Romeo Langford's announcement is nigh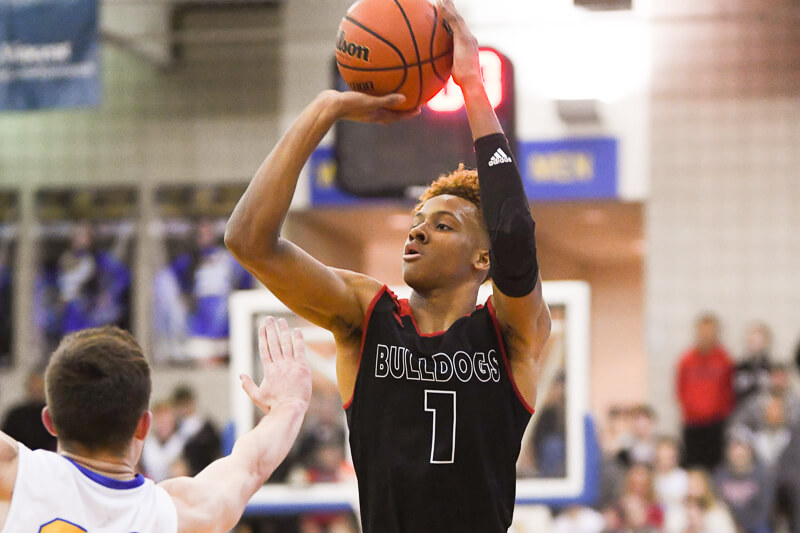 6-Banner Sunday is Inside the Hall's weekly newsletter in partnership with The Assembly Call. More than 5,000 Indiana fans receive the newsletter each week. In addition to appearing each week on the site, you can also opt to receive 6-Banner Sunday by email. A form to subscribe via email is available at the bottom of this week's 6-Banner Sunday.
Welcome to another edition of 6-Banner Sunday, a joint production between The Assembly Call and Inside the Hall, where we highlight the six most essential IU basketball stories of the past week.
It's almost here.
There is now just one day until Romeo Langford announces where he'll be attending college, most likely for just one season. We have that covered in Banner 1, but there is plenty more IU news to get to — including Victor Oladipo's historic playoff performance.
In this week's edition:
· T-minus one day until Langford's decision
· First live period recap + EYBL in Indy
· Oladipo's historic triple-double
· Commission on college basketball ends with a whimper
· Remembering the Damon Bailey recruitment
· IU's Ian Thomas drafted in the fourth round
Banner #1
T-minus one day until Langford's decision
On Monday at 7 p.m. ET, inside the confines of the New Albany High School gymnasium, five-star guard Romeo Langford will make public the most awaited decision Hoosier fans have faced in years.
Langford's choice could immediately lift the 2018-19 Hoosiers into the preseason top-25 and boost the momentum that head coach Archie Miller has already given the program. But as Hoosier fans across the country prepare for Monday night, it's important to remember the people most impacted by the announcement — the Langford family.
Behind the collegiate decision of whether Langford will attend Indiana, Kansas, or Vanderbilt is a quiet, humble kid from a small family in southern Indiana. A few days ago, Kyle Neddenriep of The Indianapolis Star profiled the Langford family in a lengthy, well-done piece.
It covers everything from the family dog to the protectiveness Romeo's older siblings instinctually have for him:
It is also surprising to Tisha that her younger brother's decision has so many people's attention. To her, Romeo is that annoying little brother who would hold something just in the way of the television to block her view or ability to change the channel.

"Very childish," she said with a smile.

But Tisha and sister Tiffany, 20, are protective of little brother, too. While Romeo does not go out of his way to read comments about his college decision between Indiana, Kansas and Vanderbilt on social media, Tisha takes note.

"I think some of that comes naturally," she said. "I know my mom and dad don't read the comments, but I have to know. So yes, I'm very in tune with the comments and trends. I think I'm probably more protective of him now that I've ever been."
Remember: no matter where Langford chooses to attend college, be sure to treat the decision with respect. It's okay to be overwhelmed by emotion, just make sure to keep it civil.
And remember, The Assembly Call will have a special live episode right after Langford's decision. We'll be going live on YouTube, Facebook, and Periscope, so be sure to follow us where it's most convenient to watch. (And if you can't watch live, we'll be posting the special edition episode in our podcast feed.)
More on Langford as decision day awaits:
· Announcement primer (Inside the Hall)
· Video collection (ITH)
· A TV interview with Tim Langford (WDRB)
· A Q & A with New Albany head coach Jim Shannon (ITH)
· Podcast on the Brink: A reader mailbag episode with lots of Langford talk (ITH)
Wyandotte Safety Solutions is your one-stop shop for safety training and safety products. WSS offers CPR & First Aid training, fall protection, and lift training. We also sell PPE, AEDs, and First Aid supplies.
We are an Indiana company serving Indiana and all of North America. Check out our website for more information: ptsarcflash.com.
Banner #2
First live period recap + EYBL in Indy
The second live recruiting period is underway, and the entire IU coaching staff is hard at work scouting players.
Following the end of the first live period last weekend, the Hoosiers offered three more class of 2019 prospects: Jalen Lecque, Ethan Morton, and Kira Lewis. All three prospects are participating in the Nike EYBL event this weekend in Westfield, and Inside the Hall will have coverage of all three throughout the next several days.
The EYBL event comes a week after the adidas Gauntlet had an event of its own at Warren Central High School. Over the past week, Inside the Hall has posted a plethora of content featuring potential future Hoosiers. Below are links to every piece:
Class of 2019 prospects
· Five-star forward Matthew Hurt: Interview, Highlights
· Five-star forward Keion Brooks: Interview & Highlights
· Rapidly rising four-star center Oscar Tshiebwe: Interview & Highlights
Class of 2020 prospects
· Culver Academy guard Trey Galloway: Interview & Highlights
· Bloomington South guard Anthony Leal: Interview & Highlights
Class of 2021
· Interviews & highlights with four young in-state talents: Colson Montgomery, Khristian Lander, D.J. Hughes, and Curt Hopf
For the latest interviews from this weekend almost immediately after they happen, subscribe to the Inside the Hall Premium Forum. For just a few dollars a month, you get access to insider content and discussions featuring some of the most passionate IU fans out there.
Banner #3
Oladipo's historic triple-double
Friday evening, former All-American Victor Oladipo became just the third Indiana Pacer in franchise history to record a playoff triple-double.
It came in the biggest game of the season, with the Pacers trailing in the series to the Cavaliers 3-2 and facing elimination. With his playoff life on the line, Oladipo put up what is literally a stat line that the NBA has never seen: 28 points (11-of-19 from the field, 6-of-8 from three), 13 rebounds, 10 assists, four steals, and just two turnovers.
Not only that, but it came against the greatest player of this generation: LeBron James. As a whole, Oladipo's individual performance was spectacular. The plays within the triple-double are worth marveling over: a pass between LeBron's legs, a dunk over the King, and an effortless reverse jam.
Now the series is all even at 3 games apiece and heading back to Cleveland for the deciding Game 7. Tip is set for 1 p.m. eastern on ABC.
If the Pacers pull off the upset, they'll face none other than OG Anunoby and the No. 1 seeded Toronto Raptors, who took care of business in their opening series, downing the Washington Wizards in six games.
On the other side of the playoff bracket, Eric Gordon and the No. 1 Houston Rockets advanced to the second round by dismantling the Timberwolves in five games. They'll face the Utah Jazz in Game 1 of the second round today at 3:30 p.m. eastern on ABC.
Banner #4
Commission on college basketball ends with a whimper
Shortly after the U.S. District Court for the Southern District of New York made the FBI investigation into college basketball public prior to the start of the 2017-18 season, the NCAA made a major announcement.
They put together an independent commission, led by former Secretary of State Condoleezza Rice, to figure out ways to fix college basketball. After a seven-month review, the commission released their recommendations this past week.
The suggestions range from ending the one-and-done rule (which is likely coming to an end in 2020 anyway) to the NCAA taking control of the AAU circuit to banning cheating coaches for life.
What the report did not do, however, is address the issue of amateurism, which is the entire reason the FBI got involved in the first place. As Mike DeCourcy argued for Sporting News this week, the report was mostly just a waste of time:
Rice said it is necessary to "separate the collegiate track from the professional track" through the elimination of the NBA's age limit rule, which requires those who enter the draft to be a year removed from the completion of their high school graduation. Rice acknowledged that adopting such a change would require the agreement of the NBA and its players association.

Her remark about the problem that those players "are the focus of agents, apparel companies, investment advisors, college coaches and others seeking to profit from their skills" is not incorrect, but that attention is not exclusive to them. In the documents seized by the FBI from an agency office that were reported by Yahoo! Sports in late February, nine of 15 players who allegedly received loans were multi-year college players.
The NCAA is likely to put many of these recommendations into effect when the Board of Governors meet in August.
Banner #5
Remembering the Damon Bailey recruitment
Decades ago, before Romeo Langford was even born yet, there was one Hoosier more hyped than anyone had ever been:
Damon Bailey.
His recruitment in the late 1980s and early 1990s was as high profile as any of that era. Even back in 1985-86, when John Feinstein was behind the scenes with Bobby Knight, the name Damon Bailey was well known.
With another generational talent about to announce his collegiate decision, the News-Sentinel took a look back at the recruitment of Damon Bailey.
Feinstein quoted Knight telling his assistants, after watching Bailey play an eighth-grade game: "Damon Bailey is better than any guard we have right now. I don't mean potentially better. I mean better today."

Knight's assistants weren't as enamored with Bailey, but IU fans didn't notice that. The play of Bailey had already earned word-of-mouth hype. Mention in the "Knight book," as it was commonly called, spiked interest to unimagined levels.

Bailey-mania was off and running. Sports Illustrated labeled him the best freshman in the country before he'd played a high school game, at a time when there weren't regular rankings of players that young. His games at Bedford North Lawrence High School were standing room only and sometimes moved to larger college venues.

As it became apparent Bailey would end up at IU, fans assumed Bailey was destined to be the next Larry Bird, unless he was better.

Do some of the same things apply to Langford? Some do. Sold-out games. National attention. Hype. But it's such a different world we live in today.
Banner #6
IU's Ian Thomas drafted in the fourth round
For the fifth consecutive year, an Indiana Hoosier was selected in the NFL Draft.
This time, the player that found his NFL home was tight end Ian Thomas. Thomas was selected by the Carolina Panthers with the first pick of the fourth round.
The sixth tight end overall off the board this year, Thomas was an All-Big Ten Honorable Mention. His most memorable moment in cream and crimson came when he caught two touchdowns in the 2017 season opener against Ohio State.
Before you go:
· The Dallas Cowboys selected LB Chris Covington in the 6th round.
· Tegray Scales surprisingly went undrafted but immediately signed a free agent contract with the Los Angeles Rams. Simmie Cobbs and Rashard Fant also went undrafted. Cobbs is reportedly going to camp with the Redskins and Fant with the Bears. Richard Lagow was invited to the Chiefs' camp.
· IU softball has split the first two games at home vs. No. 15 Michigan. With a win on Sunday, they can remain in contention for a Big Ten title
· IU soccer will host the Mexican U-20 team today
And with that, the joy of hanging Banner #6 is now one week closer.
Thanks for your continued support for The Assembly Call and Inside the Hall. We'll be back next weekend with a new roundup.
Now go enjoy yourself a 6-banner Sunday. If you'd like to receive this newsletter in your inbox each Sunday, please enter your email address below:
Filed to: