Adidas Gauntlet interviews, highlights: Colson Montgomery, D.J. Hughes, Curt Hopf and Khristian Lander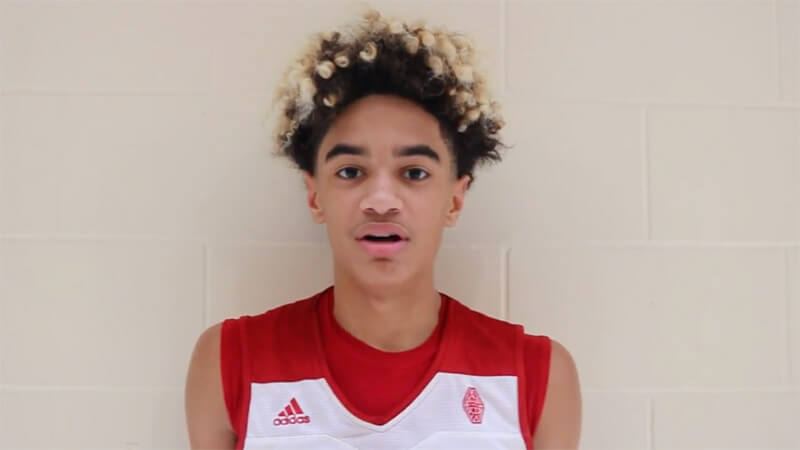 Several of the state's top underclassmen were on display at last weekend's adidas Gauntlet stop in Indianapolis.
Inside the Hall was in attendance and we've put together highlights and interviews with several of them, including Colson Montgomery, D.J. Hughes, Curt Hopf and Khristian Lander.
· Colson Montgomery: A class of 2021 prospect, Colson Montgomery is excelling in three sports at Southridge High School. A standout in baseball, football and basketball, Montgomery always has a busy calendar. On the basketball court, Montgomery is a versatile 6-foot-4 guard. In his freshman year at Southridge, he led the Raiders in points (18.1), rebounds (5.9), assists (3.0) and steals (2.0) as the team won their sectional. The left-handed sharpshooter set a school record back in January, pouring in 39 points in a win over Perry Central. He visited IU when the Hoosiers took on Duke last season.
· Khristian Lander: Another class of 2021 prospect, Lander is a 6-foot point guard for Evansville Reitz Memorial High School. Lander earned honorable mention all-conference honors in the SIAC as a freshman. Lander already possesses great ball-handling skills and the ability to score both at the rim and behind the arc. Lander averaged 14.5 points, one rebound and two assists per game at the adidas Gauntlet Indianapolis event, helping lead the EG10 15s to a 3-1 record.
· D.J. Hughes: A 6-foot-7 forward for Lawrence North, D.J. Hughes is looking to prove himself as one of the best players in the class of 2021. Playing on the summer circuit for the Indiana Elite 15s, Hughes finished the Gauntlet Indianapolis event second in rebounding among all players in the 15s division, hauling in seven boards per contest in addition to scoring 11 points per game. The lanky big man can throw down effortlessly, and has been dunking in-game since the seventh grade. Hughes sees himself as more of a slasher than a post player. He's visited Butler, IU and Purdue. His visit to IU came during the Hoosiers game last year against Purdue.
· Curt Hopf: Curt Hopf is a 6-foot-7 forward for Forest Park. As a freshman, he started alongside four seniors as the Rangers advanced all the way to the class 2A state championship game. Hopf was the Rangers leading scorer in the title game, putting up 10 points on 3-of-5 shooting while also recording 10 rebounds. Hopf mostly played in the post as a freshman and is trying to work on his inside-out game. Playing for the Indiana Elite 15s last weekend, he finished second among all players in his age group in scoring, posting 17 points per contest as his team went 4-0. He visited IU for the Hoosiers game against Duke.
Filed to: Colson Montgomery, Curt Hopf, D.J. Hughes, Khristian Lander