Indiana picked to finish ninth in Big Ten in official unofficial media poll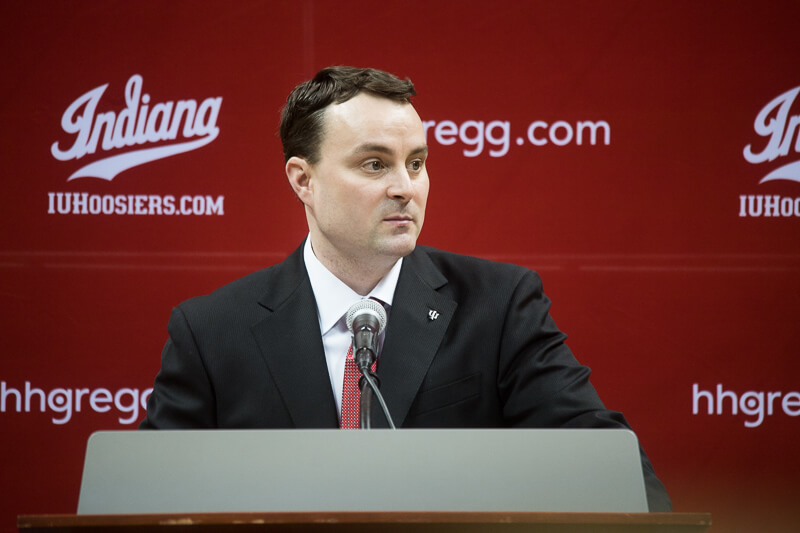 Last month, we shared Big Ten picks from several of the preseason college basketball preview publications: Athlon Sports, Lindy's Sports, Street and Smith's and Blue Ribbon.
And last week, we shared Inside the Hall's preseason Big Ten predictions as submitted to the official unofficial media poll, resurrected this year by Brendan F. Quinn of The Athletic and Adam Jardy of The Columbus Dispatch.
The poll surveyed 28 writers from around the league to get their full predicted order of finish for the league, preseason all-league team, preseason player of the year and preseason freshman of the year.
Earlier today, Quinn published all of the particulars from the poll over at The Athletic. Indiana came in at ninth in the official unofficial Big Ten media poll:
1. Michigan State (28 – unanimous)
2. Purdue (80)
3. Minnesota (90)
4. Northwestern (115)
T-5. Maryland (155)
T-5. Michigan (155)
7. Wisconsin (168)
8. Iowa (204)
9. Indiana (270)
10. Penn State (280)
11. Ohio State (314)
12. Illinois (315)
13. Nebraska (362)
14. Rutgers (376)
The most bullish prediction on the Hoosiers was Zach Osterman of The Indianapolis Star, who projected a seventh place finish. And the least optimistic projection on IU comes from Quinn, who picked IU to finish 12th.
Unsurprisingly, Michigan State's Miles Bridges was voted the Big Ten player of the year and his teammate, Jaren Jackson, was voted the freshman of the year. Bridges was a unanimous pick and Maryland freshman Bruno Fernando was the only player besides Jackson to receive a vote in the freshman of the year voting.
First Team All-Big Ten
Miles Bridges, Michigan State (28 – unanimous)
Ethan Happ, Wisconsin (28 – unanimous)
Moritz Wagner, Michigan (20)
Nate Mason, Minnesota (19)
Bryant McIntosh, Northwestern (18)
Also receiving votes: Vincent Edwards (12), Amir Coffey (2), Nick Ward (2), Carsen Edwards (1), Jae'Sean Tate (1), Isaac Haas (1), Jordan Murphy (1)
A complete list of ballots is available here. And a complete list of voters is available below:
Full panel: 28 voters, 2 from each beat
Scott Richey — Illinois | Champaign News-Gazette
Jeremy Werner — Illinois | Scout
Alex Bozich — Indiana | Inside The Hall
Zach Osterman — Indiana | Indianapolis Star
Mark Emmert — Iowa | Des Moines Register
Chad Leistikow — Iowa | The Des Moines Register
Don Markus — Maryland | The Baltimore Sun
Roman Stubbs — Maryland | The Washington Post
Dylan Burkhardt — Michigan | UMHoops
Brendan Quinn — Michigan | The Athletic
Matt Charboneau — Michigan State | Detroit News
Chris Solari — Michigan State | Detroit Free Press
Marcus Fuller — Minnesota | Minneapolis Star Tribune
Chad Graff — Minnesota | Chad Graff
Chris Basnett — Nebraska | Lincoln Journal Star
Lee Barfknecht — Nebraska | Omaha World-Herald
Teddy Greenstein — Northwestern | Chicago Tribune
Shannon Ryan — Illinois/Northwestern | Chicago Tribune
Adam Jardy — Ohio State | Columbus Dispatch
Bill Landis — Ohio State | Cleveland.com
Ben Jones — Penn State | StateCollege.com
David Jones — Penn State | The Harrisburg Patriot-News
Nathan Baird — Purdue | Lafayette Journal & Courier
Brian Neubert — Purdue | Rivals
Jerry Carino — Rutgers | Asbury Park Press
Keith Sergeant — Rutgers | NJ.com
Jim Polzin — Wisconsin | Wisconsin State Journal
Jeff Potrykus — Wisconsin | Milwaukee Journal Sentinel
Filed to: 2017-2018 Big Ten preview