IU, Big Ten centric notes from Lindy's Sports college basketball preview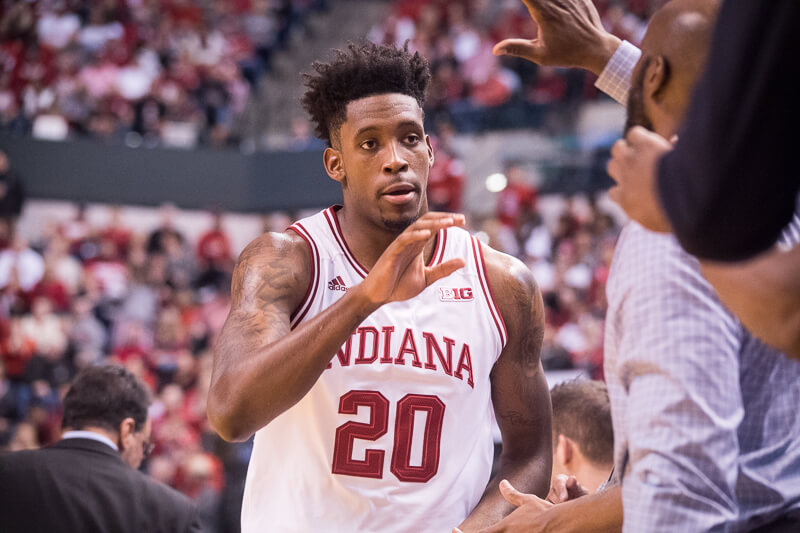 The second of three annual college basketball preview magazines – Lindy's Sports college basketball preview – is now available.
Here are some notes on Indiana and the Big Ten at-large from the annual publication. (You can purchase the regional cover featuring Johnson here. The magazine also features a two-page story on Archie and Sean Miller.)
· Lindy's predicts the order of finish in the Big Ten as follows: Michigan State, Northwestern, Minnesota, Purdue, Michigan, Maryland, Wisconsin, Iowa, Ohio State, Penn State, Illinois, Indiana, Rutgers and Nebraska.
· No IU player made one of the three preseason All-Big Ten teams. The first team is Nate Mason, Bryant McIntosh, Miles Bridges, Vincent Edwards and Ethan Happ.
· Bridges is Lindy's pick for Big Ten player of the year, Minnesota's Reggie Lynch is the pick for best defensive player, Michigan State's Jaren Jackson is regarded as the league's best newcomer and Ohio State's Jae'Sean Tate is listed as the league's most versatile player.
· In Lindy's preseason top 40, the Big Ten teams are Michigan State (1), Northwestern (15), Minnesota (22), Purdue (26), Michigan (30) and Maryland (31).
· Indiana non-conference opponents in the Lindy's preseason top 40 include: Duke (4), Louisville (9), Notre Dame (13) and Seton Hall (25).
· Lindy's projects seven Big Ten teams to make the NCAA tournament field: Michigan State, Maryland, Michigan, Minnesota, Northwestern, Purdue and Wisconsin.
· The Big Ten is rated as the nation's second best conference behind the ACC.
· Lindy's ranked the top 25 players at each position and here are the Big Ten players represented:
– Point guard: Nate Mason (10), Bryant McIntosh (15), Jaaron Simmons (21) and Cassius Winston (23).
– Shooting guard: No Big Ten players among top 25.
– Small forward: Miles Bridges (1), Vincent Edwards (10), Vic Law (17).
– Power forward: Ethan Happ (2), Moritz Wagner (23), Justin Jackson (24).
– Center: Nick Ward (9), Reggie Lynch (14), Isaac Haas (18).
· Michigan State is ranked as the eighth best backcourt unit nationally and Minnesota is ninth. The Spartans are ranked third in Lindy's top frontcourt rankings.
Lindy's Sports college basketball preview magazine regional cover featuring @RoJoJr #iubb pic.twitter.com/IpRVmrGfGV

— Alex Bozich (@insidethehall) August 23, 2017
Filed to: 2017-2018 season preview, Lindy's Sports