A closer look at Indiana's non-conference schedule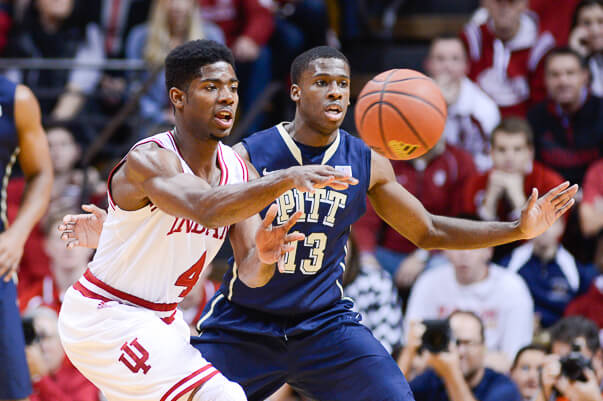 Indiana announced its entire 2015-2016 schedule on Thursday evening, including its 13-game non-conference slate.
Now that we've got the full schedule, here's a deeper dive into what the Hoosiers will face before the start of Big Ten play:
· Maui, at Duke headline slate: Indiana will have plenty of chances to get a gauge of where it stands nationally by early December. The Hoosiers will travel to Maui in late November to play Wake Forest, a rebuilding ACC program. Assuming the Hoosiers can get past that game, there's potential for games with Vanderbilt and Kansas, a pair of programs that should be ranked to start the season. The Jayhawks are top 10 in most of the early preseason top 25s and Vanderbilt is showing up in the bottom half of some top 25s. After a tune-up at home, the Hoosiers will then head to Durham on Dec. 2 to play Duke in what should be an electric atmosphere. Three top 25 opponents by the first week of December would be quite a challenge, if it materializes.
· Home non-conference schedule disappoints: Aside from a meeting with Creighton on Nov. 19 in the Gavitt Tipoff Games, Indiana's home non-conference schedule doesn't feature a single opponent that finished last season in the top 150 of the KenPom or RPI rankings. The overall computer numbers should balance out fine given the strength of some of the other non-conference opponents and the Big Ten schedule. However, that's no solace for Hoosier fans craving a marquee conference home game. Indiana hosted a ranked SMU team last season, but really hasn't had the national spotlight on Bloomington for a non-conference game since North Carolina came to town in 2012.
· Guarantee/non-guarantee mix: Indiana had eight guarantee games on the schedule the last two seasons, but this year the number is down to seven. The six games that aren't classified as guarantee games are Creighton, the three Maui contests, at Duke and Notre Dame in Indianapolis.
· No trip to New York: For the first time since the 2011-2012 season, Indiana will not play multiple non-conference games in New York. In 2012-2013, the Hoosiers played a pair of games at the Barclays Center. In 2013-2014, it was Washington and UConn at Madison Square Garden. Last season, IU played Louisville and Georgetown at MSG. The Big Ten tournament will be played at MSG in 2018.
· Other notes: Indiana has not lost a season-opener since the 1997-1998 season. Eastern Illinois, who will be the opening-game opponent, finished last season 18-15 and 216th in the KenPom.com ratings. IU is 1-0 all-time against the Panthers with a 94-55 win coming back in the 1992 NCAA tournament in Boise. … Of Indiana's non-conference opponents (and potential opponents) ranked in Jeff Goodman's ESPN.com preseason top 50, Kansas is No. 3, Duke is No. 5, Vanderbilt is No. 17, Notre Dame is No. 38 and UCLA is No. 48. Indiana is No. 11 … The Hoosiers have never faced two of the programs on the non-conference schedule – IPFW and McNeese State.
Filed to: 2015-2016 schedule