2017 guard Nelly Cummings recaps Indiana visit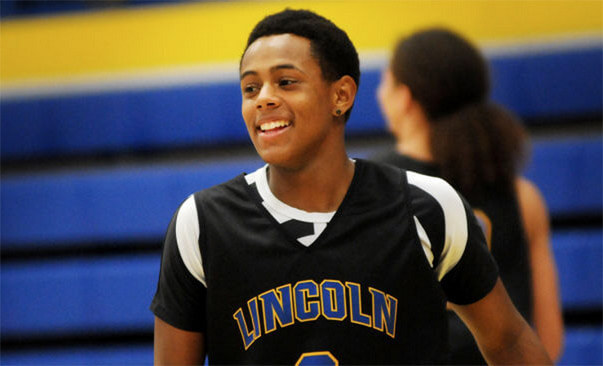 One of the top backcourt players from the Pittsburgh area was on campus this weekend at Indiana.
Nelly Cummings, a 6-foot point guard from Lincoln Park in Midland (Pa.) made the 6.5-hour drive to Bloomington on Friday and took an unofficial visit on Saturday.
Cummings said he began hearing from Tom Crean following the AAU Super Showcase 16U national championship in Louisville, where he helped lead All-Ohio Red to a championship.
"Coach Crean had texted me," Cummings told Inside the Hall. "And we've been talking since then and set up an unofficial visit three or four weeks ago."
As a sophomore at Lincoln Park, Cummings averaged 23.5 points per game, which ranked second in Class AA in Pennsylvania.
He led Lincoln Park to a 23-4 record, but missed the final three games of the season with a knee injury. He was named first team all-state in Class AA.
Cummings is still waiting for his first scholarship offer, but in addition to the interest from IU, he mentioned Pittsburgh, Mount St. Mary's, Ohio, Duquesne, American, Cornell and Princeton as schools showing interest.
"I think I opened some eyes, the way I played (in July)," he explained. "I have no offers. I feel like I've been playing well and I just feel like I'm undervalued right now and underrated. I like it. It keeps me motivated, keeps me going."
The rising junior said that several things stood out on his first trip to Indiana.
"I learned how important player development is with Indiana," Cummings said. "I enjoyed the whole experience. I learned a lot. Coach Crean pays attention to detail a lot. I definitely like that about him. I like that he appreciates the undervalued players and he likes people that are hungry like myself.
"I liked everything about it, actually. The facilities were good, a lot of history in there. Everything was just really good. I loved Indiana."
Really enjoyed the great visit today at Indiana university. ??? #iubb pic.twitter.com/OdWARjkTLy

— Nelly Cummings (@Ambition___3) August 29, 2015
As he prepares for his junior season, Cummings said his primary goal is to lead his team to a state championship. Beyond that, he's focused on continuing to grow his game.
"I've been working on my jump shot," he said. "I've just been working on my complete game, handle, jumping ability, quickness, everything really. Trying to become the best I can be."
(Photo credit: TimesOnline.com)
Filed to: Nelly Cummings