Indiana announces 2015-2016 basketball schedule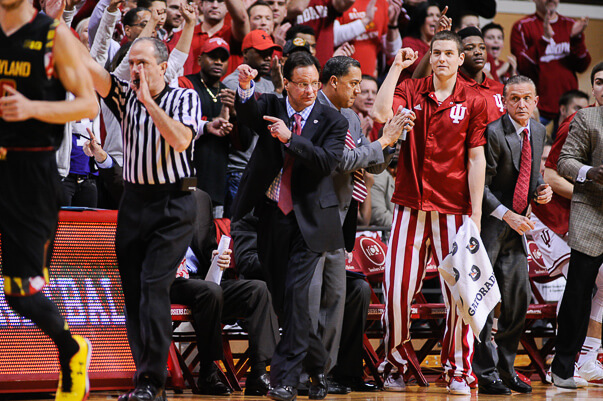 Following the Big Ten's release of the conference schedule, Indiana released its complete schedule for the 2015-2016 on Thursday evening.
The complete schedule is now available on our schedules page. Read IU's full release on the schedule after the jump.
BLOOMINGTON, Ind. – The Indiana University men's basketball team could face as many as four teams (Kansas, Duke, Vanderbilt and Notre Dame) who have been nationally ranked this preseason during the non-conference portion of their schedule and will have one-play home games against preseason #1 Maryland, Ohio State, Purdue and Northwestern as well as home and home games with Illinois, Iowa, Minnesota, Nebraska and Wisconsin. The Hoosiers will have one-play road games at Rutgers, Michigan, Michigan State and Rutgers.
IU will open the 2015-16 season at home against Eastern Illinois (November 13) and will play one game of the Maui Jim Maui Invitational on the mainland when it hosts Austin Peay (November 16). The Hoosiers will host Creighton in the inaugural Gavitt Games (November 19) and then will head to Maui for the Maui Jim Maui Invitational (November 23-25). The Hoosiers will open against Wake Forest (November 23). On the second day, IU will play either St. John's or Vanderbilt (November 24). The Hoosiers will conclude the event against either Kansas, UCLA, UNLV or host Chaminade (November 25).
IU will return home for a home game against Alcorn State (November 30) and then will travel to defending national champion Duke (December 2) for the Big Ten/ACC Challenge. The Hoosiers will begin a three-game homestand hosting Morehead State (December 5), IPFW (December 9) and McNeese State (December 12). After a week of final exams, the Hoosiers will play Notre Dame in the Crossroads Classic at Bankers Life Fieldhouse in Indianapolis. IU will wrap up its non-conference schedule at home against Kennesaw State (December 22).
The Big Ten season will open for the fifth straight year on the road when it visits Rutgers (December 30). The Hoosiers will also travel to Nebraska (January 2). IU will then return home for two straight games hosting Wisconsin (January 5) and Ohio State (January 10). The Hoosiers will visit Minnesota (January 16) and then come back to Assembly Hall to face Illinois (January 19) and Northwestern (January 23). IU closes out the month at Wisconsin (January 26) and at home against Minnesota (January 30).
The Cream and Crimson will start the first week of February on the road visiting Michigan (February 2) and Penn State (February 6). Five days later the Hoosiers will host Iowa (February 11) and then travel to Michigan State (February 14). Nebraska (February 17) and Purdue (February 20) will visit Assembly Hall before IU goes on the road to visit Illinois (February 25) and Iowa (March 1).
The final game of the regular season will be a home game against preseason #1 Maryland (March 5 or 6).
Filed to: 2015-2016 schedule