Jones gets a "great feel" for IU on official visit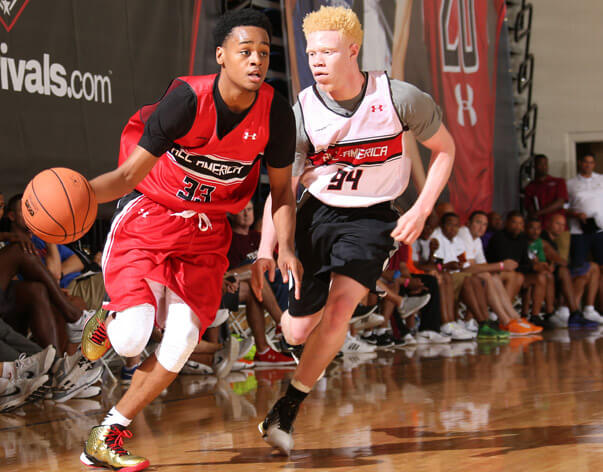 Class of 2016 Huntington Prep guard Curtis Jones and his family got an in-depth look at Indiana basketball this weekend.
The four-star prospect was on campus from Friday to Sunday on an official visit and his father, Curtis Jones Sr., said the family left Bloomington with a much better feeling for the program.
"It showed us what Indiana basketball is and it's a big deal," Jones Sr. told Inside the Hall. "We got a great feel for the program. I think Curt walked away feeling that way. I know myself and my wife, we walked away feeling like the coaching staff is really good at what they do. Just good people. Everybody we came in contact were really good people."
The 6-foot-3 combo guard, a former high school teammate of current IU freshman Thomas Bryant and a friend of sophomore guard Robert Johnson, had the chance to see a variety of different things while on campus.
Jones Sr. mentioned the academics, tradition, the fans and the coaching staff as some of the things that stood out the most.
"It was a great visit," he said. "The campus, the tradition, the coaching staff, everything was really, really good. The tradition, you can feel it when you're on the campus. It's a big deal in college basketball. That part was great.
"Academic part was excellent. Curtis got a chance to tour the Kelley School of Business. I learned so much about what they do. That's a big deal, also."
From a basketball and fit standpoint, Jones and his family continue to build a strong relationship with the Indiana coaching staff, who watched him diligently in July.
Jones plays for Boo Williams, which also produced Johnson and Troy Williams.
"Coach Crean is just really good at what he does. He's in the business of making kids better. We got a strong feel for that with him and his coaching staff. Coaching staff is great, coach (Tim) Buckley is great."
Up next for Jones are official visits to Georgetown and Oklahoma State.
Based on the glowing review that Jones Sr. gave of the Indiana trip, it appears the Hoosiers are in excellent shape with the No. 86 prospect in the 247Composite.
"In talking with my wife, my family and my son, we really felt good about the visit and what Indiana has to offer," Jones Sr. said. "But not only that, the fans. You could feel the pride when we went across campus. Everybody takes being a Hoosier personal and there's a sense of pride. You can feel that as well.
"We really enjoyed the visit. From the academic side, obviously from the basketball side, just getting to know Indiana basketball, Indiana the university, we walked away from it knowing that Indiana is a great place."
Filed to: Curtis Jones