Recruiting Roundup: EYBL Finals at the Peach Jam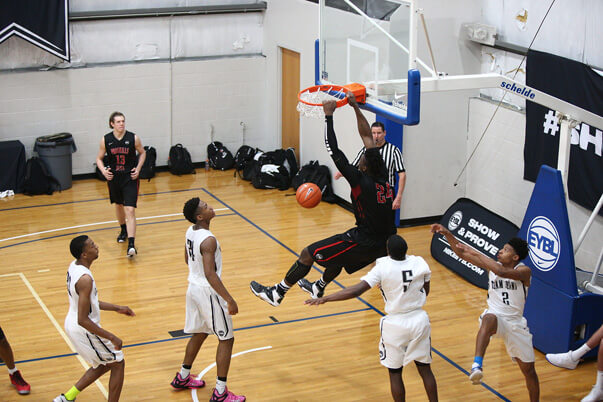 The Elite Youth Basketball League (EYBL) wrapped up on Sunday as the Georgia Stars beat the St. Louis Eagles, 104-77, to win the 2015 Peach Jam championship.
The Indiana coaching staff had a heavy presence in North Augusta throughout the weekend to watch a variety of prospects and here's our recap of how several of IU's targets performed in the premier grassroots event of the summer:
· Lamar Stevens (2016), Team Final: One of Indiana's top targets in the 2016 class, Stevens averaged 9.8 points on 38.5 percent shooting over five games. Team Final was missing its point guard, Tony Carr, and finished the weekend just 1-4. Stevens led Team Final with 4.8 rebounds per game and also had eight blocks. (Lamar Stevens Peach Jam story)
Lamar Stevens has been aggressive against Harry Giles from the opening minute. Constantly attacking, not backing down at all. #PeachJam

— Jeff Borzello (@jeffborzello) July 10, 2015
· Lonnie Walker (2017), Team Final: A five-star prospect in his class, Walker led Team Final with 12.4 points per game at Peach Jam and hit 10 of his 27 attempts from 3. His effective field goal percentage for the weekend was 56, a very strong number in the EYBL. (Lonnie Walker Peach Jam story)
· Bruce Brown (2016), BABC: One of the hardest working guards in the 2016 class, Brown put together a strong performance statistically in North Augusta. Over five games, he averaged 15.6 points, 5.6 rebounds, two steals, 1.8 assists and 1.4 blocks per game. He struggled with his perimeter shooting (just 1-of-10 from 3), but Brown loves to push the pace and seems to be an excellent fit with IU's offense.
Four best guys I've seen today are four hardest playing. Bruce Brown, Kevin Marfo, Brison Gresham, Kevin Knox. Take note

— Corey Evans (@coreyevans_10) July 9, 2015
· Miles Bridges (2016), The Family: A teammate of Thomas Bryant at Huntington Prep, Bridges put together a great weekend at the Peach Jam. He averaged 22.8 points and 10 rebounds per game and on Monday morning, he announced that the Hoosiers are in his final five schools along with North Carolina, Kentucky, Michigan and Michigan State.
· Schnider Herard (2016), Nike Pro Skills: An imposing post presence, Herard (pictured) more than held his own against some elite post talent over five games. He averaged 11 points (on 63.3 percent shooting) and 6.8 rebounds as Nike Pro Skills finished 2-3. Herard got to the foul line 31 times in five games, but hit just 17 of those attempts. (Schnider Herard Peach Jam story)
· Markus Howard (2017), Las Vegas Prospects: Howard, one of the nation's best point guards in his class, continued his strong play from the EYBL regular season over to Peach Jam as he was sixth in scoring in the event at 20 points per game. He shot 44 percent on 3s and also averaged four rebounds and 2.6 assists as the Prospects finished 2-3.
Markus Howard up early and ready to go this morning. Putting on a show so far against De'Aaron Fox.

— Adam Finkelstein (@AdamFinkelstein) July 10, 2015
· Michael Porter (2017), MoKan Elite: One of the best prospects in the country regardless of class, Porter was terrific in North Augusta with averages of 20 points, nine rebounds and 1.4 blocks per game. (Michael Porter Peach Jam story)
2017s Trae Young & Michael Porter Jr both say a bunch of schools are recruiting them as a package, including Duke

— Adam Zagoria (@AdamZagoria) July 10, 2015
· Justin Smith (2017), Mac Irvin Fire: Playing up a year with Mac Irvin Fire, Smith played more of a complementary role this EYBL season and that continued at the Peach Jam as he averaged 3.2 points and two rebounds in 13.4 minutes per game.
· Jordan Tucker (2017), New York Lightning: It was a tough weekend for the Lightning (1-4) and for Tucker, but he should be one of the top returning EYBL players heading into next season. Over five games in North Augusta, he averaged 9.2 points (29.2 field goal percentage) and 3.2 rebounds in 19.6 minutes per game. (Jordan Tucker Peach Jam story)
· Tony Bradley (2016), Each 1 Teach 1: One of the few IU targets to advance out of pool play, Bradley's 14.2 points and eight rebounds per game were major contributions for Each 1 Teach 1. Bradley was remarkably efficient on the weekend as he shot 71.1 percent from the field.
· Kassoum Yakwe (2016), PSA Cardinals: The EYBL defensive player of the year continued his strong summer at the Peach Jam. At just 6-foot-7, he averaged a ridiculous 5.8 blocks per game in the event and also pulled down 11.8 rebounds per game as the Cardinals finished pool play 5-0. There's been talk that Yakwe could opt to reclassify and enroll in school this fall.
(Photo credit: Jon Lopez/Nike)
Filed to: 2015 Peach Jam, Bruce Brown, Lamar Stevens, Lonnie Walker