Five-star Lonnie Walker on IU offer: "It meant a lot"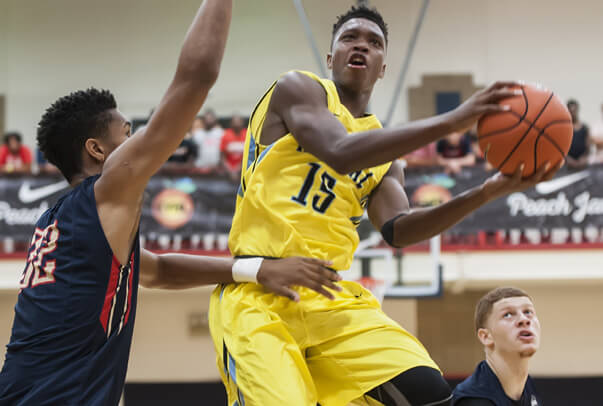 NORTH AUGUSTA, S.C. – As a class of 2017 recruit still a long way from choosing where he'll play college basketball, there are quite a few uncertainties remaining for Reading (Pa.) wing Lonnie Walker.
This much, though, is certain: when it comes time to decide, the athletic 6-5, 180-pound rising junior will have plenty of options and won't take any of them for granted.
"It's amazing, coming from where I'm coming from," Walker told Inside the Hall following an 11-point performance in Team Final's 82-66 loss to Arkansas Wings Elite Thursday evening at the Nike EYBL Finals at the Peach Jam. "I'm from a small town and not many people make it out of there.
"So, every time I get another offer, I feel like a little kid. I jump up and tell Dad, 'I got another offer!' It's always the same reaction when I get an offer because not many people get this opportunity to be someone."
A 30-point performance earlier in the EYBL season helped Walker's national profile and helped draw interest from several schools, including Indiana. The Hoosiers offered a scholarship on May 21.
As a sophomore at Reading, Walker averaged 17 points, 5.1 rebounds and 4.6 assists and led his team to a 24-6 record and county title. He was named to the Pennsylvania Sports Writers Class AAAA all-state second team.
Walker says he is grateful for all of the offers and interest and believes he fits the same aggressive, athletic mold as current Indiana player Troy Williams and former Hoosier Victor Oladipo.
"It meant a lot," he said of the Indiana offer. "I watch them play all the time and there's a lot of great players that have came through there. The way they (Williams and Oladipo) play kind of reminds me of myself. They're competitive with great athleticism. That's the way I play."
With performances like the ones he turned throughout his sophomore year and throughout the EYBL season, Walker's is on the rise. He was recently elevated to the No. 24 overall prospect in the 247Composite for 2017.
For now, though, Walker says his focus is to keep working on his game and to continue learning, something he says is constant thanks to playing up a year in the EYBL circuit against elite competition.
"I'm working mainly my post moves and just being aggressive," Walker said. "And I'm learning. Usually, I'm always in a fast-paced mode. But when you're playing up, everyone's fast. Everyone's strong. Everyone can do almost everything you can do. You gotta take the game slow and play calm and collected. You can't rush into things and have to let the game come to you. Everyone's good."
Jacob Savage is a special contributor to Inside the Hall for this week's Nike EYBL Finals at the Peach Jam.
(Photo credit: Larry Smith/Special to Inside the Hall)
Filed to: 2015 Peach Jam, Lonnie Walker