Five-star wing Michael Porter has Indiana ties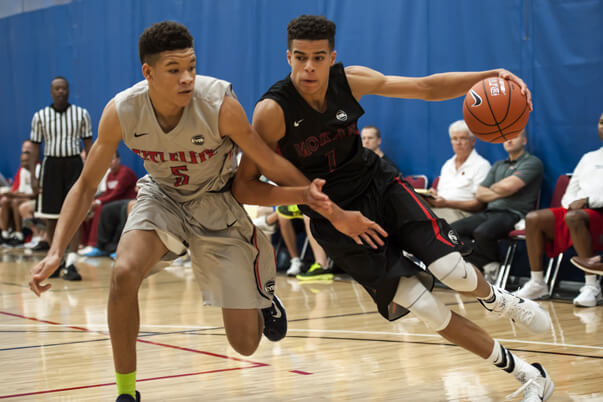 NORTH AUGUSTA, S.C. – Anyone who follows Indiana high school basketball knows the state is producing a feast of talent in the Class of 2017.
Within the state's borders are two players in the 247 Composite top 30 national rankings in No. 16 Kris Wilkes (North Central) and No. 29 Paul Scruggs (Southport). Joining that duo in the 247 Composite top 100 are Park Tudor's Jaren Jackson at No. 66, Fort Wayne Snider's Malik Willams at No. 67, and La Lumiere's Tyler Plummer at No. 97.
What some Indiana fans may not realize is there is another player with strong ties to the state who is nearly atop the national rankings.
Michael Porter Jr., a 6-foot-9, 190-pound forward of Mokan Elite on the Nike EYBL circuit is the country's No. 2 overall prospect and has history in the Hoosier state. The current Father Tolton Catholic (Mo.) standout called Indiana home until his father accepted a position with the University of Missouri women's basketball program.
Prior to relocating, Porter was a teammate of Scruggs and Wilkes on the 2010 Indy Hoosiers 5th grade team that won the 11U National Championship and was a roommate of Scruggs at the recent SC30 Select Camp hosted by Golden State Warriors guard and reigning NBA MVP Stephen Curry.
Inside the Hall caught up with Porter over the weekend during the Nike EYBL Finals at the Peach Jam and he said his game is improving thanks to the elite competition level.
"I think I've gotten a lot better at handling pressure," he said. "The games are very physical. So I've gotten more physical and have become a better rebounder for sure. I feel like I've done pretty well."
Mokan Elite finished Peach Jam pool play with a 2-3 record and failed to advance to the quarterfinal round after falling 68-63 to Elfrid Payton Elite on Saturday. Porter finished the Peach Jam with averages of 20 points and nine rebounds per game and was 34-for-35 from the free throw line.
With Peach Jam now in the books, Porter looks ahead to his junior season at Father Tolton Catholic and a bright future, one Indiana fans would no doubt love to see eventually include a reunion with his former Indy Hoosiers AAU teammates in Bloomington.
Last month, Porter trimmed his list of school and Indiana is among the schools he's considering.
"We don't really talk about that too much," Porter said when asked about the possibility of playing alongside his former teammates in college. "But you never know. It could happen."
Jacob Savage is a special contributor to Inside the Hall for this week's Nike EYBL Finals at the Peach Jam.
(Photo credit: Larry Smith/Special to Inside the Hall)
Filed to: 2015 Peach Jam, Michael Porter